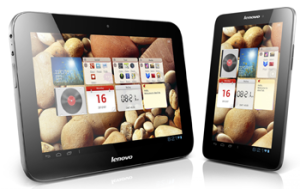 "The PC is dead."
"We're in a post-PC era."
"Tablets are killing the PC."
You've probably heard these statements before, and perhaps you've even seen the analysts' charts, which forecast the rise of tablets and the subsequent demise of traditional desktop and laptop PCs. But tablets might actually be boosting the rate by which consumers appreciate their PCs. As tablets gain market share, overall customer satisfaction with the PC industry is actually picking up.
This year, personal computer satisfaction is up 2.6 percent, to a record-high score of 80 on the American Consumer Satisfaction Index (ASCI). The reason, according to an ASCI report released Wednesday, is probably because tablet use is on the rise.
How can this be? ASCI founder Claes Fornell theorizes that when unsatisfied PC users move to Apple and other tablet makers, only the most loyal and happy users are left using traditional PCs, such as Dell, HP, and Acer computers.
In other words, people who never liked their PCs have moved on to tablets, leaving the ranks of PC users filled with a greater percentage of satisfied customers.
There may be another reason tablet growth has contributed to greater PC customer satisfaction: Tablets often serve as ancillary devices to PCs. So, instead of taking the place of a laptop or a desktop, tablets are used just for the tasks they're best for, such as checking email and watching movies. This leaves PC users acutely aware of all the productivity features that desktops and laptops actually offer. Indeed, the new crop of 7-inch tablets will never be useful for serious data entry, content creation, and other PC-dependent activities.