It's become a maxim of modern business life: Your most important meeting of the year won't take place in a conference room, but rather online with all attendees viewing a common computer screen.
It's impersonal. It's detached. And it's often quite vexing. Simply joining the Web meeting can sometimes be a problem. But if you haven't checked out these online services lately, you might be surprised by how much they've improved, or their wide range of pricing and features. Whether you're looking for simple screen-sharing to produce a PowerPoint deck, or whiteboard and collaboration tools for deeper interaction, chances are there's a Web app to fit your needs and your budget.
While some of these—WebEx, for example—have been around for several years, cloud providers are constantly updating. We test-drove four small-business-focused services that can help with various types of meetings, and were generally impressed by their current levels of finesse.
MeetingBurner
Sometimes you just need a quick meeting to catch up with the team. If you don't need a lot of bells and whistles, MeetingBurner's free version (Mac or PC) for up to 15 participants includes screen sharing and a phone-in line.
Based on Flash and Java, MeetingBurner takes only a few minutes to set up, after which you as organizer get a dashboard from which you can adjust settings (there aren't too many), schedule a meeting, or simply launch one right away. The service gives you a custom URL (yourname.meetingburner.com) and phone number to share with participants.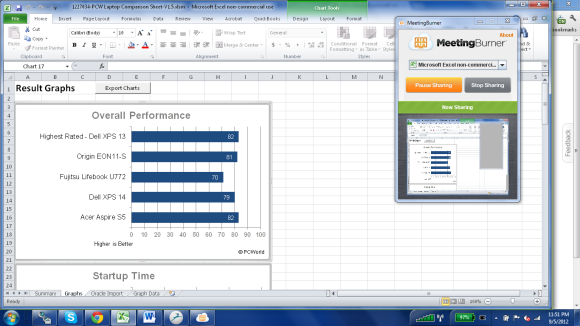 You start by running a Java applet that creates a little control window where you can specify whether to share the entire screen, an application, or a custom region. It's too bad that participants see a gray rectangle in the area covered by the control window, but you can at least move the window around so that it doesn't conceal important information.
If you share your entire screen, participants can see a navigation bar with information about you based on your settings, the name of your meeting, the dial-in number, and a chat window (if you've authorized one). You also get a list of participants, and MeetingBurner lets you make any one of them the presenter—though that person must download and run the screen-sharing applet.
Drawbacks? MeetingBurner's interface is cluttered and not always intuitive.
More importantly, the free version does not let you record the proceedings. To record a meeting and share that recording, you must subscribe to either the $40-per-month MeetingBurner Pro (for up to 50 participants) or the $100-per-month Premier edition, which supports up to 1000 users and adds analytics to the mix.
Citrix GoToMeeting
Citrix GoToMeeting's approach is both elegant and full-featured. Once you've installed the software, the organizer can set up a meeting with a single click in the app: This produces a small control panel with a meeting number to distribute to invitees, who must enter it when they visit JoinGoToMeeting.com.
Attendees don't see the control panel window. For the organizer, it has buttons for activating screen sharing, using or muting microphones and webcams, designating another attendee as presenter (once they've installed a small applet), or summoning a small palette of markup tools (such as a pen, a marker, or a highlighter). The markup tools, however, don't actually alter the document.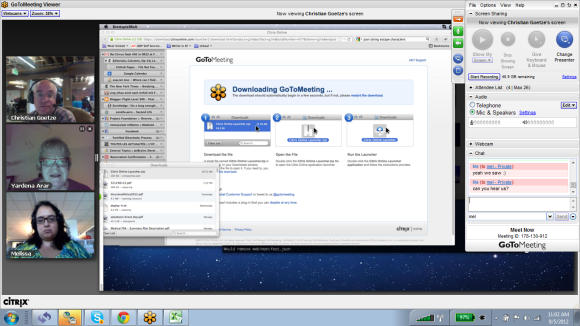 As for the control panel's chat window with audio options GoToMeeting by default uses a computer's built-in speaker and mic, but you can opt to get a phone line and audio PIN to use with your meeting number. Another button initiates a recording, which you can save for playback in GoToMeeting or Windows Media Player. You also see how much space is left for your recording.
GoToMeeting nicely lets you hide parts or all of the control panel. Also, you don't need to go to a website to get started: The desktop app has you up and running in seconds (although initial setup of the software does take a few minutes).
Attendees at my test meeting complained that it wasn't obvious that they needed to click on a button to activate use of their computer's audio system (I didn't try the bridge line), but they otherwise reported that the app worked as advertised. Participants can choose whether to use the phone line or the computer.
GoToMeeting supports up to 25 attendees on Macs, PCs, iPads, iPhones, and Android devices. There's a free trial, but no free version: An organizer account that lets you hold unlimited meetings costs $49 per month or $468 per year, and Citrix offers pricier services for large crowds—say, for webinars. It's not a bad deal if you hold a lot of meetings where people collaborate on projects.
OmniJoin
At this writing, Brother's OmniJoin works only on a PC running Windows XP or later. If that's not an impediment, this is a capable and highly customizable Web conferencing tool. Launched from your account page on OmniJoin, the app creates a customizable meeting room. This interface borrows heavily from the Microsoft Office design aesthetic, using a ribbon with tabs to expose most features. Unfortunately, this also consumes space—a drawback on a laptop screen.
Brother touts the quality of the audio and video. In our tests, video quality in a small window was indeed good. You can use either PC audio or a phone line (that you can dial or have call you) provided as part of the service.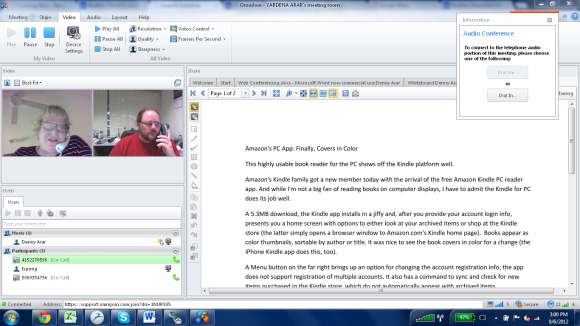 You can arrange the various meeting-room panes—such as the video feed, the participant list, and the workspace—by using either preset or custom layouts. A Meeting tab has buttons for inviting others, recording a meeting, and leaving and ending your meeting.
But the real action takes place in the Share tab. You can share all or part of your desktop, a PowerPoint presentation, a document, a whiteboard, a media file, a Web browser window, or even handouts or other files. You can launch windows with different content in the workspace area and toggle between them. You can also hand off presenter duties, grant others access to your desktop, or request remote-control access to a participant's desktop.
I did find the audio setup confusing: The app prompted me to set up a dial-in line, and only by digging did I discover that you could use the computer's audio system. Also, at this writing OmniJoin hadn't yet enabled meeting recordings. [Editor's note: OmniJoin has since enabled the ability to record a meeting.]
OmniJoin's basic plan for a single organizer costs $49 per month, supporting up to 30 users (but only up to 12 webcam streams), 720p video (more-expensive plans bump the video quality up to 1080i), and unlimited meetings. The company hopes to launch a Mac version this fall, which will make OmniJoin a more serious competitor to the likes of WebEx.
Cisco WebEx
WebEx was a pioneer in Web conferencing, and it remains a formidable competitor. WebEx offers a full range of sharing options—desktop, application, file, and whiteboard—as well as webcam and either computer or phone-line audio. You can invite participants by email, phone call, or SMS text message, and follow up with reminders from within the browser-based app, which, unlike Citrix's GoToMeeting, doesn't require you to preinstall software. You can record meetings and upload the results to a meeting space, to which you can also upload related files.
You can start a meeting on the fly or set one up ahead of time, allow participants access to shared applications (so they can type in a Word document or an Excel spreadsheet, for instance), and designate another participant as the presenter.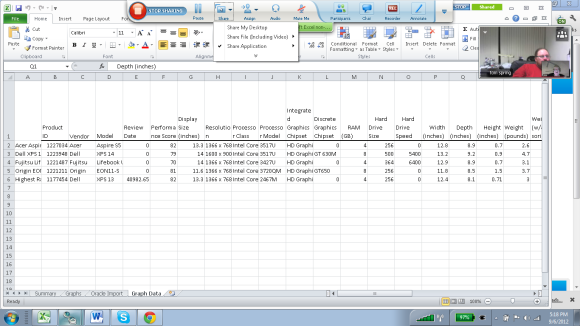 One nice feature about WebEx is that only a little strip of a menu appears when you hover your cursor at the top of the screen, so you don't hide a lot of the content you're sharing.
WebEx offers a free plan for meetings with no more than three people, standard-definition video, and computer-only audio. The free plan does not allow application sharing, but it does let you share your desktop, documents, and whiteboards. It includes 250MB of meeting-space storage.
The cheapest paid plan costs $24 per month per host. This includes meetings with up to eight participants; high-definition video; and computer, toll-call, or optional Call Me toll-free call-in audio. You also get application sharing and remote control, plus 1GB of storage. A $49-per-month plan allows up to 25 meeting participants.
WebEx's diverse plan offerings, slick user interface, and robust features make it worth consideration for any business that's serious about getting work done in a collaborative online environment.
Overall, if you're looking for a freebie for rounding up a few people, either Meeting Burner or WebEx will do the job. However, WebEx has more in store if you need to step up to a bigger get-together later. In addition, there's no preinstallation required, its pricing for a small group is better than that of GoToMeeting, and, unlike OmniJoin, it serves non-Windows users.
[Editor's Note, October 15, 2012: Article updated to reflect that Omnijoin meetings can now be recorded.]