It's become incredibly easy to compute while you commute. Our laptops, tablets and even smartphones offer productivity functions ranging from excellent to serviceable, and pervasive broadband (hello 4G!) gives us the connectivity speeds we need to quickly summon up documents and data from the cloud.
That's how it works in theory, at least. Efficiently accessing all of your personal data in the cloud is rarely quite as simple as it sounds.
Between Dropbox, Box.net, Microsoft SkyDrive, Apple iCloud, and other services, a plethora of cloud-based storage options compete to provide you access to your documents, photos, and other data from all your different devices. Although not quite as popular as Dropbox (which has been around for years) or iCloud (which has a big built-in user base), Microsoft's SkyDrive is poised to make a big splash when Windows 8 officially launches in October. The Windows 8 SkyDrive app is prominently displayed on the Windows Store, and Windows Phone 8 is expected to seamlessly integrate your SkyDrive account with your smartphone.
But you don't need to wait for Windows 8 to start taking advantage of SkyDrive, as SkyDrive apps are already available for just about every major computing platform, and if an app isn't available for your operating system of choice, files stored in your SkyDrive folders are still accessible via a Web browser. In this guide, we'll show you how to set up SkyDrive on your PC, how to access your SkyDrive account from different devices, and how to use a few tips and tricks to get the most from this free service.
How to get started with SkyDrive
With Windows 8 (whether Standard, Pro, Enterprise, or RT), a Windows 8-style version of SkyDrive is installed by default with the OS and is available on the Start screen as soon as you boot up your PC. If you prefer to stay in Desktop mode while using your Windows 8 PC, you'll need to install the stand-alone SkyDrive application. (Using SkyDrive on any platform that doesn't run Windows 8 also requires the installation of this stand-alone app.)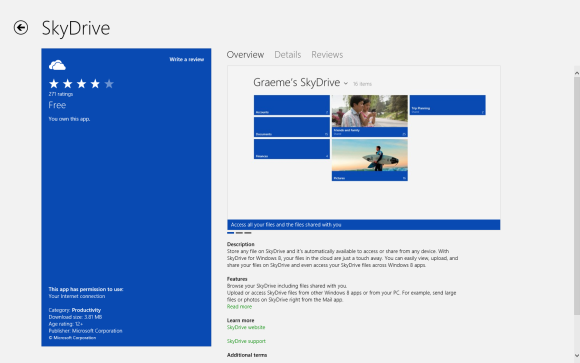 To install the SkyDrive application on a desktop PC, simply open the SkyDrive homepage in your browser of choice and click on the Get SkyDrive button. The installation process is pretty simple: If you're running Windows, you need to click the Download SkyDrive For Windows button and save the file to your system. If you're running Mac OS X, click on the Mac OS X link in the text at the top of the page and then click on the Download button on the subsequent page.
Once the download is complete, simply double-click on the downloaded file to launch the SkyDrive installer. Follow the on-screen prompts to complete the installation; when you're ready to configure your SkyDrive account, go ahead and launch the program. The first time you launch the SkyDrive app, you'll be asked to sign in to a Microsoft account. If you don't have one, you'll see a link to sign up for free; go ahead and set one up now, since you'll need it if you ever install Windows 8. Sign into SkyDrive, and a group of folders will be created on your system—any time a file is placed into one of these folders, it will automatically be synced to Microsoft's servers, provided an active Internet connection is available.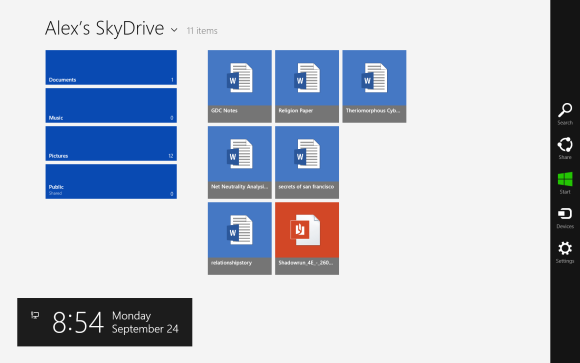 SkyDrive offers users 7GB of storage space for free; you just need to download the app and sign up for a Microsoft account. If you want (or need) more space, Microsoft offers different levels of additional storage for an annual fee. At this writing, 20GB of space is available for $10, 50GB for $25, and 100GB for $50, annually.
If you want to access data stored in your SkyDrive account on your tablet or smartphone, the free SkyDrive app is available for download in almost every platform's respective app store. SkyDrive is available in the iTunes store for iOS-based devices, in the Google Play Store for Android-based devices, and in the Windows Phone Marketplace for Windows Phones.
Touch the Sky(Drive) from any device
Now that you've set up a SkyDrive account, actually using the service is simple. If you're running Windows Vista, Windows 7, or Windows 8, your SkyDrive folder will appear in File Explorer; on Macintosh systems, they'll appear in the Finder. By default, inside the parent SkyDrive folder, the app creates three more folders—Documents, Pictures, and Public.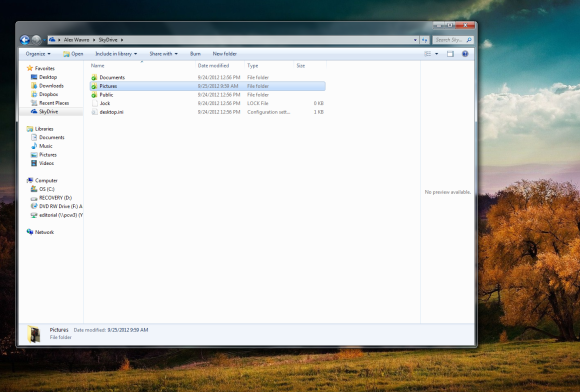 Anything placed into these folders will automatically be synched to Microsoft's servers when a connection to the Internet is available and the SkyDrive app is running (it runs automatically with the OS). When a file is dragged into one of these folders, the SkyDrive icon in the system tray will report the status of the synchronization process and report "SkyDrive – Up to date" when the sync is complete. Once the sync is finished, the files are stored on Microsoft's servers and will be available to other devices.
Using SkyDrive on mobile devices like smartphones and tablets is equally simple. Once you have the app downloaded and installed, a SkyDrive icon will be available in your list of applications. Open the app, sign in, and your SkyDrive folders will be listed along with some details regarding their content.
Besides allowing you to access your SkyDrive folders, however, the SkyDrive mobile app also adds some neat sharing features based on the capabilities of your mobile device. For example, you can snap a photo or record a video from within the SkyDrive app and store it directly to your SkyDrive folder or send it to a shared SkyDrive folder so that your friends and family can see it no matter what device they're using.
If they don't have a device that has a Skydrive app, they can use a browser to view their SkyDrive storage. Accessing your SkyDrive folders from a Web browser doesn't require any local files to be installed, which saves you the hassle of setting up the app on a PC over which you don't have full control. Provided you're using a modern browser, navigate to http://skydrive.live.com/, sign in, and your SkyDrive folders will be accessible right from the browser window. Keep in mind that you're not only able to download files from your SkyDrive, but to upload files to it as well. Dragging a file (or files) from a PC into one of the SkyDrive folders in the browser window will automatically upload that file so it will be accessible from your other devices—a great way to quickly save photos and documents from a friend's or coworker's PC so you can look them over later at your leisure.
SkyDrive tips and tricks
Once you start using SkyDrive regularly across multiple devices, you'll quickly find a lot of neat things you can do with a remote storage service that ties directly into your operating system, your office software, and your mobile devices. Here are a few of our favorite tips and tricks for using SkyDrive to optimize your workflow; share your personal tips and tricks with our readers in the comments field below.
Sync any folder to your SkyDrive: Setting up folders on your PC that automatically sync with your SkyDrive account is pretty simple thanks to the stand-alone SkyDrive desktop app, but you do have to manually move all the files you want to keep in sync with your account into the SkyDrive folder on your PC. That's kind of a pain if you have all your photos or movies in a separate folder that is already syncing to other services (such as Carbonite's automated backup service, for example) and you don't want to break those links by moving your files into SkyDrive.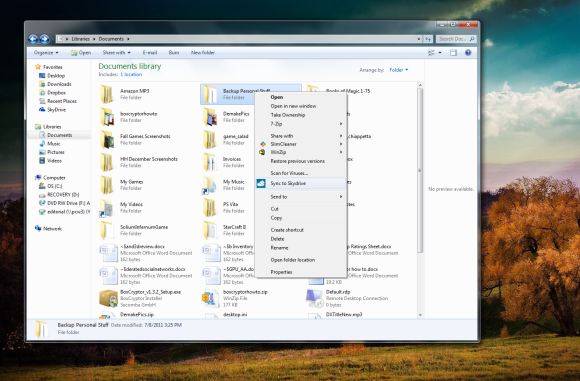 Thankfully, programmer Jan Hannemann has released a custom shell extension that you can install (at your own risk) to add a sync option to the context menu that pops up whenever you right-click in Windows. To get it, head over to his public SkyDrive folder and download either the 32-bit version or 64-bit version of SkyShellEx (according to whichever version of Windows you're using). Run the script, and you should see an option to "Sync to SkyDrive" whenever you right-click a folder in Windows Explorer.
Edit Word documents from your browser: SkyDrive is designed to let you edit any Word-compatible document right from your browser, and you can use this trick to open and edit documents on any PC that doesn't have Word installed. This trick could save you some money on a Microsoft Office purchase if you do most of your writing at work and only occasionally need to edit or proofread a document at home, but more important, it means you no longer have to worry about trying to open a document that a friend or coworker has attached to an email and finding out that the PC you're using doesn't have a copy of Word installed (this happens more often than you might think in the publishing industry).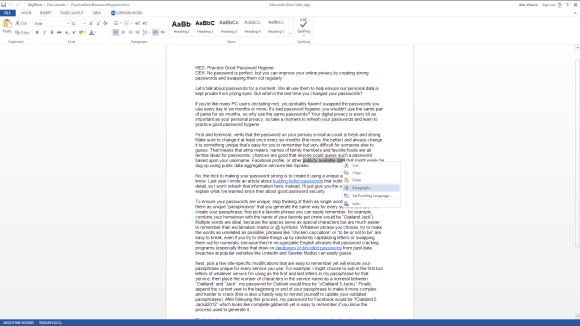 Simply upload the document in question to your SkyDrive account, then log in to SkyDrive via a PC browser (you can try to open your account using the browser on your mobile device, but the mobile version of the SkyDrive website has significantly fewer features) and open the document in question. Select Edit in Word Web App from the Edit Documents menu, and you ought to be able to start wordsmithing right from the website.
Automatically archive Gmail attachments using SkyDrive: Now that Microsoft has made the SkyDrive API available to third-party developers, a number of your favorite apps and services are going to tie themselves into SkyDrive. One of our favorites is attachments.me, a free Google Chrome extension that makes it easy to download, upload, and send attachments back and forth between your Gmail account and various cloud storage services like Dropbox, Box.net, and now SkyDrive.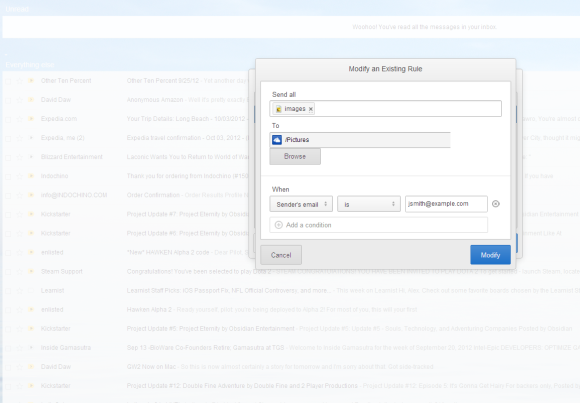 One of the cooler things you can do with attachments.me is to automatically archive any files attached to email in your Gmail inbox—a simple trick to help boost productivity and optimize your organization. To get started, download the attachments.me extension, and then log into your Gmail account using Chrome. A prompt should appear from attachments.me requesting access to your Gmail account; allow it to do so, then click on the small blue paperclip button that appears in the top-right corner of your Gmail inbox and select Automatic Filing Rules from the drop-down menu. From here you'll be able to customize rules about which attachments get sent to your SkyDrive folder based on such criteria as file type, who sent the email (or who you send the email to), and so forth.