At a Glance
Expert's Rating
Pros
Powerful graphics and processor
1920-by-1080 pixel resolution
Cons
Heavy
Power hungry; short battery life
Our Verdict
The lenovo Y580 is a great choice for any portable computing needs, provided you can carry it.
The Lenovo IdeaPad Y580 delivers serious power at a price that won't break the bank. On the other hand, it might break your back, weighing a hefty 6.2 pounds (not including accessories). But for comfort-be-damned power users, the Y580 will be well worth its $1099 price.
While it is heavy, it somehow manages to be not too bulky. The dimensions are 15.2 inches wide by 10 inches deep by 1.5 inches high. Its size and weight can be easily forgiven when you learn how well equipped it is.
Performance
Its speedy Intel Core i7-3610QM processor runs at a standard 2.3GHz, but Intel's Max Turbo Frequency technology kicks it up to 3.3GHz when put under strain. The Y580 scored a 108 on our rigorous Worldbench 7 benchmark suite. This makes it about 8 percent faster than our fully equipped desktop baseline system. Lenovo also provides 8GB of 1600MHz DDR3 RAM. This machine has plenty of speed and power for any application.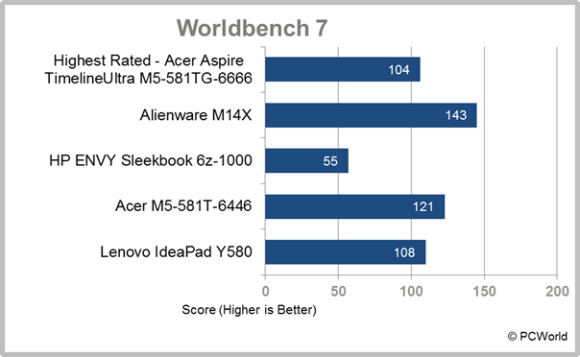 The Y580 also delivered a strong performance in our graphics/gaming benchmarks, thanks to the presence of an Nvidia GeForce GTX 660M GPU.To push the system to the brink, we ran DiRT 3 and Crysis 2 at the display's maximum resolution of 1920 by 1080 pixels, with the games' graphics set on Ultra.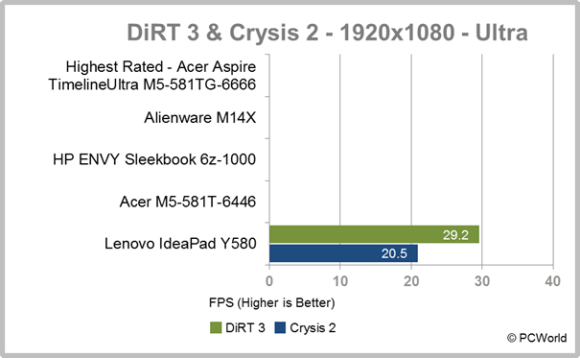 The Y580 pulled 29.2 frames per second on DiRT 3 and 20.5 fps on Crysis 2. While that is barely playable, those are respectable numbers at the Ultra settings. When we dropped the settings down to High, DiRT 3 hit the coveted 60 fps mark (reaching an average of 61.1). Crysis 2 didn't become playable at that setting until we dropped the game's resolution to 800 by 600 pixels (at which point it averaged 80.1 fps). When we set the graphics quality to Low, the Y580 was able to hit 75.5 frames per second with 1366-by-768 resolution.
Robert Cardin

Display and design
It's rare to see a lower-priced laptop sporting such a high-definition display. The 15.6-inch LED-backlit screen is pretty and not overly glossy, but it does throw a mean reflection at certain angles.
Lenovo pulled out all the stops with this machine, and the company made great strides turning it into a decent hybrid of gaming laptop and media machine. While so many laptops are foregoing optical drives to save space, weight, and money, Lenovo threw in a Blu-ray drive to render the Y580 capable of showing high-definition movies. The Y580's design is sleek but simple: It looks like a true power machine, but one that's free of flashy lights and garish decals. The wide, backlit keyboard is comfortable to type on, and the touchpad is smooth and easy to use. I rarely have nice things to say about touchpads, since any plug-in mouse will be vastly superior, but this one's size and smooth, glass-like texture obviate any hassle in use.
Ports aplenty
The Y580 also has plenty of speedy ports and features. On the left side are ports for VGA, HDMI, and gigabit ethernet, plus a pair of USB 3.0 ports. On the right is a third USB 3.0 port, one USB 2.0, the usual headphone and microphone ports, and the aforementioned Blu-ray drive. Wireless connectivity comes in the form of 802.11n Wi-Fi, Bluetooth, and Intel's WiDi technology (for wireless audio and video streaming to a compatible monitor or HDTV).
Making use of Intel's Smart Response Technology, Lenovo configured a 64GB SSD to operate as cache for a higher-capacity (but much slower) 1TB, 5400-rpm mechanical drive. This configuration allows the system both to start up faster (boot time is just 21.7 seconds) and to run storage-intensive tasks much faster. A high-definition (720p), 1.0-megapixel webcam is built into the Y580's display bezel, and Lenovo bundles some fun recording software, as well.
With all its powerful components, it's no wonder that the Y580 falls short on our battery test: It delivered a little less than 4.5 hours of use, a significantly shorter life than what other notebooks we've tested recently have delivered. That might be enough juice to get light users through the day, but you won't want to travel far without a heavy power adapter nearby; there's a good chance you'll need it.
If you're looking for an even better deal, Lenovo's IdeaPad U410 scored a whopping 117 on our Worldbench 7 benchmark, and it's priced at just $799. True, the processor and graphics card powering the U410 are a little weaker than what you'll find in the Y580, and you'll give up the Blu-ray drive and the beautiful 1920-by-1080 display (the U410's maximum resolution is 1366 by 768 pixels). The flip side of these compromises is that the U410 outlasted the Y580's battery by an hour, and it consumed far less power while plugged in, too. If you're looking for a mean green machine, and you don't plan on playing hard-core games, the U410 would be a great choice—and it costs about $300 less than the Y580.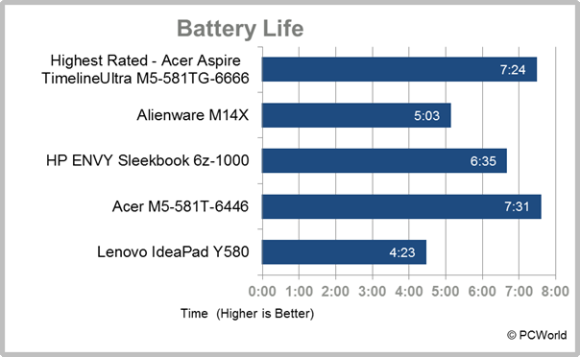 Bottom line
The Lenovo IdeaPad Y580 stands out as packing a punch while remaining economical. It has the on-the-go power for games, programs, and media. If its short battery life and crushing weight don't dampen your enthusiasm, the IdeaPad Y580 will make you happy.