Intel's been getting all the attention on the CPU front lately with the announcement of its upcoming Haswell CPU, but AMD is trying to crash the party with the launch of its new APU (accelerated processing unit) code-named Trinity. Officially announced Thursday, the Trinity APU combines current-generation Radeon 7000-style graphics technology with up to four CPU cores built around AMD's latest Piledriver CPU cores.
AMD's proposition for its APU line is that graphics are becoming increasingly important across a wide range of applications, not just gaming. The company calls out applications such as Winzip 16.5, Arcsoft Total Media Theater, Internet Explorer 9 and 10, VLC (both encoding and decoding) and GIMP (a free graphics editing tool) as examples of applications that perform substantially better on AMD APUs than equivalently priced Intel CPUs.
And on the gaming side, APUs have traditionally perform considerably better than Intel counterparts with integrated graphics processors.
The new A10 represents AMD's flagship APU. It's positioned against Intel's Core i3 3220. The A10-5800K offers four x86 cores running AMD's Turbo Core 3.0 boost technology, which boosts maximum clock frequency as high as 4.2GHz, though the normal operating clock rate remains at 3.8GHz.
Trinity's built-in AMD Radeon HD 7660D GPU includes 384 graphics cores (which AMD calls stream processors) running at 800MHz. It's worth noting that this number of stream cores gives the 7660D higher potential performance than AMD's entry-level discrete GPUs, such as the Radeon HD 7450, which only have 160 graphics cores. Given the emphasis on graphics, it's no surprise that the GPU takes up over half the Trinity die space.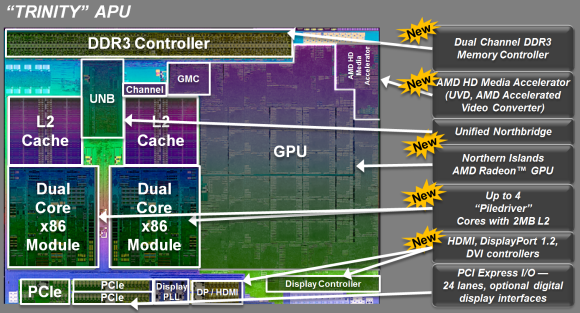 New Trinity models include the A10, A8, A6 and A4, plus a pair of entry level Athlon-branded APUs.
Feature

A10

A8

A6

A4

CPU Cores

4

4

2

2

Models

5800K & 5700

5600K & 5500

5400K

5300

CPU Clock GHz (base/boost)

3.8 / 4.2 (5800K)

3.4 / 4.0 (5700)

3.9 / 3.6 (5600)

3.7 / 3.2 (5500)

3.6 / 3.8

3.4 / 3.6

Stream Processors

384

256

192

128

GPU Clock (MHz)

800 (5800K)

760MHz (5700)

760MHz (5600K & 5500)

760MHz

724MHz

Power Consumption

100W

65W

65W

65W

Boxed Price

$122

101

$67

$53
Trinity's aggressive pricing suggests that its CPU performance may not compare well with even lower-end Intel quad-core CPUs, such as the Core i5 3450. On the other hand, the built-in Radeon HD 7660D graphics core should offer substantially better gaming and GPU compute performance than the Intel HD 4000 integrated graphics core built into the higher-end Intel CPUs. On the desktop side, most Intel dual-core CPUs ship with the lower-end Intel HD 2500 GPU, whose 3D performance is pretty anemic.
On the other hand, the new APUs are fairly power hungry, and are focused on desktop performance. The highest end A10 APU consumes 100W (thermal design power), considerably more than its targeted competition. (Intel's Core i3 3220 requires just 55W.) AMD introduced lower power APUs for laptops in May, 2012, which include processors with power consumption ranging from 17W to 35W. AMD still lacks a very low-power APU suitable for tablets and similar mobile devices. The new APUs are built using 32nm process technology, which translates into larger chip sizes and higher voltages than the 22nm process used to build Intel's Ivy Bridge CPUs.
The APUs also include full support for 16 PCI Express 2.0 lanes, which lets users install discrete graphics cards running at full bandwidth. The integrated GPU will run in concert with a discrete AMD Radeon HD 6670 graphics card using AMD's CrossFire X performance, which should nearly double graphics performance. For roughly $80, the system would offer graphics performance approaching AMD's midrange Radeon HD 7850 discrete graphics card in many applications. When adding a high-end graphics card, the internal graphics core is disabled.
As with AMD's discrete graphics cards, the new APUs support AMD's Eyefinity monitor technology. Motherboards with the right mix of display connectors can drive up to three displays.
In addition to the new APUs, AMD is introducing a new platform, socket FM2. The new APUs will require new motherboards using socket FM2 and the A85X chipset.
The combination of A85X includes most connectivity technologies essential for modern PCs, including USB 3.0, additional PCI Express lanes, audio and SATA, though motherboard makers will need to build in networking capability using discrete chips, since the A85X doesn't have built in support for Ethernet or WiFi.
The new Trinity based APUs and motherboards based on FM2 will start shipping on October 2nd. The impact of AMD's Trinity APU on AMD's bottom line is uncertain. While Trinity's graphics performance is impressive, the CPU cores still haven't caught up with Intel, and the power requirements are pretty steep relative to the competition.