When legions of PC users dip into Windows 8 for the very first time in late October, they'll be greeted by a Start screen that runs only what Microsoft is calling "Windows 8 apps"—touch-optimized programs designed for the new operating system's live tile interface.
The tiled Start screen can't be skipped, so for better or worse, Microsoft is foisting a brand new software ecosystem on the PC-loving public. Sure, any Windows 8 device running on an x86 processor will still be able to run traditional software (now called "desktop applications"), but by pushing the new apps to the very front of everyone's Windows experience, Microsoft is betting its future on the new tile-based interface and its only compatible apps.
The only place to get the new apps are in Microsoft's own curated Windows Store. So as the Windows Store goes, so goes Windows 8—and Microsoft itself.
But the clock is ticking. Today is Oct. 1 and Windows 8 launches on Oct. 26. Microsoft has entered its home stretch. With less than a month remaining, will the Windows Store be ready for its big software coming-out party? We picked the brains of more than a dozen top analysts and developers to get a handle on a situation that's beginning to look quite worrisome.
The Windows Store by the numbers
Conventional wisdom says that a modern software ecosystem needs a large number of apps to be successful. For perspective, consider that the Android and iOS platforms boast 675,000 and 700,000 apps respectively. Granted, only a tiny fraction of those apps are worth downloading, but even taking that into consideration, the Windows Store looks to be in serious trouble.
According to WinAppUpdate.com, an app-counting site run by independent analyst Wes Miller of Directions on Microsoft, the Windows Store didn't even crack the 2000-app threshold until September 21. Or, to put it another way, the entire Windows Store inventory currently comprises just 0.3 percent of the Google Play Store.
"Is the Windows Store lagging? To me, yes. I'd much rather see a much higher number a month before launch," Miller told PCWorld.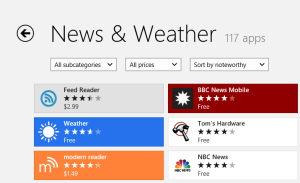 The current dearth of apps gives the Windows Store an abandoned, neglected feel. While the Games section shows a pulse of life, the Social, Productivity, Shopping, and Food/Drink areas look particularly barren. The low number of apps is a catch-22 for Microsoft, says Rob Enderle, the principal analyst of the Enderle Group.
"Developers don't want to develop for you until you have enough users, while users don't want to use your [device] until there are enough of the key apps," Enderle says. "That is the critical weakness of the Windows Phone store, and the Windows 8 store is even younger than the Windows Phone store. There's a content problem for the Windows Phone store, and I expect there to be content problems with the Windows 8 store, as well."
These content problems could turn into an existential threat for ARM processor-based Windows RT tablets, which run only Windows 8 apps and can't utilize the software that's now classified as desktop applications. The fewer Windows 8 apps that are available, the less appealing Windows RT tablets—such as Microsoft's own Surface RT—become.
"The most important thing Microsoft can do for the Windows 8 launch is to launch with 5000 high-quality apps," says Patrick Moorhead, principal analyst at Moor Insights & Strategy. "As the industry learned from the failed consumer tablet launches of the Motorola XOOM, HP Touchpad, and Blackberry PlayBook, the number of quality apps at launch does matter."
Are the available apps any good?
A lack of quantity can be somewhat mitigated by an abundance of quality. Unfortunately, the quality level of the available Windows 8 apps is just as troubling as the Store's low inventory.
Simply put, a lot of must-have apps aren't available yet. In fact, most Windows 8 apps currently exposed are simple games or uninspiring programs with names like "Girl Farts" and "Let's Speak Beckinese!" The first sign of trouble appears in the Windows Store's Spotlight section: Are apps like "Periodic Table" and "Disk Falcon" really the best and brightest Microsoft has to offer one month before launch?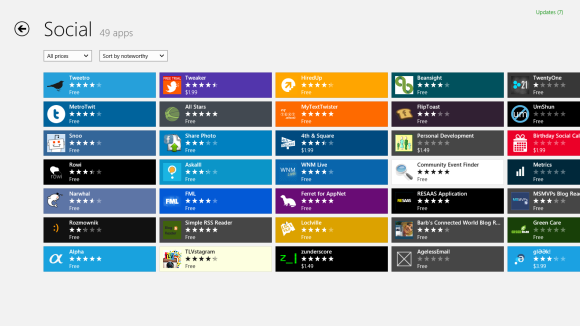 To be fair, Windows 8 isn't totally devoid of top-tier offerings. Today you can click on the Windows Store tile and find Wikipedia, Slacker Radio, eBay, StumbleUpon, Evernote, iHeart Radio, and the Kindle reader. As for gaming apps, you'll find Cut the Rope and Fruit Ninja. (Don't be fooled by the Torchlight app, though. It's a flashlight tool, not the game.) Geeks will also be pleased to find Windows 8 apps from Newegg, Kaspersky, Norton, and Splashtop Remote Desktop, as well as several nifty (and unofficial) XKCD apps.
All that said, the missing apps are glaring omissions.
As of press time, there's no Facebook app; no Twitter app; no YouTube app; no CNN app; no IMDB app; no Dropbox app; no Netflix app; no Hulu app; no ESPN app; no MLB at Bat app. There are no YouTube, Google Maps, or Gmail apps.
The list goes on, and there's no indication as to whether those critical apps and other essential downloads will be available when the Windows Store officially launches. Some apps may seem like no-brainers for inclusion—Facebook has a strong relationship with Microsoft, while Netflix and Dropbox seemingly appear on every platform on the planet. But the only thing we know for certain is that most of the big names simply can't be found in the Windows Store yet.
We reached out to the developers of several top-shelf apps that have yet to appear in the Windows Store to determine if more big-name Windows 8 apps are forthcoming, or possibly even already completed and just biding their time until launch.
Instapaper and Facebook never replied to our queries. Pandora and SoundHound refused to comment about their plans for Windows 8. Gameloft and WorldMate said they plan to be in the Windows Store, but wouldn't state whether their apps will be available on October 26.
A Google spokesperson simply said, "Our goal is to give users a seamless, beautiful experience for users across Google products on any device." Beyond that, a Windows 8 Chrome app is definitely in the works.
Most companies are keeping their cards close to the chest—but not all of them. Several app makers spoke more candidly, and their feedback could shed light on why the Windows Store isn't overflowing with apps.
It just doesn't pay to play
So where do the more talkative developers stand? While most agreed that Windows 8 development is surprisingly easy, some are holding back because other platforms have much more momentum—and much more consumer support—and are therefore simply more lucrative.
Indeed, it really comes down to chasing the money. Why develop for the promise of Windows 8 riches tomorrow, when you can make real money today via iOS and Android sales? To this extent, Windows 8 must fall in line at the back of the development queue. Having an abundance of apps available on October 26th is a major focus for Microsoft, but that doesn't mean it's a priority for app developers.
"We do have plans to make the Pinball Arcade available for the Windows Store, but we're not in a big hurry," said Jay Obernolte of FarSight Studios. "In our opinion, the base of users purchasing apps on the Windows Store is likely to ramp up slowly, so we don't see a benefit to rushing out with an implementation."
TripAdvisor also has no plans to release a Windows 8 app anytime soon, but for a different reason.
"In general, TripAdvisor builds the best experience based on the device type rather than the operating system," says Sanjay Vakil, TripAdvisor's Director of Mobile Product. "Windows 8 provides a challenge in that the user experience needs to conform to different devices: tablets, desktops and laptops."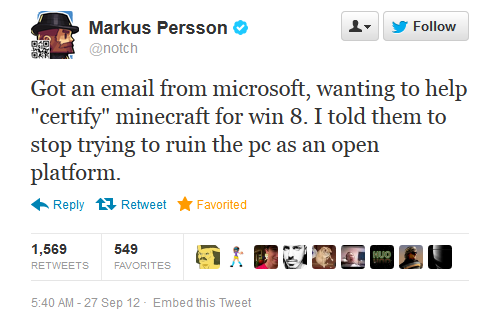 Rob Enderle predicts that the inclusion of Office in Windows RT tablets could scare off developers who make productivity apps for competing platforms. Jeff Fetchick, the COO of DataViz, confirmed that theory. DataViz produces the well-regarded Documents to Go app for Android, iOS, Blackberry, and Palm devices. Fetchick says Microsoft approached Dataviz about porting Documents to Go to Windows 8, but the company declined.
"In the past, we've always chosen to bring our technology to platforms that Microsoft chooses not to. The people who use our software are people who have already bought into Microsoft's Office technology, and they just want to bring it to places that Microsoft won't allow at the time," Fetchick says. "It's our understanding that Office will be found on many Windows machines anyway."
Angry tweets and comments shared across the Web offer more insight into why the Windows Store is currently so barren. Microsoft has moved away from a hands-off tradition to adopt, instead, a "walled garden"—complete with a 30 percent cut of app sales, which is the norm for Apple and the iOS ecosystem. This doesn't sit well with many PC enthusiasts and enthusiast-leaning developers.
Valve's Gabe Newell told AllThingsD that "Windows 8 is a catastrophe for everyone in the PC space" for just that reason. And Markus Persson, the creator of Minecraft, didn't respond to our queries, but he was even blunter than Newell in a recent Tweet: "Got an email from Microsoft, wanting to help "certify" Minecraft for Win 8. I told them to stop trying to ruin the PC as an open platform."
Finally, even if a developer doesn't have any philosophical problems with Microsoft's new approach to certification and revenue sharing, it still may lack the technical chops to quickly translate an existing app to Windows 8.
"In my opinion, Windows 8 has a much more sophisticated framework for building user interfaces than iOS or Android," says Jonathan Peppers, a senior application developer for Hitcents.com, which will have its "Draw a Stickman Epic" game available when the Windows Store launches. "However, a slightly steeper learning curve can go along with that. If we were not already Windows developers familiar with C# and Xaml, it could take some time to port a native iOS or Android application to Windows 8."
The march to 5000
So, what can we realistically expect from the Windows Store when it officially launches on October 26th? We reached out to Microsoft for an answer, but the company declined to comment.
Patrick Moorhead doesn't think the Windows Store will hit the magic 5000 apps mark. "From what Microsoft and its ISV partners have shown so far in the Store, it doesn't appear that they will reach that goal by launch," he says. "I'm not ruling it out, as I hear rumblings from the ecosystem that they will, but I think it is low probability."
The number of available apps is actually growing at a decent clip, but when you're dealing with such a low baseline number of apps, you don't need linear growth, you need exponential growth.
According to Wes Miller's WinAppUpdate.com, the Windows Store had 530 apps on August 16. On Sept. 12—the day the Windows Store began accepting submissions from independent developers and developers in 82 other countries—the total sat at right around 1000 apps. As of Sept. 21, less than ten days later, 2079 apps were available internationally.
"After Microsoft opened up the floodgates, we've seen a rush of mainstream apps and names we could recognize," Miller says. What remains missing, however, are killer apps. "The Windows Store needs to convince people to say 'I need a Windows RT device,' and it's not there yet."
Carolina Milanesi, a Gartner analyst, agrees, saying that the arrival of key apps will be "the main factor" for launch as well as the key to whether Windows RT tablets become studs or duds in the marketplace. Will we see the key apps on October 26? That's the critical question.
Rob Enderle expects Microsoft to have a few blockbuster apps hidden up its sleeve, given its background as a software company. He also expects Microsoft to focus on app quality going forward, rather than sheer app quantity. That said, Enderle isn't optimistic about the quality level of the third-party apps that will be in the Windows Store on launch day.
"Remember that final touches on the apps don't start until code [is released to manufacturers]. A lot of folks won't even start developing much until the code goes RTM in case Microsoft breaks something that you might depend on," he says. (Windows 8's RTM build wasn't released until August 1.) "So there's a lot of people scrambling just to get apps done," Enderle says. "There's a good chance some of these apps are going to be pretty raw on launch day, but like on other platforms, you'll receive automatic app updates, so I would expect things to shake out by 30 days after launch."
And so we wait…
There's little doubt that Windows 8 will be successful in the long run, if only because the vast majority of PCs puchased after October 26 will include the operating system, and in may ways, the Windows platform is currently too big to fail. Nonetheless, Microsoft's touch-focused inspiration—its entire reason for relegating the desktop to second-class status and moving to live tiles and Windows 8 apps—lies in the booming tablet marketplace. As PC sales flatten, transitioning to mobile is the only way for Microsoft to keep foward momentum.
Will the Windows Store be presentable at launch? Or will it, like the Windows Phone Store, suffer from a scarce app selection and multitudinous missing must-have downloads? Windows RT's near-term success and Microsoft's long-term hopes ride on the answer.
The Windows Store has only one chance to make a first impression. And now the world waits for October 26, when multiple thousands of customers enter Microsoft's new marketplace for the very first time.