Hewlett-Packard on Monday introduced the ElitePad 900, the company's first Windows 8 tablet aimed at business users.
Scheduled for release in the U.S. in January, the 10-inch slate supports pen input and drive encryption, as well as optional 3G and 4G connectivity. HP did not announce pricing.
The ElitePad 900 has an aluminum shell, housing the 10.1-inch display with 1280-by-800-pixel resolution. The IPS display is coated in Gorilla Glass, making the tablet 9.2mm thick and weighing in at 1.5 pounds. HP says that the battery should last around ten hours on a single charge.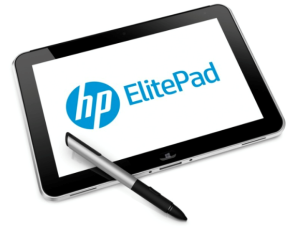 Inside, HP's Windows 8 tablet runs on an Intel Atom processor with 2GB of RAM, with storage options of 32GB or 64GB. Behind the service door on the back you will find a microSD card slot and one for 3G and 4G SIM cards. On the back there's an 8-megapixel camera with a flash, while on the front there's a video call camera that supports 1080p HD quality video.
HP also prepared a line of accessories to go with the ElitePad 900. A range of adapters are available for the proprietary connector on the tablet, including an SD card reader, full USB port, Ethernet, line out, VGA, and HDMI. Alternatively, you can get all these connectivity options via a dock, which can be also paired with a wireless keyboard.
Alternatively, HP also made what it calls Smart Jackets, basically faux cases that add functionality. One of the Smart Cases has USB and HDMI ports, a card reader and a removable battery, while a second clamshell-style case turns the ElitePad 900 into a laptop hybrid.
Dell has also announced a 10-inch Windows 8 tablet aimed at the business market, and its the Latitude 10 is scheduled to ship by the end of October. Dell's tablet screen has a higher resolution at 1366 by 768 pixels, but the tablet has otherwise very similar specs. Dell has not yet announced pricing, either.
Other PC manufacturers previously previewed some of their Windows 8 devices, including tablets and ultrabooks.