At a Glance
Expert's Rating
Pros
Excellent speakers
Comfortable keyboard, touchpad
Cons
Kind of ugly; doesn't look very high-end
No discrete graphics card
Our Verdict
Truthfully, unless you're looking for something very specific–such as an attractive exterior or serious processing power–the 15R is a great choice for budget-conscious shoppers.
Best Prices Today: Inspiron 15R 5520
In a world full of $1000-plus Ultrabooks, it's nice to know you can still pick up a solid, all-purpose laptop for less than $600. The Dell Inspiron 15R 5520 isn't gorgeous, sleek, or lightweight—and it's certainly not the best performer—but at such a low price, it's an attractive option for people who are shopping on a budget.
Our review model, which costs $600, sports a third-generation Intel Core i5-3210M processor, 6GB of RAM, and a 500GB hard drive spinning at 5400 rpm. The 15R also features built-in Bluetooth 4.0 and Wi-Fi 802.11n, a DVD-RW optical drive, and runs the 64-bit version of Windows 7 Home Premium. For $50 less, you can grab the 15R with a second-generation Intel i3-2370M processor, and for $100 more, you can nab it with a 1TB hard drive and 8GB of RAM. You cannot, however, pick up the 15R with a discrete graphics card.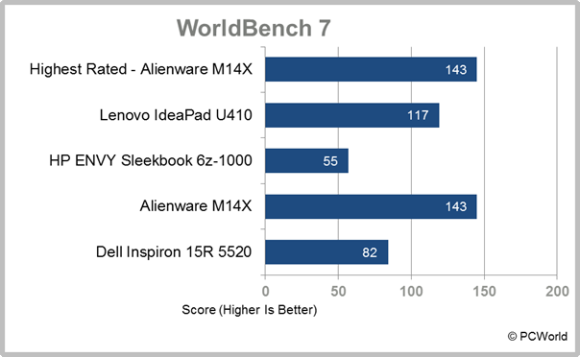 Performance
In PCWorld's WorldBench 7 benchmark tests, the Dell Inspiron 15R 5520 earned a score of 82. This means the 15R is 18 percent slower than our testing model, which has a second-generation i5 processor (albeit a desktop processor), 8GB of RAM, and a 1TB hard drive.
Though the 15R's score isn't top-of-the-line, it's about what we expect from a budget all-purpose laptop that has no discrete graphics card. By comparison, the Alienware M14x—which is a high-end 14-inch laptop designed for gamers— posted a mark of 143, while the HP Envy Sleekbook 6z-1000, which looks good but has an AMD processor, scored 55.
The Inspiron 15R performed competently in individual performance tests, for the most part beating out the Lenovo IdeaPad U410 (an Ultrabook) and the HP Envy Sleekbook. In our Web performance tests, the 15R managed 13.8 frames per second, which is higher (better) than most Ultrabooks and AMD laptops, but still lower than the Alienware M14x. It also performed well in our storage performance and content creation tests, though it failed to start up quickly (43.1 seconds) compared to Ultrabooks' startup times (the Lenovo starts up in less than half the time).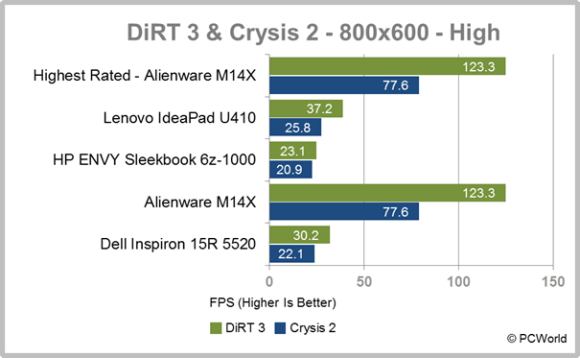 Because the 15R relies on Intel's integrated HD 4000 graphics, its graphics performance is lacking. In our Crysis 2 graphics tests, the 15R managed frame rates of between 13.7 (high-quality settings, 1366-by-768-pixel resolution) and 32.5 (low-quality settings, 800 by 600 pixel resolution) frames per second. While this is not too bad for integrated graphics after all—32.5 fps is playable—it's nowhere near what a dedicated, discrete graphics card will give you. For example, the Alienware M14x, which sports an Nvidia GeForce GT 650M graphics card, manages frame rates of between 46.5 and 99 on the same tests.
Battery life on the Inspiron 15R is about average for the category. In our tests we managed to get 5 hours and 2 minutes of battery life, which is what we expect from a laptop of this size. By comparison, the Alienware M14x gets 5 hours and 3 minutes, while the HP Envy Sleekbook gets 6 hours and 35 minutes.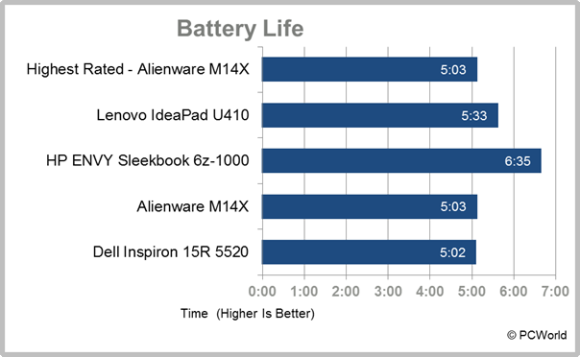 Design: Chassis, keyboard, touchpad
The Dell Inspiron 15R 5520 is housed in a sturdy, if somewhat bulky-looking, plastic chassis. The cover features rounded corners, silver plastic edges, and a shiny, brushed-aluminum-look cover plate that you can snap out and exchange for another Dell-branded plate. Plates cost around $30 and are sold separately on the Dell website.
The 15R has a full-size keyboard with island-style keys, which sit against a shiny black plastic backing. The keys are small, but widely spaced and slightly indented, which makes for comfortable, accurate typing. The keyboard does flex quite a bit as you type on it, which raises questions as to its durability.The interior of the 15R looks a little less cheap than the outside, thanks to the slate gray brushed-aluminum keyboard deck. The glossy 15.6-inch screen is surrounded by a black plastic bezel, which houses a webcam and microphone. The power button is a medium-sized plastic button that manages to blend into the keyboard deck because it's located right beside one of the laptop's hinges. Below the other hinge (on the right) are three small buttons: a settings button, which brings up Windows Mobility Center; an audio button, which toggles through different audio preset modes; and a programmable button, which can be customized to launch programs or perform various functions.
A large touchpad is located directly below the keyboard. The touchpad is simply an indent in the brushed-aluminum deck, with a slightly rougher texture. Two large mouse buttons sit inside the indent, which are soft to the touch and easy to press. The touchpad is accurate and sensitive, and performs multitouch gestures smoothly. You'll also find a small light at the top of the touchpad, which, when turned on, indicates that the touchpad is disabled.
The 15R has a decent port selection for a budget machine, including four USB 3.0 ports (two on each side). The left side of the laptop also houses HDMI and VGA out ports, as well as headphone and microphone jacks. The right side features a lock slot, gigabit ethernet port, and the DVD-RW drive. A multiformat card reader is located on the front of the machine.
Screen and speakers
The Dell Inspiron 15R 5520 is a pretty decent laptop for just $600, but it shows its budget nature in its screen. It sports a glossy, 15.6-inch LED display with a native resolution of 1366 by 768 pixels. While this resolution isn't awful—it's what we're used to seeing on Ultrabooks—it looks a little dated on a 15.6-inch screen.
Aside from looking a little low-res, the 15R's screen isn't bad. It's bright enough, at its brightest setting, to use outside or in brightly-lit conditions. Colors look good, and off-axis viewing angles are acceptable. Whites occasionally have a bluish tint, especially at higher brightness settings. HD video doesn't look fantastic, but this is partially the fault of the integrated graphics. In my tests, I noticed a fair amount of artifacting and blurriness. Scenes with high-motion content were even worse. If you're into cinematic action blockbusters, this is not the laptop for you.
The 15R's speakers, on the other hand, are surprisingly excellent and well above average for the budget laptop category. They're located on the bottom of the laptop, but they're just under the tapered lip so your lap or desk won't block them too much. The speakers produce very loud sound—so loud that they comfortably fill a medium-sized room at half-volume. Audio is also very full, thanks in part to the Waves MaxxAudio software, which enhances the sound.
Bottom line
It's hard to say great things about a laptop that is solidly mediocre. It's not the thinnest, prettiest, or most powerful 15.6-inch notebook around, but it still has a place in the market. The Dell Inspiron 15R 5520 performs well for its price, features an impressive four USB 3.0 ports, and has a large, if not very high-resolution, screen. It's built with solid components, and has excellent speakers for its size.
Unless you're looking for something very specific—such as an attractive exterior or serious processing power—the 15R is a great choice for budget-conscious shoppers.