At a Glance
Expert's Rating
Pros
Excellent full HD screen
Good overall performance
Not very stylish
Our Verdict
It may not be an Ultrabook, but it packs a wallop under the hood.
Best Prices Today: Inspiron 15R Special Edition 7520
In a world full of sleek and slim Ultrabooks, the Dell Inspiron 15R 7520 looks enormous. This 15.6-inch laptop is bulky, heavy (7.4 pounds), and not terribly stylish. But it does have some surprises under the hood—namely, four USB 3.0 ports, a full HD screen, and solid overall performance.
Our review model, which costs $1100, sports a third-generation Intel Core i7-3612QM CPU, 8GB of RAM, and a 1TB hard drive spinning at 5400 rpm. It also features an AMD Radeon HD 7730M discrete graphics card, built-in Bluetooth 4.0 and Wi-Fi 802.11n, and a Blu-ray Disc player. The Inspiron 15R 7520 runs the 64-bit version of Windows 7 Home Premium.
Performance
In PCWorld's WorldBench 7 benchmark tests, the Inspiron 15R 7520 did well, earning a score of 137. This score means that the Inspiron 15R 7520 was 37 percent faster than our standard testing model, which carries a second-generation Intel Core i5 desktop processor and 8GB of RAM. Although 137 is a good score for the all-purpose laptops category, it isn't excellent: For example, the Alienware M14x, an all-purpose laptop designed for gamers, posted a mark of 143 on WorldBench 7.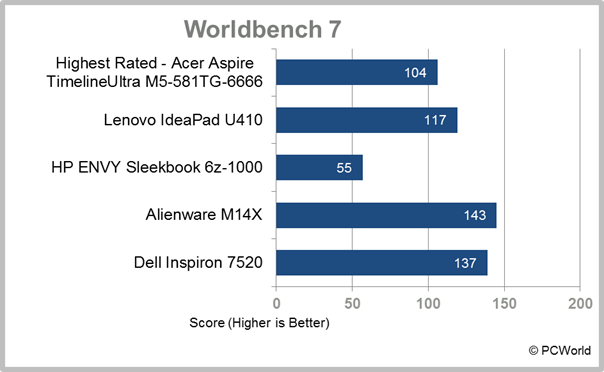 The Inspiron 15R 7520 performed very well on individual tests. First of all, it had a startup time of 22.3 seconds, which is quick for a non-Ultrabook laptop; by comparison, the HP Envy Sleekbook 6z-1000 took twice as long (45.9 seconds) to start up. The Inspiron 15R 7520 also did well in our Web performance and office productivity tests, producing 13.5 frames per second in the former and achieving a score of 4218 in the latter.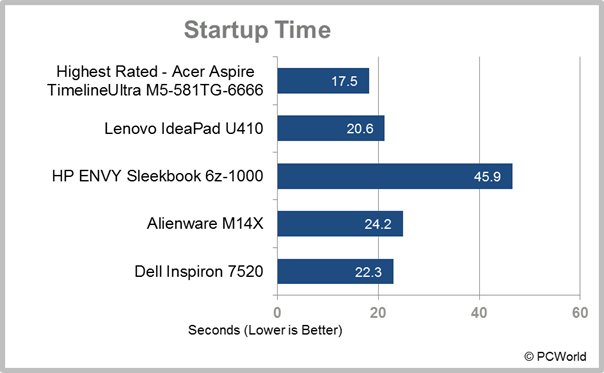 The Inspiron 15R 7520's discrete AMD graphics card helped to boost its graphics performance. In our Crysis 2 graphics tests, the 7520 managed frame rates ranging from 12.7 frames per second (maximum quality settings, 1920-by-1080-pixel resolution) to 63.2 fps (low quality settings, 800-by-600-pixel resolution). While those are good scores for average all-purpose laptops, they're not quite the frame rates you need if you want to play a lot of graphics-intensive games. The Alienware M14x, for instance, carries an Nvidia GeForce GT 650M graphics card, and it achieved a rate of 94.7 fps on our low-quality, 800-by-600-pixel Crysis 2 test (the M14x does not have a full HD screen, and therefore we could not evaluate it on the maximum-quality Crysis 2 test).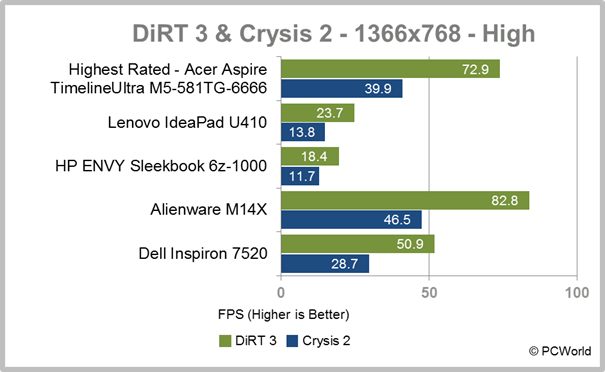 One area in which the Inspiron 15R 7520 failed to perform well is battery life. In our battery-life tests, it was able to last for only 3 hours, 43 minutes—exactly 2 hours less than the average battery life of the last three laptops we've tested in the all-purpose category. And that isn't even taking into account the category leader, or the Acer Aspire TimelineUltra M5, which managed to survive a stunning 7 hours, 24 minutes on one charge of the battery.
Design: Chassis, keyboard, and touchpad
At 7.4 pounds sans accessories, the Inspiron 15R 7520 doesn't win any awards for slimness or light weight. This 15.6-inch (diagonal) laptop measures 14.9 inches wide by 10 inches long, and is 1.4 inches thick, but its blocky, plastic design makes it look even thicker than that.
The Inspiron 15R 7520 has a solid plastic chassis with metal accents. The lid has a black aluminum panel with a subtle honeycomb pattern, a silver mirrored Dell logo in the center, and a silver plastic border. Although the aluminum panel adds an element of class to the machine, the plastic border keeps it looking cheap. The inside of the Inspiron is better looking, however: The matte screen is surrounded by a black plastic border with curved edges, and the keyboard deck has the same honeycomb-patterned black aluminum panel.
The full-size backlit keyboard offers matte-black island-style keys. The keys are a little small, but are slightly indented to allow for more-accurate typing. Even though typing is comfortable, the keys are a bit stiff at first and take some getting used to. Three buttons are located above the keyboard on the right side: a settings button (which opens Windows Mobility Center), an audio button (which lets you switch between preset audio modes such as movie, voice, music, and game), and a customizable "instant launch" button (which you can program to open an application of your choice). You can control other basic functions, such as screen brightness, volume, and Wi-Fi, by using the 15R 7520's Fn keys.
Below the 15R 7520's keyboard is a large touchpad with two discrete mouse buttons. The touchpad is comfortable to use—it's just big enough, it's sensitive and responds to multitouch gestures smoothly, and its buttons are large and easy to press. If you want to use an external mouse, you can disable the touchpad by using the F3 key, and a small orange light above the touchpad indicates when it is disabled.
The 15R 7520 has plenty of ports, located on both sides of the laptop. On the right side you'll find two USB 3.0 ports, an ethernet port, and the optical drive; on the left side are two more USB 3.0 ports, VGA-out, HDMI-out, and microphone and headphone jacks.
On the front is a multiformat card reader, and on the back is a small metal switch. Flicking that switch pops the honeycomb-pattern cover plate out, allowing you to remove it and swap in another plate. This is kind of cool from the standpoint of someone who enjoys changing designs every so often. Lids cost an additional $30, and come in pink, blue, and red. Removing a plate is easy, but installing one is a little tricky, since you have to press pretty hard on the corners to get it squared away. The wrist rest, which also has the black honeycomb pattern, is not switchable.
Screen and speakers
It's always nice to see a 1080p screen on a 15.6-inch laptop, and the Inspiron 15R 7520's display does not disappoint. The matte LED display looks fantastic, with great color fidelity, excellent contrast, and crisp, clear images and text. It's also very bright, which makes it great for use outdoors or in brightly lit areas, and it has good off-axis viewing angles. The only issue I saw in my testing was that, at the brightest setting, scenes with lots of whites and neutrals started to look washed out. However, this effect was minor and didn't really detract from the overall experience.
Video looks and sounds great on the 15R 7520. The laptop has two speakers on the bottom, near the front. The speakers produce better-than-average audio, enhanced with Waves MaxxAudio software. In my opinion MaxxAudio doesn't do for this Inspiron what BeatsAudio enhancement does for HP laptops, but it does help to create fuller and much louder sound than you'll otherwise hear.
Bottom line
The Dell Inspiron 15R 7520 might fly under your radar amidst all the superskinny Ultrabooks that are zipping around, but it's worth a look if style and weight aren't major concerns for you. It offers an excellent screen (most Ultrabooks don't), sturdy components, and great general performance, and it will play games fairly well, even though it isn't built to be a gaming laptop. In the end, the Inspiron 15R 7520 looks like a great choice for college students, especially with its gimmicky switchable lids.
Best Prices Today: Inspiron 15R Special Edition 7520