At a Glance
Expert's Rating
Pros
Good output quality
600-sheet standard input capacity
Cheap toner
Cons
Basic control panel can be tedious to use
The $300 Brother HL-6180DW monochrome laser printer makes up for its middling speed with good-quality output and inexpensive toner. Indeed, it's easily one of the most economical-to-operate printers on the market, if you use the higher-yield toner cartridges. If you've read our review of the HL-5470DW, you know most of what you need to know about this printer: It's virtually the same unit, with slightly more than twice the input capacity and a super high-capacity toner option.
Installing the HL-6180DW is easy, but you'll need to use USB or ethernet briefly during the Wi-Fi installation process if you don't have a WPS router. The software (what little is required) is excellent, and Brother is one of the few vendors to have successfully automated the Add Printer function in OS X.
The HL-6180DW's controls, on the other hand, are rudimentary. The single-line monochrome LCD and the minimal set of buttons, while fine for error messages and the like, impose limitations. Entering a passcode for secure print jobs is so tedious that users will probably stick with simple four-digit numbers. Brother should consider a keypad to make the secure print feature easier to use.
The HL-6180DW sports automatic duplexing and provides prompts for manual duplexing, if you need exercise running back and forth from the printer. The printer comes with a 500-sheet bottom-mounted input tray and a 50-sheet multipurpose tray (for envelopes, heavy stock, and so on) that folds down from the front. For additional paper handling, you can add a bottom-mounted, 500-sheet auxiliary tray for $210 more. The HL-6180DW comes standard with 128MB of memory; it's upgradable to 384MB via a readily accessible SODIMM slot. A lofty 100,000-page monthly duty cycle attests to the machine's sturdiness, but Brother's recommended monthly page volume for this model is a more realistic 1000 to 5000 sheets.
The HL-6180DW prints quickly enough to meet the needs a small workgroup or office, though it's not the fastest in its class by any means. Monochrome pages exit at 14.2 pages per minute on the PC and 17 ppm on the Mac, while 4-by-6-inch photos print at about 3 ppm.
The quality of the HL-6180DW's output is generally quite nice. Text is dark and sharp, and we saw no light striations in larger areas of black. Photos render passably, but they possess the graininess that most less-expensive monochrome lasers suffer from. It benefits only mildly from using the 'HQ1200' or '1200DPI' settings found in the printer dialog box.
The HL-6180DW's low toner costs are a major selling point, especially if you shop around. At its suggested retail price, the standard 3000-page TN720 cartridge ($77) works out to a cost of 2.5 cents per page. Opt instead for the 8000-page TN750 ($125) and you'll pay only 1.6 cents per page. The TN780—a 12,000-page cartridge—costs $150, which works out to roughly 1.25 cents per page. That's an outstanding cost per page for any printer, and we found considerable discounts on this cartridge at Amazon, Best Buy, and CDW.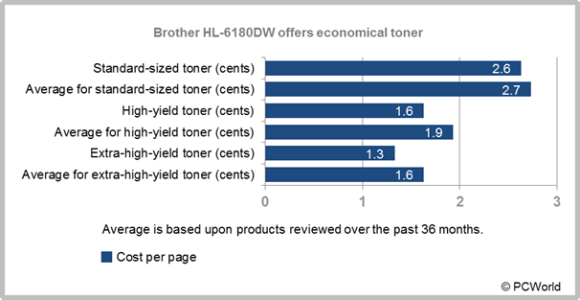 The HL-6180DW is a good buy for a small workgroup that prints perhaps a thousand pages a month. It offers USB, ethernet, and Wi-Fi compatibility; good quality output; and super-affordable toner. That said, an upgraded control panel would heighten the product's appeal greatly.
Editor's note: This review was corrected to reflect a standard input drawer capacity of 500 sheets, not 550. We regret the error.