At a Glance
Expert's Rating
Pros
Impressive mix of high end components
Superb build quality and attention to detail
Cons
Limited upgradeability
Incredibly loud
Our Verdict
While we love the attention to detail Digital Storm puts into most of the Aventum's construction, there are enough head-scratchers to warrant a bit of a pause before cutting a check for this nearly-$8,000 performance desktop. You're a little limited for upgradability, a bit more limited for multimedia support, and getting slower speeds than more fully stocked performance desktops that are arguably the same price.
On paper, Digital Storm's Aventum desktop looks as if it should smoke anything you throw at it. Seen in person, the chassis of this obscenely large and backbreakingly heavy PC looks more like a white version of the monolith from Clarke's 2001: A Space Odyssey than a desktop computer. In fact, we urge you to not put this one on any desk that you haven't structurally reinforced.
Killer components
Digital Storm doesn't scrimp on the high-profile items inside this high-performance PC: The $12,711 (as configured) system rocks double Intel Xeon E5-2687w processors at clock speeds of 3.1GHz—chilled via a liquid-cooling setup that's louder than a conventional air-cooled desktop—to deliver 16 total cores of computing (and barely fitting on Windows' Task Manager). The setup includes a whopping 64 gigabytes of memory and two 120GB Corsair Force GT-Series SSDs (SATA 6Gbps-friendly) in RAID 0 mode and two Western Digital Caviar Black terabyte drives.
This would be a dream system for a content creator or other user of heavily threaded software, yet Digital Storm seems to position the Aventum as a high-end gaming system, rather than as a professional workstation. In that light, we'll focus on the Aventum for its gaming chops, but will give some thought as to its potential in other areas.
Performance
The Aventum's primary loadout sounds like the computing equivalent of bringing a gun to a knife fight. And these pricey components deliver very strong performance on our WorldBench 7 suite of tests, earning the Aventum a total score of 187—impressive, but steps behind the score of 205 put forth by Maingear's top dog, the Shift Super Stock. Given the significant difference in price, this might seem like a big loss for the Aventum, but one issue is that WorldBench 7 can't really take advantage of the 32 threads possible with the Aventum's dual Xeon configuration. By the same token, the Maingear is heavily overclocked, which benefits it in our benchmarking runs.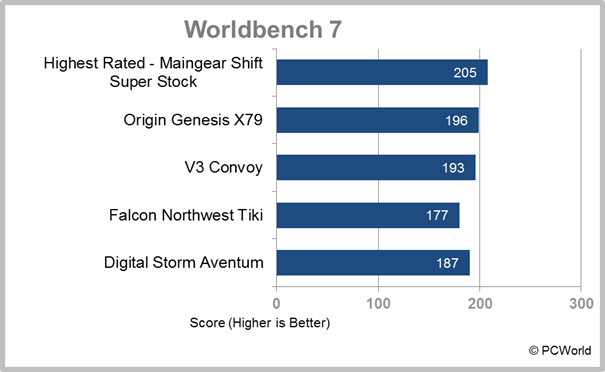 The race between the two systems also isn't close when it comes to gaming. Simply put, the three Radeon HD 7970 graphics cards of the Shift Super Stock, in a CrossFire configuration, wipe the floor with the two SLI Nvidia GTX690 cards found in Digital Storm's system. On both of our major gaming benchmarks—Crysis 2 (Ultra quality, 2560 by 1600 resolution) and Dirt 3 (same settings)—the Aventum was able to dish out only 34.4 and 64.7 frames per second, respectively. That's less than half the frame rates exhibited by the Shift Super Stock, and for an overall cost that's considerably less, given that GTX690 cards run at an MSRP of a cool thousand bucks versus the $499 MSRP of a single 7970.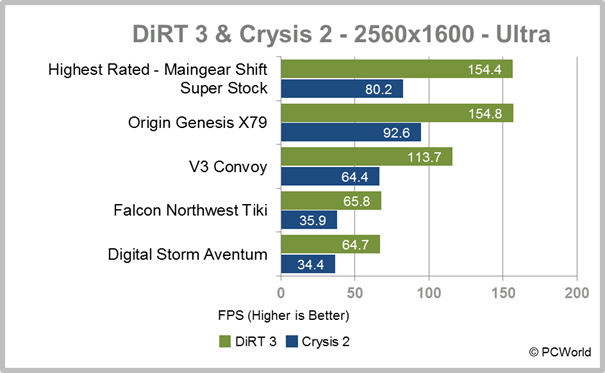 As we noted, the Aventum might work well as a content creation workstation. It certainly performs better than any other system we've tested recently on our content creation tests.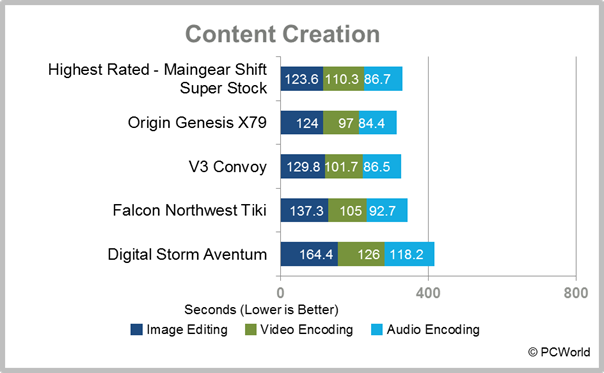 Components and build
We're bigger fans of the Shift Super Stock's components than of the Aventum's: The Shift includes a full Blu-ray burner for all your media needs and an eye-opening configuration of two 240GB SSD RAID 0 arrays and a huge 3TB hard drive for storage. The Aventum is no slouch with its RAID 0 array of two Corsair SSDs and a RAID 0 array of two Western Digital Caviar Black 1TB drives, but why settle for less? Especially since you get only one additional 3.5-inch bay with which to stuff another drive into the Aventum—hardly an ample amount of upgrade room.
While it definitely earns the Aventum cool points to have a slot-loading optical drive on the tippy-top of the front of its case, it's just a DVD burner, not a Blu-ray drive. If you want Blu-ray, you'll need to add a few more bucks to the already rarified price.
Digital Storm earns major points for its technical expertise in building the Aventum itself. Cables are delightfully woven throughout the case's (large) chassis and tucked away with the kind of craftsmanship you see only from the best boutique builders.
The glowing-red insides, meticulous cable management, and geeky tubing can all be viewed from a giant (logo-filled) side panel window. On the upper-left corner of this panel rests a small cutout for a digital display that dishes out temperatures for your hard drives, CPU, and ambient air (and exhaust) in a rotating loop. It's just one more little, useful touch that puts Digital Storm's overall craftsmanship head and shoulders over most vendors.
Noise levels and connectivity
That said, this system is loud. Don't let the liquid loops fool you; with three fans on the right (plus a 1200-watt power supply fan), five fans on the left, and three fans on the top, you'll swear you're about to lift off into orbit once you power up the Aventum. Given that Digital Storm isn't even overclocking its dual Xeon chips—we suppose you're on your own with that one—the sheer amount of air cooling built around this rig seems a bit much. A simple fan controller could have done wonders for the Aventum's acoustics.
We're generally pleased with the Aventum's overall connectivity. It offers up a total of two USB 3.0 and two USB 2.0 ports on the system's right-front side in addition to a plethora of rear connections: two gigabit ports, two eSATA ports, four USB 3.0 ports, four USB 2.0 ports, a Bluetooth connector, an EVBot connection for EVGA's on-the-fly clock-speed-adjusting hardware device, and integrated 7.1 surround sound. The two GTX690 cards offer up a total of two DVI-D, four DVI-I, and two mini-DisplayPort connections, but HDMI would have been a great addition into the mix.
The review system that Digital Storm sent came with no mouse, keyboard, or manuals. For what it's worth, you can customize your own input devices on Digital Storm's site when customizing the PC.
While we love the attention to detail that Digital Storm puts into most of the Aventum's construction, it has enough head-scratchers to warrant a bit of a pause before cutting a check (or taking out a loan) for this performance desktop. You're a little limited in upgradability, a bit more limited in multimedia support, and getting less robust gaming performance than more fully stocked performance desktops that may be approximately the same price. We have no doubt that the Aventum would be an excellent professional workstation or server, but better systems for gaming exist, and for substantially less money.