At a Glance
Expert's Rating
Pros
Extremely light, even for an Ultrabook
Solid performance and benchmark scores
Lots of connectivity options
Cons
Chassis just doesn't feel durable
Screen has terrible off-axis viewing angles
Only one USB 3.0 port
Typing and pointing are sub-optimal
Our Verdict
This extremely lightweight Ultrabook boasts solid overall performance, but poor usability.
Best Prices Today: Portege Z935-P300
Travel-weary businesspeople will appreciate Toshiba's latest Portégé model, the Portégé Z935 Ultrabook. Not only is this laptop business-ready, with features such as a VGA-out port (for hooking up to a projector) and WiDi (see next paragraph), it's one of the lightest 13-inch notebooks we've ever seen. It weighs just under 2.5 pounds, so it's a breeze to tote around to meetings and on business trips.
Our review model, which costs $900 at Best Buy, features a third-generation Intel Core i5-3317U processor, 4GB of DDR3 RAM, and a 128GB solid-state drive. It also sports built-in 802.11b/g/n Wi-Fi, Bluetooth 4.0, and Intel's WiDi technology, which allows you to connect wirelessly to compatible external displays. The Portégé Z935 runs a 64-bit version of Windows 7 Home Premium.
Performance
The Z935 performs well for its category, scoring 158 (out of 100) on our WorldBench 7 benchmark tests. This means that the Portégé Z935 is 58 percent faster than our baseline model, which has a second-generation Intel Core i5 desktop processor, 8GB of RAM, and a 1TB hard drive.
The Portégé Z935 is particularly speedy in startup time, taking just 14.5 seconds, which is quick, even for an Ultrabook. By comparison, our top-rated ultraportable at the moment, the Vizio CT14-A2, starts up in 16.5 seconds.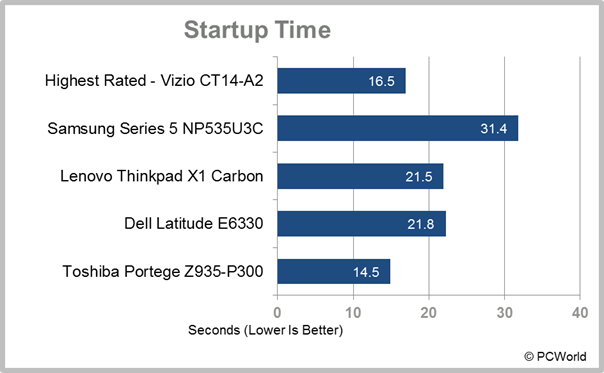 The Portégé Z935 also does well in a couple of our other individual performance tests, including the storage performance test and the content creation test.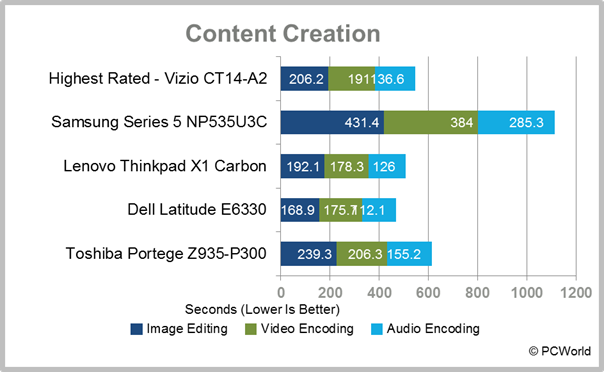 Like other Ultrabooks, the Portégé Z935 has no discrete graphics card. Instead, it relies entirely on Intel's integrated HD graphics chip, which means that graphics on the Portégé Z935 are just mediocre. In Crysis 2, the Portégé Z935 managed frame rates of between 12.1 frames per second (high-quality graphics, 1366-by-768-pixel resolution) and 25.6 fps (low-quality graphics, 800-by-600-pixel resolution). The Vizio CT14-A2 posted a similar performance, with frame rates of between 11.8 and 26.8 fps on the same tests. The business-oriented Dell Latitude E6330, which is an ultraportable but not an Ultrabook, has slightly better graphics performance.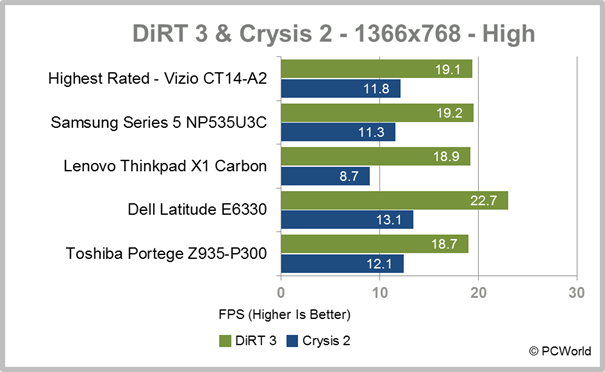 Battery life on the Portégé Z935 is above average for the Ultrabook category. Intel's Ultrabook specifications require at least 5 hours of battery life, but we managed to eke 6 hours, 36 minutes out of the Z935 in our lab tests.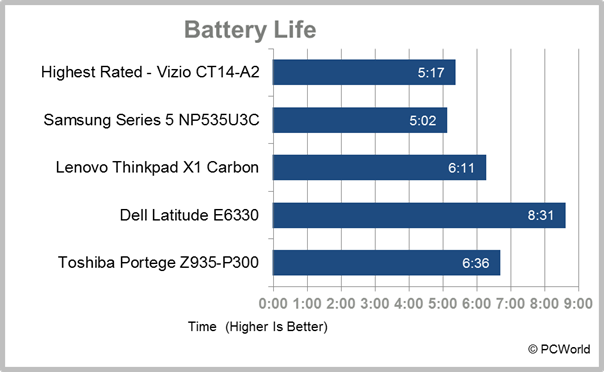 Design and usability
Toshiba touts the Portégé Z935 as its thinnest and lightest 13-inch laptop—ever. This appears to be an accurate description, though it should be noted that the company makes concessions to maintain the Portégé Z935's ultralight construction.
The Portégé Z935 is just 0.63 inches thick at its thickest, and weighs a mere 2.47 pounds sans accessories. By comparison, Apple's 13-inch MacBook Air is 0.68 inches thick at its thickest, and nearly a half-pound heavier at 2.96 pounds sans accessories.
Now, if you're thinking there's no such thing as a super sturdy yet ultralight laptop, you're right. The Portégé Z935 is housed in a light-gray magnesium-alloy chassis, which doesn't seem terribly durable. The lid, which features a brushed metal finish and a reflective Toshiba logo in the center, is extremely thin and flexible. It flexes quite a bit when the laptop is closed, and feels very flimsy and wobbly when open. Its bottom half feels sturdier, but the entire unit seems a little cheaply made.
The interior is simple, with a brushed metal finish and chromed accents. The keyboard and trackpad both need some work. The keyboard features black island-style soft-touch keys, which have a smooth, velvety finish. The keys themselves are a little too small—short, especially—so it's difficult to type quickly and accurately, and they aren't textured or indented, so your fingers will constantly be slipping every which way.
The trackpad is adequate, if a little small. It's the mouse buttons that are hard to use. The trackpad features two discrete mouse buttons that sit flush with the wrist rest and do not depress very much, so they're stiff and tough to press. The trackpad itself supports multitouch gestures and has smooth, accurate movement.
Most of the ports are on the back of the machine. The left side features a headphone jack, microphone jack, and SD card reader, and the right side has one USB 3.0 port and a Kensington lock slot. The remaining ports—a gigabit ethernet port, HDMI and VGA-out ports, and two USB 2.0 ports (one with Sleep-and-Charge)—are all on the back, where the laptop is thickest.
Screen and speakers
The Portégé Z935 sports a glossy 13.3-inch screen with a native resolution of 1366 by 768 pixels. This resolution is fine—it's the average resolution we see on Ultrabooks this size—but the display, in general, needs some work. The screen suffers from terrible off-axis viewing angles. In fact, there's only about a 5-degree vertical range in which the screen looks pretty good; otherwise, the display contrast looks too high or too washed-out.
Color fidelity is also a little off (whites look a little bluish), and colors appear washed out in bright scenes. The screen also shimmers slightly, though this is usually evident only when watching darker scenes.
Video playback is mediocre, which is what we expect from ultraportables with no discrete graphics card. The biggest issue is choppiness and artifacting, which appears in every scene—even ones that have very little movement.
Audio playback is not much better. The Portégé Z935's speakers are on the bottom of the machine, near the front. They get comfortably loud, but audio is tinny and thin-sounding at all volume levels.
Bottom line
The Toshiba Portégé Z935 Ultrabook gets a solid 2.5-star rating. For some business users, such as those who go to a lot of meetings and make basic presentations, it will be a pretty good laptop. After all, it's lightweight, is a solid overall performer, and has several nice hookup options, including VGA and HDMI, as well as WiDi and Bluetooth.
For other business users—those who travel often and want to get work done on the fly—the Portégé Z935 is a poor choice. The keyboard and trackpad definitely need some work, and the overall construction doesn't seem very sturdy. Plus, multimedia performance is pretty weak, even for the ultraportable category.
Best Prices Today: Portege Z935-P300