T-Mobile and MetroPCS, the fourth- and fifth-largest wireless carriers in the United States respectively, will merge with the goal of beating the bigger carriers on value.
The combined company will be known as T-Mobile, but the two consumer brands will operate separately. That presumably means T-Mobile and MetroPCS will still have separate phone lineups, service plans and retail locations.
By coming together, the two carriers will offer a larger combined 4G LTE network, but the full effects of the merger won't be felt right away. Although MetroPCS already offers 4G LTE data, T-Mobile is still working on its LTE network, with a roll-out planned for 2013. When that happens, customers of either carrier can expect a larger LTE network as they upgrade their phones.
For now, the two carriers use different network technologies for voice calls and for non-LTE data, so current phones won't get a boost in coverage. A fully-combined combined network for voice, text and data may not make sense until voice-over-LTE is ubiquitous. (MetroPCS claimed the world's first voice-over-LTE service in August.)
Both T-Mobile and MetroPCS emphasize cost savings and are friendly to users who don't want long-term contracts. All MetroPCS plans are contract-free, and T-Mobile offers a monthly discount to users who pay full price for their phones.
The two carriers have also both embraced unlimited data. In September, they both started offering unlimited data plans with no speed limits, though the offer from MetroPCS is for a limited time only. As AT&T and Verizon Wireless work to squash unlimited data plans, the combined T-Mobile and MetroPCS may push themselves as a cheaper, viable alternative.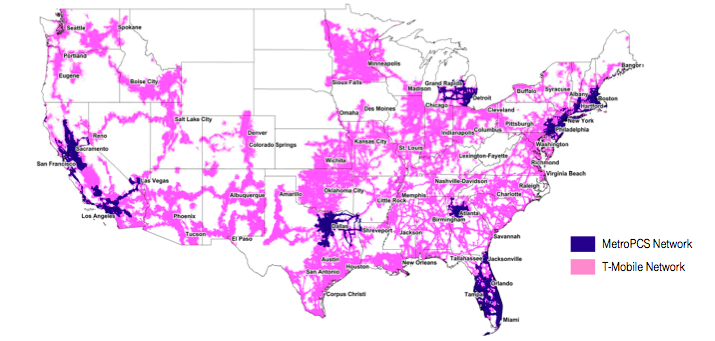 As part of the deal, MetroPCS shareholders will get $1.5 billion in cash and a 26 percent ownership in the combined company. The remaining 74 percent will go to T-Mobile's parent company, Deutsche Telekom.
Of course, this all depends on whether the deal is approved by MetroPCs shareholders and by government regulators. AT&T attempted to take over T-Mobile last year, but the deal collapsed when the U.S. Department of Justice raised concerns that consumers would lose a low-cost competitor. A merger of T-Mobile and MetroPCS seems more likely to go through, given that both carriers are underdogs with similar business approaches.
Pending approvals, T-Mobile expects the deal to close in the first half of 2013.