Remember Morrowind? The third chapter in the popular Elder Scrolls series remains one of the finest roleplaying experiences available, but time has not been kind to the game's aging engine. Fortunately, enterprising fans have stepped in. The newly-released Morrowind Overhaul is a compilation of mods, programs and files that intend to drag the 10-year old roleplaying game into the future with a slew of upgrades. Designed by the folks at Ornitocopter, it's a rare treat: the sights and sounds of Morrowind's Tamriel have never been so stunning, and there's no better time to dive in – perhaps while you wait for The Elder Scrolls Online to surface sometime next year.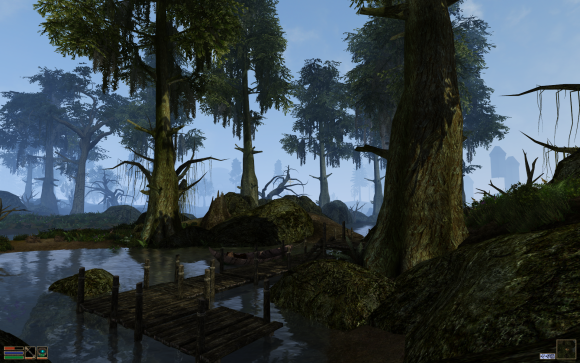 The Overhaul project has been in development for 5 years, and the latest version cleans up a lot of bugs, adds new updates, and features an auto-installer that should take a lot of the guesswork out of getting everything running. You'll need a fresh, mod-free installation of Morrowind as well as the Tribunal and Bloodmoon expansion packs – the Game of The Year edition includes everything you need, and will set you back $10 on Steam. The process is lengthy but straightforward: download the 2GB file, unzip its contents into your Morrowind directory, and run the "MO Installer" executable. If you've acquired Morrowind by way of Steam, the game will be in the Steam folder, under steamapps/common/Morrowind.
There are a staggering number of options to tweak, and the experience can be optimized for a range of hardware. The installer will walk you through the entire process, and offer download links to any missing files or applications you may need. If you're playing on Steam you'll also need to disable Steam's graphical overlay– just right click on Morrowind in your Steam library, select "Properties," and uncheck "Enable Steam Community In-Game."
Overhaul is a polished love letter to a classic RPG, but it isn't perfect – you will run into the occasional crash, so be sure to save often. The game also occasionally froze while I was exiting it, requiring a quick trip to the task manager (Ctrl-Alt-Delete) to clear a blank screen; a minor annoyance, and your results will vary. If you're a fan of the Elder Scrolls series or enjoy long walks through haunting, mystical locales be sure to give Overhaul a shot.