Bad news for cynical tech bloggers, grenade-lobbing Internet trolls, and everyone else who's been attacking Windows 8 for the sheer thrill of sport: I've been using a Windows 8 tablet for over a week now, and the experience has been a revelation.
Indeed, if you've been judging Windows 8 based on how well the RTM version works on a traditional desktop PC, you haven't been privy to the full OS experience.
My tablet test model was a preproduction version of Acer's W700, which Acer officially announced Thursday, promising a ship date of October 26 and prices starting at $799. Until I began using the W700, my Window 8 experience consisted of playing with the OS on a non-touch laptop, and spending a scant few minutes with it on random tablets and hybrids at press events. But now that I've devoted some serious quality time to the W700, I can report that the operating system breaks compelling new ground.
In fact, Windows 8 might even disrupt the mobile space if consumers deign to give Microsoft a fighting chance.
Interested? Intrigued? Maybe even a little frustrated or angry because Microsoft might actually be doing something right? First let me tell you about Acer's new hardware, then I'll get into the nitty-gritty of how Windows 8 performs as a tablet OS.
This is not the hybrid you're looking for
Despite all the hubbub over Windows 8 hybrids, my first extended Windows 8 experience comes from using a pure tablet device—albeit one with bundled accessories designed for laptop-like productivity.
The W700 boasts an 11.6-inch, 1920-by-1080-pixel display whose viewing quality ranks somewhere between that of the iPad 2 and that of the new iPad, due in part to the Acer tablet's pixel density of 190 pixels per inch (versus 132 ppi for the the iPad 2 and 264 ppi for the new iPad). And with a 16:9 aspect ratio, the W700's rich, vivid IPS display offers a generous expanse of screen real estate that's perfect for 1080p video playback, and makes you think, "Hmm, it sure would be nice if my iPad's screen extended this far horizontally."
Our test model's specs put it at the high end of the W700's configuration range, with such Ultrabook-caliber components as a 1.7GHz Core i5 processor capable of turbo bursts of up to 2.6GHz; 4GB of memory; and a 128GB solid-state drive. This hardware profile runs a pricey $999, but that bitter brew might be easier to swallow if you consider the W700's mission to deliver a tablet and a work PC in a single package.
Though the W700 doesn't directly attach to a keyboard the way a newfangled hybrid would, it comes with a sturdy cradle that positions the tablet at a 70-degree angle, much like the screen of an open clamshell laptop. The bundle also includes a matching Bluetooth keyboard that never dropped a keystroke or exhibited any lag during multiple periods of extended typing.
Pair the cradled tablet with its keyboard buddy, and you have a serviceable Windows workstation. It's by no means a perfect productivity system—more about that later—and, sure, many W700 owners will inevitably experience that "Doh!" moment when they discover they never packed the keyboard in their carry-on. Nonetheless, as a total package, the W700 offers much more productivity potential than any Android or Apple tablet.
I found the W700's styling a bit too blingy. The tablet itself looked classy enough: It's mostly touchscreen and aluminum unibody, so how flamboyant could it be? Still, I'm not a fan of the sparkly silver accents and stark, white plastic on the cradle and the keyboard. To its credit, the tablet exhibited no flex when I attempted to bend it in half (sorry, Acer, I had to try!), and the device's overall build quality gave me confidence in its long-term durability.
At 0.47 inch thick, the W700 easily satisfies Intel's Ultrabook spec (0.82 inch), but it's a bit thicker than the new iPad (0.37 inch). At almost exactly 2.1 pounds, the W700 feels noticeably heavier than the new iPad (1.46 pounds), but the extra heft didn't seem excessive, perhaps because the weight scales evenly with the extra screen real estate.
As far as data ports and other points of interest on the hardware slab, the W700 offers a bit more than most Android tablets, and much more than the iPad, including one full-size USB 3.0 port, a Micro HDMI port, and a headphone/speaker combo jack. The tablet's 5-megapixel rear camera shoots 1080p video, while its front-facing camera (megapixel count not disclosed) shoots 720p. Unspectacular stereo speakers are located at the bottom of the device, and a physical Windows Start screen button sits smack dab in the middle of the lower bezel.
Maybe that button is there for people who'll never get used to Windows 8's new touch controls. I'm not one of these people.
A new take on touch tabletry
One of Android's best qualities is that it offers more customization options and power-user features than iOS. But Windows 8 offers even greater depth of user control. The time I spent with the W700 in its pure "Windows 8 style" tablet mode showed me that the big brains in Redmond are introducing some real innovations to the greater touch-control lexicon.
The split-screen view is one of my favorite new tricks. The OS supports full multitasking, and with a specific finger swipe maneuver, you can open two different Windows 8 apps on screen. For example, your Mail app can occupy the left pane (which is fixed at roughly one-quarter of the display) while Internet Explorer can sit in the right pane (which dominates the screen). If you like, you can flip their positions, moving the skinnier pane to the right side.
Another neat trick: To switch between open apps, simply drag your finger from the left side of the screen. Its the Windows 8 version of Alt-Tab, and once again demonstrates just how powerful—and fun—the system is relative to the competition. To see a thumbnail filmstrip of all of your open apps, quickly drag your finger right and then left, from the left edge of the screen. To access the Windows 8 "charms" bar—a centralized home for search, sharing, and settings functions, among others—swipe in from the right bezel.
All these touch maneuvers became second nature once I learned them, but they're not intuitive from the giddy-up, and they're difficult to describe in words. This could emerge as a public relations pain point for Microsoft. If the company is smart, it will build a force-run demo video into Windows 8—something that pops up the first time someone turns on the new hardware.
The demo video would inevitably be met with crushing criticism—oh, imagine the glorious memes!—but Microsoft needs some practical way of teaching users these unintuitive (but ultimately simple) controls.
Challenging learning curves aside, I found the W700's touch controls quick, fluid, and responsive. Screen redraws never lagged or stuttered, and the hardware seemed well-equipped to handle the OS's requirements. We didn't run any benchmarks on our preproduction unit, but if a Core i5 and 4GB of memory can't boss a tablet OS around like a schoolyard bully, Microsoft has serious optimization problems.
The Windows 8 Start screen is an engaging alternative to Android and iOS. Much like Android widgets, Windows 8 "live tiles" place dynamic, real-time updates for various apps on top of your main user interface. For example, the Weather tile shows current local conditions, and the News tile shows a recent headline along with a photo. But Android widgets lack any real design constraints, and the result is a home screen that sometimes resembles a visual circus. In contrast, live tiles conform to simple design rules that foster a more sober and sophisticated look.
Of course, the new Start screen is far from perfect. For one thing, without resorting to third-party utilities, a user who wants to boot straight into the system's desktop mode can't bypass the Start screen. And as Paul Allen recently pointed out, the Start screen has no hierarchical nesting system—so if you have a huge collection of apps, you may find yourself scrolling ad nauseam to find a particular live tile.
Still, throughout my week of hands-on work with the W700, I found the Start screen to be a pleasant, effective new take on a tablet-optimized user interface, and Windows 8 to be a winning tablet OS. Microsoft's built-in Mail, Calendar, and Internet Explorer apps are stripped-down versions of their desktop counterparts, but they more than sufficed to meet my relatively modest tablet productivity expectations.
All of which brings us to the question of how the W700 and Windows 8 performed in desktop mode. It was far better than some critics have made it out to be, but a device like this definitely presents some compromises.
The desktop: Read the fine print!
Critics have slammed Microsoft for its implementation of desktop mode, citing three major complaints:
The only way to access the desktop is via the Start screen.
The desktop no longer includes a Start button, so to access apps—even full-on desktop applications—you have to go back to the Start screen and launch them there.
The Start screen isn't easy to access with a mouse, so operation is difficult on legacy devices that lack touchscreens.
The first criticism is valid. It's ludicrous that Microsoft doesn't include a toggle that lets you boot straight into the desktop.
The second complaint speaks to an even greater annoyance: During my time with the W700, I was frequently chagrined by the extra effort required to launch desktop applications. Sure, a third-party add-on from Stardock introduces a Windows 7-style Start button, and you can set up keyboard shortcuts to launch apps. But that kind of end-run shouldn't be necessary.
As for the third gripe, using mouse control to access the Start screen from the desktop wasn't a problem for me. I simply glided my mouse to the lower-left corner of the screen to invoke the main Windows 8 interface. Easy. Simple. It works.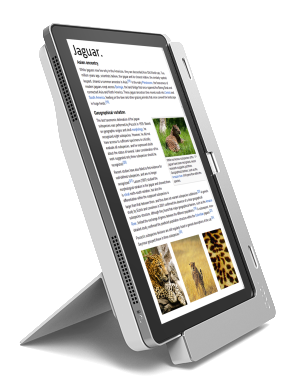 The bigger problem with using the W700 as a traditional PC productivity machine lies in the rendering of the Windows desktop. A resolution of 1920 by 1080 on an 11.6-inch screen makes for tiny fonts, icons, and scroll bars. And because all of these interface elements were so small, I had trouble seeing text in the URL field of Internet Explorer, for example. Likewise, using touch gestures to collapse and exit out of windows—or, for that matter, just navigating around the basic Windows experience that I've been using since Windows 3.1—was a challenge.
Make no mistake: The screen resolution is great when the W700 is in tablet mode, with Windows 8 optimized for that size. But using the tablet in its cradled desktop mode was nowhere near as easy or as comfortable as working with, say, a 14-inch, 1366 by 768 Ultrabook.
Would I use the W700 as my main productivity machine when traveling? Probably not. It's productivity prowess blows away the iPad or Android tablet competition, if only because this machine gives you a full version of Windows. But I suspect that other upcoming Windows 8 devices will offer more elegant compromises between the tablet and desktop sides of Microsoft's new split-personality OS. We'll see. We'll have to test many other Windows 8 devices before we'll know the W700's rightful place in the Windows 8 tablet firmament.
I definitely appreciated Acer's bundled-in keyboard. It didn't reek of high-end build quality, but it was more comfortable to use than a traditional laptop keyboard, since I didn't have to negotiate my hand over a trackpad area, and I could adjust the keyboard's distance from the screen to my heart's content. I only wish that Acer had included a mouse as well. During desktop use, I found myself relying on a mixture of touch and mouse control—touch to scroll through documents and to move windows around, and the trusty mouse from my desktop machine for cursor placement and text selection.
At least one OS platform should be afraid
Though Windows 8 hasn't even launched yet, it's off to a rocky start. Power users are slamming Microsoft for all the new "features" that subjugate the desktop, and as we reported on Monday, the Windows Store inventory is looking alarmingly thin.
Nonetheless, the W700 offers solid proof that a Windows 8 tablet can be a compelling mobile device with touch controls that are fun and easy to use. And luckily for Microsoft, the very capable apps that it builds into the Windows 8 style interface—Internet Explorer, Mail, Photos, People, and more—will likely account for the vast majority of most casual users' tablet time.
Apple doesn't need to be concerned about the Windows 8 launch. The iPad has great momentum, and it's backed by easily the largest and highest-quality apps ecosystem. And Apple doesn't really play the productivity game anyway, regardless of how much it may push the utility of iPhoto, iMovie, and Garageband.
But if I were Google, I'd be very concerned that all of my OEM tablet partners (including Acer) are on the verge of releasing touch-friendly Windows 8 hardware. As the Acer W700 demonstrates, Windows 8 offers a winning tablet experience, and its productivity features show remarkable potential. A tweak here, an iteration there, and the Acer/Microsoft partnership might turn into a perfect Windows 8 marriage.
Stay tuned for our final review of the Acer W700, which we'll hopefully post sometime in late October or early November.