At a Glance
Expert's Rating
Pros
Good output quality
Cheap toner
Cons
Basic control panel can be tedious to use
Our Verdict
The Brother HL-5470DW monochrome laser printer offers good speed and features for a small workgroup. Economical toner is a real plus in this price range.
What it lacks in speed, the $250 Brother HL-5470DW monochrome laser printer makes up for in good-quality output and cheap toner. In fact, in terms of price per page, the HL-5470DW is one of the cheapest-to-operate printers on the market—inkjet or laser, consumer or corporate—when you use the high-capacity cartridges.
Installing the HL-5470DW is easy, but you'll need to use USB or ethernet for the Wi-Fi installation process if you don't have a WPS router (a small complaint). The software is excellent; Brother has even managed to automate the Add Printer function in OS X, something that most printer vendors are seemingly clueless about.
The fact that Brother treats Apple right is rather interesting, as the HL-5470DW's clunky controls reside on the other end of the design spectrum. The single-line monochrome LCD and the minimal number of buttons, while fine for error messages and the like, imposes limitations. Entering a passcode for secure print jobs is tedious at best and will probably have most users sticking with simple four-digit number sequences (like 0011 or 1012) that don't require a lot of scrolling. Once you're used to the interface, it's workable, but a keypad might be in order to make the secure print feature, well, more secure.
The HL-5470DW automatically duplexes (prints on both sides of the page). You'll find a 250-sheet bottom-mounted input tray, as well as a 50-sheet multipurpose tray (for envelopes, heavy stock, and the like) that folds down in the front. If that's not enough, you can purchase an optional bottom-mounted, 500-sheet auxiliary tray for $210 from Brother's online mall, though we saw lower prices at other sources. If you need even more capacity, the nearly identical HL-6180DW maxes out at 1050 sheets instead of 800. The HL-5470DW comes standard with 128MB of memory; you can upgrade it to 384MB via a SODIMM slot located underneath the unit's pop-open side panel.
While the HL-5470DW is hardly a barn burner, it prints at speeds adequate for a small workgroup or office. Monochrome pages exit at a rate of 14 pages per minute on the PC and 16.7 ppm on the Mac, and 4-by-6-inch photos printed on letter-size paper emerge at a rate of about 2.0 ppm. Automatic duplexing, which always slows down printing, is refreshingly quick on this model.
The quality of the HL-5470DW's output is generally quite nice. In our tests, text was dark and sharp, but we noticed some light striations in larger areas of black. Photos rendered passably, though they seemed a little rough and grainy. The printer's higher-quality HQ1200 and 1200DPI settings offered only slight improvements.
As mentioned up top, toner costs for the HL-5470DW are very good—and if you shop around, they're outstanding. Using the suggested retail prices, the standard $77, 3000-page TN720 cartridge works out to 2.6 cents per page. Opt instead for the $125, 8000-page TN750, and you'll pay only 1.6 cents per page. That's an outstanding cost per page for any printer.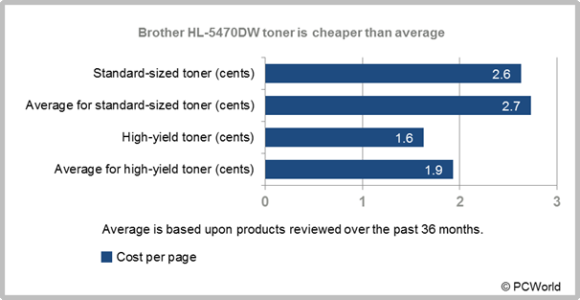 Though it may not be fancy or overly fast, the Brother HL-5470DW has all the connectivity options you'll need, as well as good-quality output and incredibly affordable toner. It would be nice, however, to see Brother upgrade its control-panel technology and design one of these days. If you're seeking alternatives, the Samsung ML-3712ND is in the same price range as the HL-5470DW, but its toner is much costlier.