Microsoft is getting set to release Windows 8 and Windows Phone 8 in October, with events planned in New York and San Francisco, pop-up stores set to open across the U.S. during the holidays, and lots of interesting new Windows-flavored gadgets appearing.
Be a part of it: Windows 8
First up is a Windows 8 press event in New York on October 25 to kick off the arrival of Windows 8 for desktops, notebooks, tablets, and hybrid devices on October 26. Microsoft also plans what it's calling a Surface reception during the event, suggesting that we may finally see some hands-on time with the Microsoft-branded tablet before its release.
Microsoft has yet to announce pricing or availability for the ARM-based Surface and the x86-based Surface Pro tablets that were announced in June. The company is expected to release the ARM-based device around the same time as Windows 8, and there are indications the company may ship Surface on October 26. Surface Pro is expected to ship in early 2013.
Windows Phone 8 in San Francisco
A few days after the Windows 8 release, Microsoft on October 29 will show off the final version of Windows Phone 8, possibly including some unannounced features. Carriers on that day are also expected to announce pricing, availability, and pre-order details for the first round of Windows Phone 8 devices. AT&T has already said it will carry the Nokia Lumia 920, but has said only that the device will be available in November.
Other Windows Phone 8 devices slated for release include the HTC 8X and 8S, as well as the Samsung Ativ S. Verizon is expected to carry Windows 8 phones, but has yet to announce any details.
Holiday stores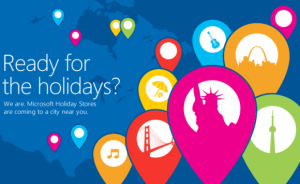 To make sure it's easy for you to get your hands on new Windows 8 and Windows Phone 8 devices, Microsoft plans to open more than 30 holiday stores across the United States.
A brief check of the Microsoft Store site suggests most of these stores will be operational on October 26. You can find a complete list of regular and Holiday Store locations on the Microsoft Store site.
5 Windows 8 devices to watch
Many new tablets, hybrid notebooks, and regular PCs are lining up to ship on or shortly after the Windows 8 release on October 26. Here are five devices to keep your eye on.
Acer Iconia W700
Scheduled for release on October 26, the Acer Iconia W700 features an 11.6-inch display with 1920 by 1080 resolution, Intel Core i3 or Core i5 Ivy Bridge processors, a USB 3.0 port with another three full-size USB ports in the bundled cradle, micro HDMI, 64GB or 128GB SSD storage, 802.11a/b/g/n Wi-Fi, and up to eight hours of battery life.
The W700 weighs 2.3 pounds and measures less than half an inch thick. It can be used as a tablet or docked in a desktop cradle with an accompanying keyboard. Pricing for the W700 starts at $800.
[RELATED: Six Windows 8 Tablets: Can one be your next travel PC?]
Samsung Ativ Smart PC
The Samsung Ativ Smart PC will feature an 11.6-inch display with 1366 by 768 resolution, 1.5 GHz Intel Atom Z2760 Clover Trail processor, keyboard dock, and 64GB of storage.
The Smart PC will be released before the end of the year and AT&T will carry a wireless broadband version in time for the holidays.
Lenovo ThinkPad Tablet 2
Lenovo's Windows 8-powered touch tablet has a 10.1-inch screen, Intel Atom Z2760 processor, 3G and 4G connectivity, optional keyboard dock, and a weight of 1.3 pounds.
Pricing has yet to be announced and Lenovo has only said the device will be available in October when Windows 8 launches.
Acer Aspire S7 Touch
If Ultrabooks are your thing, Acer will release the S7 Touch series ultraportable notebooks on October 26.
The lineup features laptops with either a 13.3- or 11.6-inch touch display with 1920 by 1080 resolution, and Intel Ivy Bridge Core i5 or i7 processors.
Acer is claiming the S7 series can squeeze out up to twelve hours of battery life. To make it easier to use the touch screen, the S7 screens can tilt up to 178 degrees on the 11.6-inch device, and up to 180 degrees on the 13.3-inch version. S7 pricing starts at $1200 for the 11.6-inch model and $1400 for the 13.3-inch device.
Hewlett-Packard Pavilion Sleekbook
HP plans to launch new additions to its Sleekbook notebook line on October 26 including 14- and 15.6-inch models featuring up to one terabyte of storage, optional Nvidia discrete graphics, HDMI, USB 3.0, and a Webcam.
The Sleekbook 14 notebooks will feature AMD processors, while the Sleekbook 15 models will have Ivy Bridge chips. Pricing for the Sleekbook 14 starts at $500 and $600 for the Sleekbook 15.
Windows 8 fever
Beyond new stores, PCs, and smartphones, Firefox fans will want to check out the beta version of Firefox for Windows 8, and Microsoft has retooled MSN.com with a new Windows 8 UI-styled look set to go live on October 26.
Anyone running the Windows 8 Release Preview will want to keep their eye on the Windows Store for updates and improvements to the core Windows 8 apps. Microsoft plans to roll out refreshes to apps such as Bing, Calendar, Games, Mail, Maps, News, People, Photos, and SkyDrive leading up to the October 26 launch of Windows 8. Check out MSDN for a complete list of upcoming improvements.
Microsoft may be getting its own apps ready for October 26, but one of the big unanswered questions is will the Windows Store be ready to sell all these new products? The Windows Store currently has about several thousand third-party apps, but not even close to the hundreds of thousands of apps found in other app stores for iOS and Android devices.