Unless you were born after 1990, chances are good that you've got a shoebox (or seven) filled with photos, slides, and negatives from the good old days of film photography. You'd probably enjoy having access to all those photos on your computer, right alongside all your modern digital photos.
One approach is to box all the photos and mail them to a scanning service—if you're looking to choose this option, be sure to check out my recent in-depth review of several scanning services. A cheaper, but more time-consuming process is to scan them yourself. If you're going that route, here are scanning tips that will give you the best results.
Shopping for a scanner?
The good news is that you don't need a dedicated scanner with special photo capabilities to scan photo prints—any flatbed scanner can get the job done. And if you want to scan slides and negatives, you'll find that most newer flatbed scanners have the ability to scan those kinds of images as well.
Just look for slide and negative capabilities in the scanner's features list (like the one for the Epson Perfection V300, a favorite of mine). However, be aware that most scanners built into multifunction printers don't have the ability to do slides and negatives.
While you can probably get by with the scanner you already have, you might want to think differently if you're shopping for a new one. If you intend to scan your closet full of film, keep an eye out for film scanners—a model like the Plustek OpticFilm 7400, for example, has a feeder for loading five slides at a time and can scan at an extremely high 7200 dpi.
The advantage of a film scanner is that you can get much higher-quality images than with flatbed slide adapters. The downside? You'll still need a separate flatbed scanner for photo prints and other documents.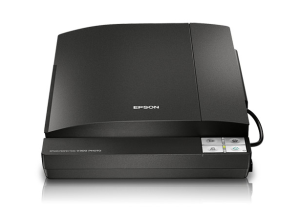 Choosing the scanner mode
After you've picked a scanner and have a box of old photos ready to scan, it's time to choose the scanner settings. Many scanners try to make life easier with a variety of modes that change the scanner's settings behind the scenes.
You can think of these as similar to the "scene modes" on your point-and-shoot camera, intended to smartly take the photo for you depending on the kind of scene you are trying to shoot. Epson, for example, uses modes like Full Auto, Home, and Auto to simplify your scanner setup.
Auto is easiest, and the scanner will choose what it thinks is the best setting based on what it senses on the scanner bed. I'm not a big fan of this approach, though—it's anybody's guess what the scanner will do. That said, if you have Epson's software, you can click Customize and specify the default resolution that the scanner will use when scanning photos and film.
If your scanner has a Home mode (or something similar), then that is handy to use for general scanning. You can specify the kind of document you're scanning (photo, black and white drawing, slide) and even choose the resolution (more on that later).
Finally, Epson's Professional mode is the full manual alternative. Here, you can dial in the resolution and output size, add color and exposure correction settings, and more.
Which one is best? The intermediate Home mode provides most of the power you'll usually need, without overwhelming you with all the switches, dials, and gizmos of the Pro mode.
Choosing a resolution
Here's the operative question: At what resolution should you scan your photos? The short answer: Use the highest optical resolution that your scanner supports.
Of course, the higher your resolution, the larger the photo files will be, so some folks are leery of packing their computer with hundreds of huge photo files. But that's 20th-century thinking. Storage space is insanely cheap these days; you can get a terabyte hard drive for about $100, which will hold more photos than you could ever expect to scan in your entire life. So if you have the storage space, use it. And if you don't have the storage space, you can get it for $100.
There's a very good reason to want high resolution images: It lets you recompose and crop your photos while maintaining sufficient image quality so you can print and share them. If you scan your photos at a relatively low resolution and then crop your photo, you might end up with too few pixels to make a quality print.
How many pixels is enough? For photo prints, 300 dpi is fine in general; scan at 600 dpi to make sure you get all the details hidden in your prints. Scanning beyond 600 dpi is wasteful; it'll make the files bigger without giving you any additional image detail. Plus, the higher the resolution, the more time it takes to scan each photo.
For slides and negatives, 2000 dpi will give you the equivalent of a 6-megapixel photo, which is good enough for most standard print sizes. If your scanner can go higher (such as 4000 dpi), I'd take advantage of it to enable high-quality cropping.
What file format?
Finally, I'd stick with whatever file format you usually work in. If all of your other photos are JPEGs, stick with that—but be sure you tell your scanner software to use the absolute highest image quality/lowest compression setting available.
If you tend to work in RAW format, or you are one of the 50 people still working in TIFF, then TIFF is a good choice since it is lossless. But in my opinion, the inconvenience of the TIFF format is not worth the marginal improvement in image quality, especially if you're only scanning a slew of family snapshots. Remember that those old film photos are probably significantly lower quality than most average digital cameras are capable of shooting today.