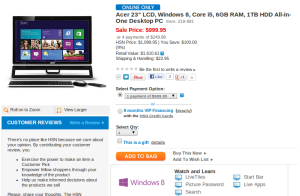 Microsoft won't release Windows 8 until October 26, but the Home Shopping Network is already selling five models of PCs loaded with Windows 8. What's more, the selection is apparently unannounced by the vendors.
UPDATE 12:50 p.m. ET: HSN has removed the five Windows 8 PCs from its site upon request from Microsoft. It's not clear what HSN intends to do for customers who may have already ordered an Acer or Gateway Windows 8 PC. Acer also sent PCWorld the following statement: "This HSN offer was posted prematurely and has since been removed from the site. We are excited to support Windows 8 with a range of Acer and Gateway offerings, starting on Oct. 26."
The systems are from only two vendors, Acer and Gateway, and the selection includes two 23-inch all-in-one PCs (one from each vendor), one 15.6-inch Acer notebook, and two Gateway laptops varying in screen sizes from 15.6 to 17.3 inches. Prices range from $700 to $1200.
But these first Windows 8 PCs have apparently not yet been announced by their manufacturers. Acer and Gateway representatives were unavailable for comment at the time of this writing. Inquiries to an HSN representative have not yet been answered; we'll update this post if we get more information.
Early sale, late ship?
It's not clear whether HSN is authorized to start selling Windows 8 PCs ahead of other retailers. A quick check with online PC sellers (including Amazon, Best Buy, Newegg, Staples, Target, and Walmart) did not reveal any Windows 8 PCs for sale. All of the retailers are advertising Windows 7 PCs with Microsoft's $15 upgrade option for Windows 8.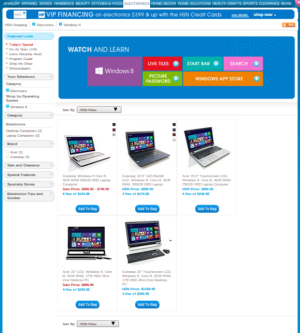 HSN may be selling Windows 8 PCs right now, but it appears that buyers must wait until nearly two weeks after Microsoft ships Windows 8 at the end of October before these early shoppers get their new PCs. At first it appeared HSN intended to ship the Windows 8 PCs within the site's standard time frame of five to seven business days. During PCWorld's first call to an HSN customer service representative at the company's after hours call center, we were assured the PCs would ship in the usual five to seven business days. But during our second and third calls, sales representatives in HSN's prime time call center said the PCs won't ship until about November 8.
ZDNet, which first reported on the HSN Windows 8 sales, was also told the PCs would ship in the standard five to seven business days. The Verge, however, reports the PCs will ship between November 5 and 8, similar to what HSN told PCWorld.
As ZDNet noted, HSN's early Windows 8 sales indicate that, as feared, Windows 8 PCs will come loaded with crapware just like their Windows 7 and Vista predecessors.