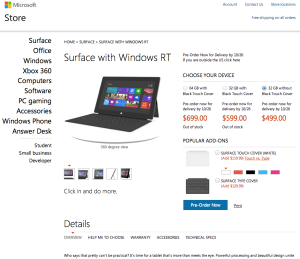 Prices for Microsoft's Surface RT tablets appear to have been inadvertently posted to the Web this morning and quickly pulled down.
At Microsoft's online store, a page appeared allowing consumers to pre-order Surface RT tablets for delivery on Oct. 26. The page lists a 32GB version of the tablet with a black touch cover for $599 and the same model without the touch cover for $499. The touch cover has a tactile keyboard built into it. A 64GB version of the Surface tablet with a keyboard cover is priced at $699.
Pre-ordering for the Surface RT tablets is expected to start at noon Tuesday, Oct. 16, but apparently someone at Microsoft jumped the gun and posted to pre-order page prematurely.
At $499 Microsoft's RT slate is comparable to Apple iPad, although the Surface tablet comes with storage and a slightly larger screen. However, the Surface display has a lower resolution, 1280 x 720 pixels, compared to the iPad's Retina display, which has a resolution of 2048 x 1536 pixels.
No pricing was announced for the Surface models that will be able to run Windows 8. Those models are expected to support full HD 1080p screen resolution, but they're not expected to be available until 90 days after the launch of Windows 8 Oct. 26.
The Surface RT tablets use an ARM processor and do not run Windows 8 applications, although a version of Microsoft's office suite will be included with the slates.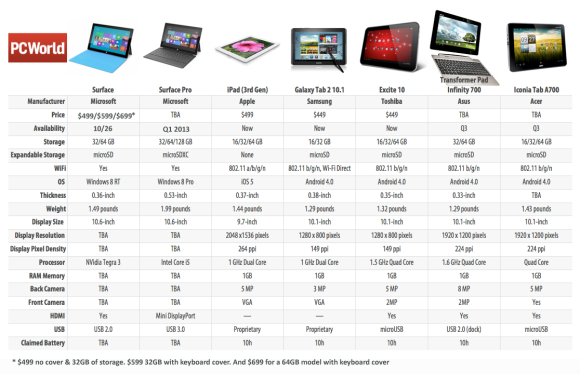 The pricing information was posted to the Web as reports appeared that Microsoft was ramping up production for its tablets and expected to build from three to five million of them by the end of December.
Meanwhile, on Monday evening Microsoft began running its advertising for the Surface line. The ads were short on details about the product but emphasized the touch cover and a "kickstand" at the back of the unit that can be used to stand the slate on its edge.