Less than a day after pre-orders began for Microsoft's Surface with Windows RT tablet, new orders for the $499 model of the device face a shipping delay of up to three weeks.
The $499 Surface, with 32GB of storage, doesn't include Microsoft's Touch Cover, a touch-sensitive keyboard and trackpad that doubles as a screen protector. But it does offer more flexibility than pricier models with bundled Touch Covers.
Both the $599 (32GB) and $699 (64GB) Surface models come with a black Touch Cover, and Microsoft is still promising delivery by Oct. 26 for those models. If you want a different color cover, you must buy it separately for $120. That is also the case if you want a Type Cover, which has a mechanical keyboard; it is sold separately for $130.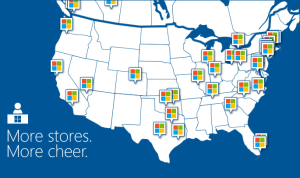 In addition to online stores, Microsoft will sell the Surface at its own brick-and-mortar stores, but not at other retailers.
Update: According to Microsoft, the shipping delay for online Surface orders won't affect retail availability. On October 26, all Microsoft Stores–including pop-up holiday locations–will have all three Surface with Windows RT models available for purchase. If your heart's set on the $499 model and you don't want to wait, your best bet is to find a nearby store.
Microsoft has big retail plans for the launch of Windows 8 and Surface, with 34 "pop-up" stores opening around the United States and Canada, and four new permanent locations on the way. In total, Microsoft should have 65 stores up and running across 27 states, Canada and Puerto Rico.
Some of the stores will have midnight launches for Surface on the 25th, while others will start selling the tablet on the 26th.