Major tech companies are gearing up to launch products before the 2012 holiday season, and new gear is coming for fans of Android, iOS, Windows, and Windows Phone. Apple is expected to introduce an smaller iPad on Tuesday; Samsung launches its second phablet device the same day; and on Friday Microsoft will release Windows 8, the most radical refresh to Windows in nearly 20 years.
Not to be outdone, Google is said to be readying a basket of Android goodies to show next Monday, and Microsoft is expected to showcase Windows Phone 8 the same day.
It's going to be a big seven days for tech fans and Macworld, PCWorld and TechHive will be live blogging events and covering the news from every angle to keep you informed. Here's a preview of what's coming and what's expected over the next seven days starting Tuesday.
Tuesday, October 23: Apple's one more thing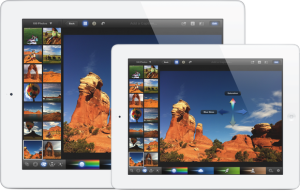 The iPad maker has scheduled an event Tuesday, when most critics expect the company to unveil an iPad with a smaller screen.
The so-called iPad Mini is expected to have a display sized between 7 and 8 inches with 1024-by-768-pixel resolution. The tablet should be priced somewhere around $250 to remain competitive with 7-inch class tablets like Google's Nexus 7 and Amazon's Kindle Fire HD. Apple may also reveal some additions to its MacBook and iMac lineups. The event kicks off at 10 a.m. Pacific Time on Tuesday.
Wednesday, October 24: Samsung's big Note
Samsung has scheduled an event Wednesday evening in New York City to release the Galaxy Note II.
The follow-up to Samsung's "phablet" features a 5.5-inch Super AMOLED Plus display with 1280-by-720 resolution; 1.6GHz quad-core processor; 8-megapixel rear-facing camera; 1.9-megapixel front-facing camera; 16GB, 32GB, or 64GB storage; and Android 4.1 Jelly Bean. The Note II will be available on Sprint beginning Thursday, October 25, priced at $300.
Friday, October 26: Windows Refresh
[Related: Windows prelaunch paranoia: 17 years of gloom and doom]
The version of Windows 8 shipping Friday isn't just another Microsoft OS refresh, but what the company calls "a complete re-imagining" of what Windows should be. Microsoft has designed Windows 8 to serve as the OS across multiple device types, including desktops, notebooks, and tablets.
The new OS features a brand new Start screen inspired by Windows Phone that features touch-centric tiles that display snippets of data such as sports scores, social networking updates, and new email. Also being released on Friday will be loads of new hardware designed for Windows 8, including tablets, Ultrabooks with touchscreens, and new touch-ready all-in-one PCs, as well as a new version of Skype for Windows 8.
In anticipation of Friday's launch, Microsoft has also scheduled an all-day media event in New York City on Thursday to showcase Windows 8 and the Surface tablet.
Friday, October 26: Microsoft's tablet surfaces
[Related: Surface vs. iPad vs. Galaxy vs. Kindle Fire HD: Battle of the $500 tablets]
Alongside Windows 8, Microsoft is releasing its first branded tablet, Surface with Windows RT (Surface RT). The device features a 10.6-inch display with 1366-by-768-pixel resolution, a Nvidia Tegra 3 processor, 2GB RAM, and 32GB or 64GB of flash storage.
Windows RT, the version of Windows 8 included with the Surface RT, is designed for ARM processors, and despite the inclusion of the traditional desktop, Windows RT can't run legacy apps written for Windows 7, Vista, or XP.
Surface RT pricing starts at $500 and the tablets will be available exclusively through the Microsoft Store at launch.
Monday, October 29: Calling Windows Phone 8
Nursing its Windows 8 hangover, Microsoft will be back to the grind next Monday with the final press event before the general availability of Windows Phone 8. This splash follows a Microsoft event in June and a Nokia hardware demo in September.
At next week's event, carriers are expected to announce pre-order details for upcoming phones such as the Nokia Lumia 920 and HTC 8X.
Monday, October 29: Here's Android in your eye
Not content to let Apple and Microsoft take all the glory over the next week, Google has its own Android-themed event planned for Monday.
During the Android debut, Google will supposedly roll out a new Nexus flagship phone built in partnership with LG and modeled after the Optimus G; an updated Nexus 7 tablet with 32GB storage and maybe even 3G connectivity; and perhaps even a rumored new 10-inch Samsung-built tablet.
A tech-heavy seven days are headed your way; welcome to tech's big week.