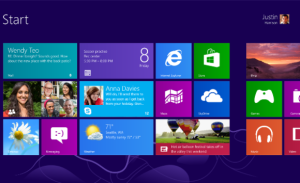 Just in time for the launch of Windows 8, Skype is getting a new modern-style app to take advantage of all the operating system's features.
Given that Microsoft owns Skype, it's no surprise that the Windows 8 app is a model for the new modern interface. The app appears as a Live Tile on the Windows 8 Start screen, and shows a preview of missed calls or new messages. The app also runs constantly in the background—though Skype says this doesn't drain battery life—and delivers notifications for new calls or messages.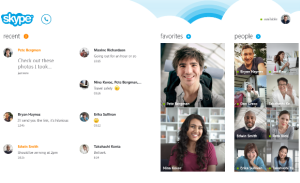 Inside the app, the main screen shows a list of recent interactions and favorite contacts, followed by a list of all contacts that scrolls off to the right. A small phone logo on this screen leads to a dialer for direct calls to landlines and mobile phones, using Skype credit or a subscription.
Perhaps the most useful feature in Skype's Windows 8 app is its support for Snap. Users can drag the app to the right or left sidebar, and continue to see their video calls while using other apps. The sidebar shows a portrait view of the person on the other end, with a thumbnail view of the user underneath.
One thing that's missing from Skype's Windows 8 app is support for the Share charm, which lets any two apps share information with one another. The CAPability to grab links or photos from within other apps and send them to a Skype contact would certainly be useful, especially while a conversation is snapped to the sidebar. A Skype representative says the company is working to support sharing from the Windows 8 charms menu in the future.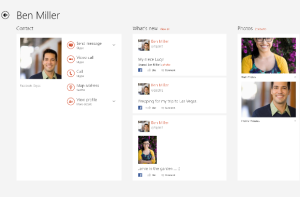 Outside of the app itself, Skype integrates with Windows 8's People app, which acts as a central location for email addresses, phone numbers and other contact methods. Users can connect Skype to the People app by logging into Skype with a Microsoft account.
Skype for Windows 8 will be available on October 26, the same day that Microsoft's new operating system launches. Skype's blog post says you can find the app "on your new Windows 8 device and or download it from the Windows Store," so it may be pre-installed on some new Windows hardware.