At a Glance
Expert's Rating
Pros
Inspired industrial design; nifty kickstand and keyboard options
Fun, fluid, powerful touch gestures
Delivers legit Microsoft Office support–on a tablet, no less!
Cons
Display isn't world-class
Windows RT is the hobbled alternative to Windows 8
Our Verdict
Surface RT is packed with productivity potential, and finds a certain measure of success in reinventing the tablet form factor. But its hardware isn't perfect, and its Windows RT operating system lacks flexibility and app support.
Microsoft desperately needs a "thing"—a big thing that transcends the nerdy world of consumer electronics and achieves hero status among mobile-hardware wonks and civilians alike. The iPad is a thing. The Kindle Fire is a thing. Each tablet is a shared cultural experience that's practically effervescent in mainstream consumer appeal.
And now, with its Surface RT tablet, Microsoft is trying to create a thing of its own.
Surface RT must fulfill Microsoft's bid for relevance in a world gone hopelessly mobile. Surface RT must demonstrate that Microsoft can compete with Apple, Amazon, and Google in marrying hardware to software to credit card numbers in perfectly stacked ecosystems. And Surface RT must validate a splendiferous marketing spend, estimated by Forbes in excess of $1.5 billion, every dollar dedicated to making people really, really excited about, oh my God, have you seen this, it's Surface RT!
When Surface RT was unveiled in June, hands-on reports were unanimous in their praise of the tablet's hardware innovations. With a magnesium chassis, an integrated kickstand, and clever keyboard accessories, Surface RT flouts the standard rules of tablet design and defiantly declares, "There's a better way to build these things. The other guys have it all wrong. We have made things right."
The unveiling was four months ago. Today, Surface RT must prove itself against a barrage of new questions: Just how difficult are the Windows touch gestures? Just how competent is Windows RT, the feature-limited version of Windows 8 that gives Surface its name? And what about the $499 price tag of the entry-level Surface RT offering? Is it low enough to compete with the iPad, let alone other Windows tablets?
I've been using Surface RT every day for the past week, and I can testify that it's a fresh, fun reinterpretation of the basic tablet experience. But does Surface RT have enough, and do enough, to reach "thing" transcendence? Let's dig in deep to find out.
Industrial design
Most tablets are simple slabs of glass and aluminum devoid of moving parts. But not Surface RT, which dares to explore its own physicality in a very showy, public way.
The integrated rear kickstand props up the tablet at 22 degrees. That's just the right angle for some viewing positions, but the kickstand is not adjustable, and I often found myself drifting out of the angle's sweet spot depending on my table height. Made of the same injection-molded magnesium that's employed throughout the Surface chassis (Microsoft calls the material "VaporMg"), the kickstand opens with a faint metallic ting and closes with a confident click. Both audio cues are satisfying—and they better be, considering that Microsoft specifically engineered the kickstand to not just work but also sound good.
The point of the kickstand, of course, is to turn Surface RT into an effective productivity machine, and to varying degrees that promise is fulfilled via the system's Touch Cover and Type Cover keyboard accessories. Regrettably, neither cover is included in the tablet's entry-level package, but all Surface RT versions are preloaded with a soph-frosh version of Microsoft Office that includes Word, Excel, PowerPoint, and OneNote, helping users realize the tablet's productivity promise.
At 3mm thick, the Touch Cover lacks physical keys, and instead uses pressure-sensitive touch pads to record keystrokes. The Type Cover features real keys with actual key travel, but extends the thickness to 5.5mm. Can the Touch Cover possibly offer rewarding typing? I answer that question in the section titled "Surface RT as a workstation" below. For now, I can share that the tablet's keyboard docking system is as sweet as Microsoft wants everyone to believe.
You never need to worry about aligning finicky connection points. In fact, you don't even need to look at the tablet and keyboard when snapping them together. Just move them toward each other, and magnetic attraction will attach the two sides—perfectly, every time. The connection interface also provides the data link between tablet and keyboard, and just like the kickstand, it comes with its own mechanical soundtrack that Microsoft expressly designed to push emotional buttons.
The build quality throughout Surface RT is sturdy and confident, and exudes the same kind of austere precision we find in German performance cars. VaporMg is silky to the touch, yet inflexible when torqued. And at 0.37 inch thick and 1.5 pounds, Surface RT is essentially identical to the iPad in thickness and weight—this despite the fact that it supports a slightly larger, 10.6-inch, widescreen display.
Quibbles? I frequently worried that the kickstand would scratch wooden tables, and I found the proprietary power connector difficult to insert. But overall I became a quick fan of Microsoft's take on industrial design. The magnesium chassis really does feel like something special, and it's a welcome change from the standard combinations of aluminum and plastic we see throughout the tablet competition. Surface RT is a manifestly tactile device, from its generous (if initially confusing) catalog of touch gestures to its actual moving parts.
Display
I won't mince words: Surface RT's 10.6-inch, 1366-by-768-pixel display doesn't match the clarity and beauty of the iPad's so-called Retina display. Microsoft has provided excruciatingly detailed data that explains why a great tablet display doesn't need a resolution of 2048 by 1536, but my eyes don't lie.
In side-by-side comparisons, the Surface RT suffers from a tangible degree of pixel blur, whereas the iPad makes all content look like a continuous-tone photographic print. The difference in resolution is particularly noticeable in text rendering, despite Microsoft's use of ClearType (a technology that enlists a display's subpixels to smooth out character edges) and optical bonding (a manufacturing process that provides for greater visual clarity and reduces screen reflection).
That said, within the context of the greater tablet market, the Surface RT's display is actually quite nice. With a 16:9 aspect ratio, the 10.6-inch screen provides an HD video window that's 42 percent larger than what you'll see on the iPad's 4:3, 9.7-inch display. The Surface's widescreen proportions also accommodate Windows' new "snap screen" multitasking feature, which lets you run two apps side by side.
As for color reproduction, the Surface RT screen doesn't quite have the richness and accuracy of the iPad, but this drawback is noticeable only during A/B comparisons, and I don't think it's a big problem for Microsoft. The company is positioning Surface RT as a consumer-grade tablet that's great for the more pedestrian aspects of productivity: writing long email messages, setting up monthly calendars, creating documents in Word and Excel, that sort of thing. I would never use Surface RT for serious image editing, and that's just fine since the tablet currently doesn't support any apps for serious image editing (though that's a problem in and of itself).
Performance
No news is good news when it comes to any discussion of mobile device performance. In other words, a tablet or smartphone should just work, delivering a user experience that never, ever reminds you a processor is locked inside, chewing up its gears to keep pace with what's happening on screen.
The Surface RT's 1.4GHz quad-core Tegra 3 processor and 2GB of system memory handle their workloads without drama. Gesturing through the OS itself is fast and fluid. Ditto browsing in Internet Explorer. Websites load extremely quickly, and when you scroll rapidly down pages, screen redraws have no trouble keeping up.
During benchmarking, Surface RT more than held its own against other tablets in the 10-inch hardware class. With a frame rate of 6.9 frames per second, it took first place in our run of the WebVizBench HTML5 benchmark, besting the Asus VivoTab RT (another Windows RT tablet), which achieved a rate of 4.8 fps. And in posting a time of 10.4 seconds in PCWorld's own punishing webpage loading test, Microsoft's tablet trounced the VivoTab RT (which required 23.3 seconds to load the same page) and even squeaked past the iPad (which clocked in at 10.8 seconds).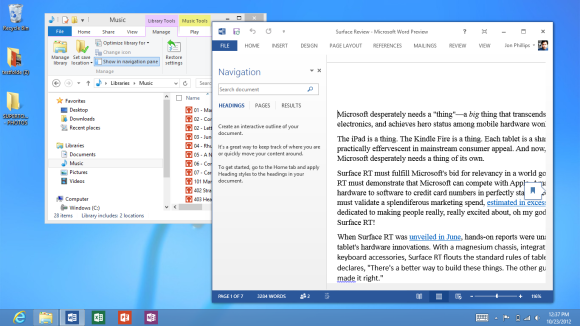 Surface RT meets the demands of modern Web browsing, but what about performance in more hard-core applications? It's almost impossible to tell, because the Tegra 3 is an ARM processor, and our full PC benchmarking suite runs only on x86-based silicon. When working in the preinstalled Office apps, I never encountered any bad hiccups or undue lag, but these programs have already been tuned—or perhaps the more accurate word would be detuned—to work within the limitations of ARM processors.
Regardless, performance in hard-core applications probably won't even matter, because the Windows RT desktop is locked down: You will never be able to install Photoshop, traditional PC games, or any other code we typically define as "PC software."
As for the new Windows 8 apps you purchase in Microsoft's Windows Store, they'll be vetted and qualified to run on Windows RT and ARM (last week, Gizmodo reported that 6 percent of all apps in the greater Windows Store inventory lack Windows RT certification). Will the more processor-intensive apps perform without fits and starts on Surface RT, or will they make you wish your first Windows tablet was running Clover Trail or a Core-class CPU? That's the big question, and it should have a direct bearing on what type of Windows device you buy.
But I'll end the performance report on a happy note: In probably our most important tablet benchmark, PCWorld's custom-designed battery-life test, Surface RT came in second to the iPad, playing a looping HD video for more than 9 hours before pooping out entirely. If nothing else, Nvidia's processor is kind to battery life.
Surface RT as a tablet
Playing with Surface RT for a week is like eating Spanish tapas for the first time after a lifetime consuming only American food (iOS gear) or east-Asian fare (Android gear). Surface RT—and the Windows RT system it taps into—is zesty, zippy, playful, and different. But it also takes some getting used to, especially if you're not adventuresome.
The system is rife with powerful touch gestures, but none of them are immediately obvious if you pick up the tablet without any training. To evoke the Charms bar (a centralized control panel that taps into search, sharing, and settings functions, among others), you swipe inward from the right bezel. That gesture is easy enough, especially because it's explained when you first start up the device.
But what about the gesture that brings up the snap screen for side-by-side multitasking? Or the gesture that lets you cycle through open apps with a finger swipe? Or the gesture that produces all your Favorites in Internet Explorer?
These and other touch controls aren't self-evident. They're a blast to use once you know the full repertoire, and within a few hours of activating Surface, I found myself way more engaged with Windows RT than I've ever been with iOS or Android. Still, Microsoft doesn't include a freshman-orientation packet in the hardware box, and I suspect that many newbies will never take the time to do their homework. These are the people who will slander Surface RT as a confusing mess.
In addition to all the new touch controls, I appreciated Surface RT's ability to side-load media content through the preinstalled SkyDrive app and full-size USB 2.0 port. This arrangement is vastly more user-friendly than going through the kludge of iTunes just to get music or video onto one's tablet. Indeed, moving files in and out of Surface RT is a breeze because the tablet still employs a full Windows file system, complete with folder hierarchies on its desktop side. And it's nice to see something happening on the Windows RT desktop, which is otherwise a ghost town in terms of the software it runs.
Surface RT as a workstation
Between the kickstand, the keyboard covers, and the inclusion of a light version of Microsoft Office, Surface RT really does transform into a serviceable desktop PC.
A dearth of apps limits its full potential, but the workstation design—the size of the screen, the width of the key layout—isn't that compromised relative to, say, what you'll find in a small Ultrabook. Other tablets offer optional keyboard accessories to fulfill that elusive productivity promise, but they're nowhere near as elegant or lightweight, or so well integrated with the greater tablet package.
The Touch Cover is so thin, it feels like the sturdy cardstock cover of a high-end paper notebook. Sadly, though, it's the less rewarding of the two keyboard options. Lacking physical keys, this quasi-keyboard doesn't offer any tactile feedback, and throughout my testing I struggled to type with the right amount of finger pressure.
Now, granted, I'm not a touch typist. I'm an inveterate hunt-and-pecker who can type 52 words per minute on a full-size desktop keyboard. But every time I used the Touch Cover, I struggled to recalibrate my finger pressure to the sensitivity of its sensors. The end result was a lot of words with missing characters. To wit: On the Touch Cover, testing over a seven-day period proved that I could achieve an average typing speed of 30 words per minute, which is considerably slower than my admittedly gimpy average.
The Touch Cover is insanely light. It's spill-proof. It's also the cheaper of the two cover options at $120, and typing on it is faster and more natural than on any on-screen virtual keyboard I've ever used. But the Touch Cover is nowhere near as competent as the Type Cover, which is the better value for only $10 more.
The Type Cover's key action is lighter and shallower than what I look for in a full-size keyboard, and its thicker profile doesn't match the cool factor of the Touch Cover. But, you know what? The Type Cover is a keyboard. It's a real keyboard with real, moving parts. And it yielded considerably faster typing speeds, helping me achieve an average of 39 words per minute across a week's worth of typing tests. I also found the touchpad on the Type Cover to be vastly more accurate and manageable than the one on the Touch Cover, which oftentimes was frustrating to the point of uselessness.
And I'm not the only one who performed dramatically better on the Type Cover. For first-hand reports from real touch typists, check out our full test results here.
When you're typing in Word, or using any of the other Office apps, you're exiled to Windows RT's spooky, barren version of the traditional Windows desktop. Nothing is happening here. You can use the desktop to shuttle files hither and yon, and it's also the locus of various system settings and tools. But because you can't install (let alone use) any legacy Windows programs, you're constantly reminded that Surface RT's productivity story begins and ends with Office, plus the scant selection of low-ambition-level productivity apps available in the Windows Store.
A rather un-appy conclusion
The Windows Store inventory is alarmingly short of high-profile apps. The U.S. version of the Store is still well below the magic 5000-app plateau, and at this point you won't find official apps for CNN, Dropbox, Facebook, Hulu, IMDb, Twitter, and YouTube, among numerous other big-name stalwarts of the mobile world.
This isn't just a problem because Microsoft needs a busy, buzzing software marketplace if it's to realize its greater goals. It's a problem because the features and operation of so many preinstalled Windows RT apps will make you yearn for third-party alternatives.
The Music app gives you access to a huge catalog of free, streaming music, and for some people it may eliminate the desire to download Rdio or Spotify (neither of which is available in the Windows Store, by the way). But as a file-management tool for your own music collection, the Music app is light on features and customization options, and inscrutable in how it works. At first glance it looks like a wrapper for Xbox Music, and users might take a while to grasp that it's Surface RT's only built-in music player.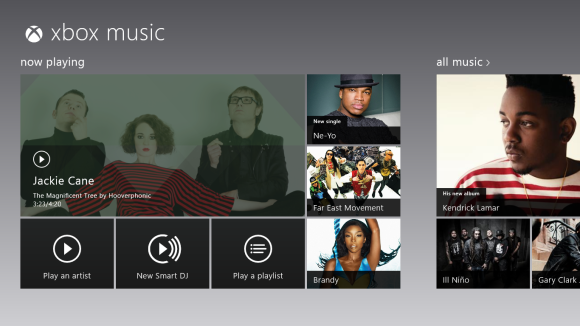 And then there's the People app, a central depository for all social media associations. The app invites you to connect to Facebook, Twitter, LinkedIn, and other buckets of humanity, but once all your social media is thrown together, it's disorienting to see your disparate contacts sharing the same space. Even worse, as a Twitter client, People is precious in design but completely lacking in power—at least as far as I can tell.
Can I tweet an image? Unclear. Can I get a collapsed, more space-efficient view of the tweets of all my follows? Unclear. Do I have a way to remove Facebook updates from my "What's new" stream without hiding Facebook friends in my contacts list? It's impossible to tell.
And that's the problem with many of the preinstalled apps: They seem to lack many standard features, but you're never quite sure if they're actually dumbed-down, or if you just haven't stumbled upon the feature you're looking for.
I synced Calendar with my Google account, but Microsoft's app doesn't show individual calendars that have been shared with me. Can I add those views? If so, the operation isn't immediately obvious. Similarly, the Mail app wouldn't let me add my Gmail account. Is this because my account requires two-factor identification, and Windows RT doesn't recognize that? I don't know. The app simply reports, "That email address or password didn't work."
Bottom line
Microsoft desperately needs a hardware phenom to put a physical face on the ethereal trappings of its new Windows software. Hence Surface RT, the first personal computing device the company has ever created in its nearly 40-year history. But you can't simply buy your way into the "thing" club. You need to make a sexy, groundbreaking product that actually works—and then consumers assign it "thing" status through swarm intelligence, via social media and word of mouth.
Surface RT definitely covers the bases on the industrial-design front. When you set up your workstation at the local café—kickstand kicked, Type Cover snapped—your hardware will strike a pose unlike any other in the tablet space. And in many important ways, Surface RT does successfully redefine what a tablet can be. Its touch gestures rock (once you surmount the learning curve), and its built-in productivity features eclipse anything that the iPad or the Android competition offers.
But Surface RT may not be the best new Windows device to purchase in the short term, and Windows RT definitely isn't the version of Windows you want to invest in. I doubt that any other tablet will be able to match the light weight and slim profile of the Surface RT/Touch Cover combo, but many people will be better served by waiting for a tablet that runs the full version of Windows 8 on x86 silicon. Such competing devices won't be quite as portable as Surface RT, and they'll almost always cost more. But they will grant access to the full Windows software experience, and battery life in Clover Trail tablets should even match the longevity of Surface RT.
One exciting option is Surface Pro. It's the big-kid version of Surface RT, and it should go on sale in three months. It will be slightly thicker than Microsoft's RT tablet, and about a half-pound heavier. But it will carry an Intel Core i5 processor, boast a 1920-by-1080-pixel display, and support the full breadth of Windows software, from desktop applications to every new Windows 8 app. All this, plus the Pro version supports the Touch and Type covers, and delivers all the other elements of Microsoft's nifty industrial design.
Is Surface RT a total nonstarter? No, it's definitely packed with utility, and that's why it earns 3.5 stars. In business-travel situations where I need only to write articles and respond to email, I can see throwing Surface RT and the Type Cover into my backpack, and leaving my Ultrabook (and iPad) at home.
But is this tablet a full-fledged "thing"? No, not yet. It's supposed to answer a host of problems, but instead it poses too many questions of its own.