At a Glance
Expert's Rating
Pros
Stylish design
Useful keyboard dock
Keyboard's key design less comfortable than on previous iterations
Cons
Windows RT OS stumbles in some mobile use scenarios
Our Verdict
Asus' latest tablet is stylish and benefits from Microsoft Windows RT's strengths, but also trips up on some tablet basics.
Asus comes to the Windows tablet party with a strong tablet pedigree, which is just one of many reasons I looked forward to seeing the VivoTab RT. The company already has shown a talent for innovative design with its Transformer Pad series of Android tablets. The VivoTab RT ($599 for a 32GB unit bundled with a keyboard dock; $699 for a 64GB model, also with a dock) handles many tasks well. But as a tablet—one of the first running Windows RT to reach my desk—it falls short of its Apple iPad and Google Android competition.
The VivoTab reflects the evolution of the Transformer Pad Infinity TF700, right down to its keyboard dock, which turns the tablet into a clamshell-style mini-laptop. That clamshell-style dock approach has proved to be a winner in the Transformer Pad tablets released over the past year and a half. The dock provides multiple benefits: You get the flexibility of having a keyboard that you can detach at will; the dock adds only a modest amount of weight (1.3 pounds) to the device; and you'll get an extra battery and USB port in the bargain. The dock functions as a compact, cohesive package that's a breeze to maneuver into and out of a bag and to tote through TSA checkpoints.
Design and features
The VivoTab RT takes many design cues from its Android predecessor, the Infinity; but some hardware tweaks and design accents—including rounded edges on the glass—make this model very much its own tablet.
The tablet weighs just 1.19 pounds, and measures 10.35 by 6.73 by 0.33 inches. That's slightly narrower and lighter than the Infinity, which measures 10.4 by 7.1 by 0.3 inches and weighs 1.31 pounds. By way of comparison, Apple's newest iPad measures 9.5 by 7.3 by 0.4 inches, and weighs 1.44 pounds. The Asus tablet felt well-balanced and comfortable in my hand; I particularly liked holding it vertically for reading; its slightly narrower width made holding it in portrait mode seem especially natural.
The tablet has a metal back, with a ridged texture in its top quarter. I found that this texture made the tablet uncommonly easy to hold in one hand, without fear of its slipping through my fingers. (All of the descriptions here assume that the user is holding it in landscape orientation.) In this ridged upper area, you'll find an 8-megapixel rear-facing camera with flash, and an NFC tap point. The tablet's headphone jack sits right above the volume rocker in the upper right corner, and its Micro-HDMI port hides beneath a flap in the upper left corner. Beneath that element sits the MicroSDXC card slot, which can accommodate up to 128GB of flash storage. The power button, situated along the top edge, is annoyingly slim, which makes it difficult to press.
The tablet has true stereo speakers for left and right audio porting out the rear. This feature constitutes a huge improvement on the audio available from the Infinity, and it sounded noticeably better and more usable in my casual tests.
Unlike on the Infinity, the docking port/power connector sits off-center on the VivoTab RT, nested inside one of the dock latches. It's a clever design, but I found the positioning of the power connector awkward and out-of-balance. The VivoTab RT also has a docking station release slider situated along the lower left, which made releasing the tablet simpler. (The Infinity lacked this feature.)
Still, overall, I'm less enthusiastic about this particular docking station than with the ones on previous Asus tablets. This VivoTab RT's docking station retains the extra battery inside and the hinged, clamshell design, but it lacks the convenience of an SD Card slot, like the one on the Infinity's dock. On the Infinity, I often used the SD Card slot with my camera's SD Card. I also missed the Infinity dock's larger keys; the VivoTab RT's keys are about a 1/16 inch shorter, and that made a big difference in my typing comfort and accuracy. As you'd expect, the keyboard is customized for Windows RT.
Performance
The VivoTab RT has a 1.3GHz Nvidia Tegra 3 quad-core processor (1.4GHz in single-core use) and has 2GB of system memory, as with all Tegra 3-based Windows RT tablets (including Microsoft's Surface). Nvidia says that the Tegra 3 supports Microsoft's Connected Standby mode under Windows RT, so you can read email, view calendar entries, and check news headlines, with minimal impact on battery life.
Overall, my experience using the tablet to perform various tasks was positive, and the VivoTab RT seemed zippy and responsive. I did encounter a few instances of laggy behavior (some apps opened slowly, and in-book navigation was slow on the preloaded Amazon Kindle app), but those drawbacks were the exception, not the rule. Even the built-in Photos app speedily navigated my usual complement of high-resolution photos in the library; however, like many Android tablets, this Microsoft-based tablet doesn't appear to render the image correctly in the Photos app if you zoom into your picture.
The 10.1-inch, 1366-by-768-pixel Super IPS+ display looked good, with pleasing colors and an optically bonded display that helped improve the viewing angle and minimize glare. I did note that on-screen images had a slightly greenish cast (when compared side-by-side with the same images on the Infinity and the Apple iPad screens), most obviously with skin tones. Microsoft enables auto-brightness by default, but the display improved when I disabled that feature and adjusted the brightness manually. The VivoTab RT's text rendering isn't as smooth as that on the Infinity, though: The tablet's pixel density of 155 pixels per inch is a fraction of the iPad's 264 ppi, but it's slightly better than the Microsoft Surface's 148 ppi and the average 10.1-inch Android tablet's 149 ppi.
At this writing, the only cross-platform tablet tests we could perform were Web browser-based: Peacekeeper, SunSpider, WebVizBench, and our own custom-designed Web page load test. These tests provide limited insight into the VivoTab's performance, but at least they offer a starting point.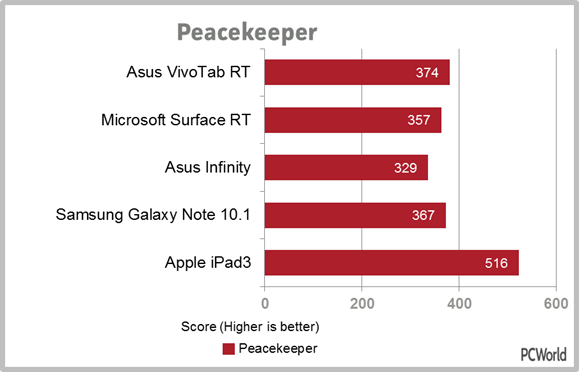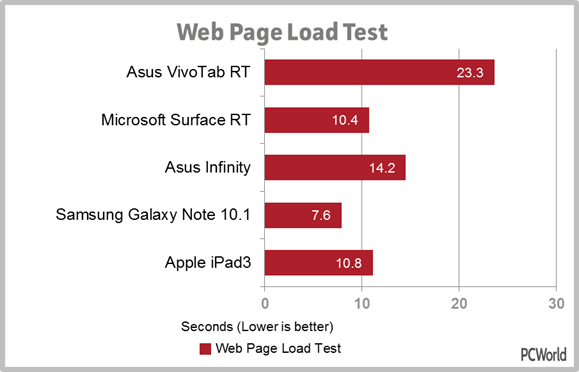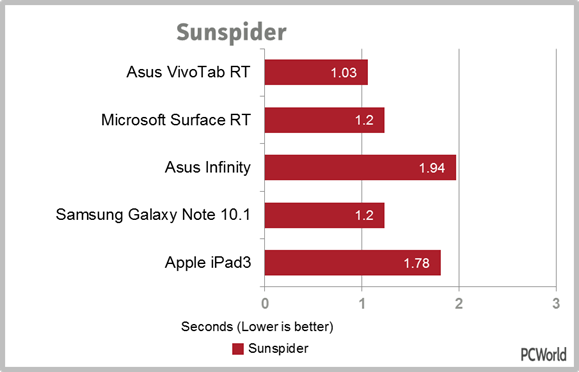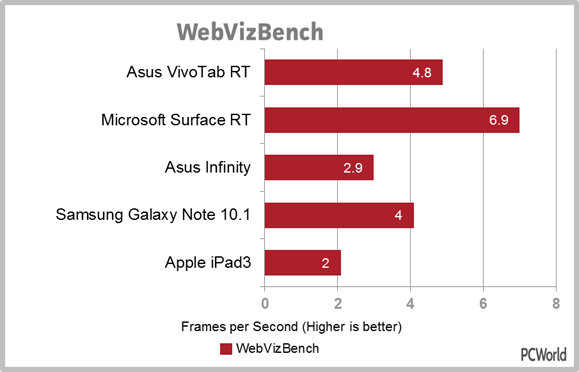 On these browser benchmarks, the VivoTab RT's performance was generally good. It was fastest of all comers on SunSpider, taking just 1.03 seconds to complete the same JavaScript test that the iPad needed 1.78 seconds to complete. It notched a score of 374 on the HTML5-centric Peacekeeper, well behind the iPad's 516, but ahead of the other tablets tested. The VivoTab RT also came in second on WebVizBench, another HTML5 test. However, the VivoTab lagged inexplicably (and dramatically) on our page load test, taking 23 seconds to complete a loading task that the Galaxy Note 10.1 performed in just 8 seconds; Asus is investigating why we the VivoTab RT exhibited this behavior.
Asus did say that it expected additional firmware updates for the keyboard, camera, and trackpad, as well as possible GPU and OS firmware updates closer to the Windows 8 and RT launches at the end of the week. We'll keep an eye on the device and update performance scores accordingly. Also unavailable at this writing, but expected by Windows' launch is the Nvidia Tegra Zone with RT-optimized games. We'll update this review with additional benchmarks, gaming impressions, and battery performance when those details become available.
Inside the Windows RT OS
The Microsoft Windows RT interface closely resembles what you'll see on full-bore Windows 8. At startup you'll see the Modern UI (formerly known as "Metro), with its bright and colorful live tiles. As a tablet interface, Windows RT can be smooth and fluid—and that's what I experienced on the VivoTab RT.
One big benefit of Windows RT's Windows 8 roots is its support for true multitasking, native drivers for peripherals like printers and game controllers, the Charms bar, and features like snap view, which lets you use two apps side-by-side with one app snapped to the left quarter of the screen and the other to the remaining three-quarters. When I had a MicroSD card or USB drive plugged in, I loved being able to start copying content in parallel, without having to wait for one folder to complete it's copy before the other folder started (a failing of Android tablets I've used).
The Modern UI interface looked alive and organic in a way that Apple can't touch, and that Google barely approaches. I loved this interface's clean lines and style, and appreciated its new standard features such as semantic zoom.
That said, I didn't always find the layout of Microsoft's design convenient to use. For example, the back button always appears at the top left of the display—far from where your fingers are likely to be in many use scenarios. I sometimes accidentally invoked the Charm bar when I intended to swipe inward; this happened frequently when I swiped right-to-left to page through books in the preinstalled Amazon Kindle app.
Windows RT is jam-packed with included apps, most of which live under the Modern UI interface (a few are buried under the Desktop mode). Most of the usual suspects are here: Internet Explorer 10, Maps, Messaging, SkyDrive, News reader, and more. One of the biggest omissions was the absence of a dedicated music player. The included Music app is really just a shameless, in-your-face conduit to Xbox Music, rather than a dedicated app for playing music. I'm sure that some developer will come up with a better music playback app, but a solid music player is a basic feature that I've come to expect on a modern tablet.
More disturbingly, I often felt frustrated by limits to Windows RT's usability. I assessed the VivoTab RT against competitors such as Apple's iPad and Asus's own Transformer Pad Infinity. Given its shared DNA with the Transformer tablets, the latter comparison seems particularly relevant. Overall, I found that both Apple's iOS and Google's Android 4.x provided a more visually cohesive experience than Microsoft's Windows RT.
Since Windows RT was designed for ARM-based processors, you can't run standard x86 apps on the tablet. It has a Desktop mode, but this feature is a stopgap for navigating files and accessing some settings, functions, and apps. I found myself in Desktop mode often—to access a file I had downloaded,for example, or to copy files from one place to another. The more I used the tablet, the more I realized how integral Desktop mode was, and not just for the benefit of the included version of Office Home & Student 2014 RT.
I thoroughly appreciated Windows Explorer's presence—and I was thrilled to have full control over my tablet's files and folders, just as I'm accustomed to have it on my PC. But the interface change was jarring; I often longed for a more Modern UI-variant of the venerable Windows Explorer. Oddly, the Files navigation—the closest Windows RT comes to a file manager—doesn't have its own tile. Furthermore, you can get to it only by passing through the search option on the Charms menu. Once in Files, you can't simply double-tap a file or press it to open it; rather, you must tap the file to select it, and then move your hand to the lower bottom right corner to tap it open. I noticed similar tap-a-thon-lie interface inefficiencies elsewhere, such as in the Xbox Music app's music player.
I also was confounded by the OS's unpredictable behavior. For example, I couldn't use the included charging cable to connect via USB to a PC and mount the VivoTab as a drive on my laptop. I do that all the time with Google Android tablets to move content from one to another; but with VivoTab RT, you have to use the cloud or a sneakernet alternative such as a USB flash drive or a MicroSD card (or you have to set up a home group manually via wireless networking).
Another peculiarity I ran into was that Windows RT sometimes had different responses for the same action. For example, when connected to the keyboard dock, Windows prompted me to specify what I'd like to do with the USB drive, and it did so in Modern UI. However, when I used the same flash drive with Asus's USB-to-dock-connector adapter, the drive opened up in the desktop interface; and before it did so, the desktop app popped up a classic Windows box asking for permission to run some Microsoft-authored app that I'd never heard of. I proceeded, but I couldn't help thinking this was precisely the kind of inexplicable computer behavior that drove consumers to enthusiastically embrace the dead-simple alternative offered by Apple's iOS.
Asus includes a handful of its own apps, most of which I found useful. If you register, you'll get 8GB of Asus WebStorage for the lifetime of the tablet. Also preloaded are SuperNote, MyLibrary (an e-reader powered by Txtr), MyDictionary, and Asus Camera.
Bottom line
Tablets are all about the experience of software married to hardware. The Asus VivoTab's solid hardware provides the makings of a good experience, and Windows RT is a good foundation for that experience. But Windows RT's many software quirks and omissions may limit the VivoTab's audience to dedicated PC users who've recently purchased a Windows 8 laptop or desktop, and want to extend their new Modern UI software purchases across both systems. The inclusion of Office Home & Student 2014 RT gives the Vivi Tab RT an edge, but that edge would have been greater still with a better keyboard dock.