The release of Firefox 16 may not have been as tidy as Mozilla would have liked it to be thanks to the security flaw that was discovered soon afterwards, but apparently that didn't have much of an effect on uptake of the new browser.
That's according to research firm Chitika, which says that Mozilla's quick response–the software was patched and re-released less than 24 hours later as version 16.0.1–minimized any potential negative impact.
"It seems that Mozilla caught the issue before a large portion of their users had updated to the new version, limiting the number of individuals who were operating with security vulnerabilities," explains a Friday Chitika Insights report. "Soon after the repair and re-release, adoption rates appeared generally unaffected, with three days of sharp increases in traffic share."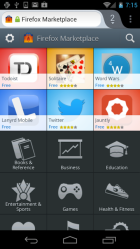 As of October 16, Firefox 16 already made up nearly one-third of all Firefox traffic, leading the company to conclude that "Firefox 16 is on track to be just as successful as previous versions in terms of adoption rate."
Two intriguing new features
Meanwhile, Mozilla has gone on to uncover new features in upcoming versions. Two of those features are particularly worth noting.
1. Firefox Marketplace
With the Aurora version of Firefox 18 for Android released last week, Mozilla is offering early adopters and testers a sneak peek at its Firefox Marketplace apps store.
"This release features a selection of showcase apps in the areas of games, productivity, and news and media that users can browse, install, and use," explains a Thursday post on the Mozilla blog. Among the first apps ready for testing are Distant Orbit, Jauntly, Soundcloud, and Twitter.
Firefox Marketplace is designed to allow developers to build, distribute, and monetize immersive apps built on Web technologies such as HTML, JavaScript, and CSS.
To check out Firefox Marketplace, you can download and then open Firefox Aurora on your Android phone; in the Options menu, choose "Apps" (or "Tools" then "Apps") and browse the Marketplace. Support for Firefox OS and Firefox on other platforms will come in the future, Mozilla said.
2. Social API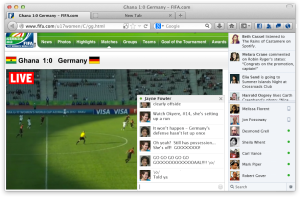 Earlier this month Mozilla introduced its new Social API for integrating social functionality into Firefox, and on Monday it announced that the feature is ready for testing via Facebook Messenger for Firefox.
"When you turn on social integration, you get a sidebar of social news and chat which stays put as you browse around the Web–no need to switch between or open a new tab," explains a post announcing the new feature on the Mozilla blog. "You also get the ability to share the page you're visiting with a single click in the address bar. The site can even let you know when you have new notifications, all without leaving the page you're visiting. Of course, when you need to focus, you can also hide it away."
The new feature doesn't change what social providers can see about your online behavior unless you explicitly decide to share it, Mozilla stressed.
Support for more providers is on the way, as is support for multiple social sites at once. In the meantime, you can check out this first glimpse at the feature by upgrading to the latest Firefox 17 Beta and then visiting Facebook as you normally would.