If you're looking for a way to describe Windows 8 to your less tech-literate friends and family, you might direct them to Microsoft's website Thursday morning, 11:15 am Eastern time. The company will be webcasting the first hour of a nearly day-long event celebrating—and hopefully explaining—its new operating system and Surface RT tablet.
Members of the press received invites to the event in early October. Bearing little more than an embedded image, the message read, "You're invited to celebrate Windows 8, including a Microsoft Surface reception."
Hmmm. Nothing about the invite suggests a real news-gathering opportunity. Nothing suggests a grand product unveiling a la what we've come to expect from an Apple or Google shindig. And let's not forget that Windows 8 has been public since the middle of August as a "release to manufacturing" build, and various members of the technology press (myself included) spent a day at Microsoft's corporate headquarters last week, learning more than we could possibly absorb about the new Surface RT tablet.
So what can Microsoft possibly show us Thursday morning that we don't already know? I will argue with almost metaphysical certainty that you won't see Mr. Ballmer pull a rabbit out of his hat in the form of new, yet-to-be-announced, Microsoft-branded hardware.
Certainly, that kind of dramatic reveal would be welcome, if only to reward so many people who are making travel arrangements and juggling their schedules to attend an event that has all the trappings of a pure PR blitz. (Note: I won't be attending, but another PCWorld editor will.)
And a grand product unveiling would serve Microsoft well in its efforts to become just as publicly dramatic and showy as Apple, which has perfected the highly choreographed, "we've got a secret to tell" product announcement format. But Thursday morning is not the time to confuse the public with yet a third Microsoft product that defies easy explanation to mainstream consumers.
Windows 8 is not a simple, turnkey operating system that a typical, non-nerd computer user can start using with complete authority without any training. Surface RT is not a computer—err, tablet… no make that computer!—that perfectly explains itself the very first time you start using it. So Microsoft needs to use its Thursday morning shindig to get the world up to speed on its existing products. To successfully complete this mission, it will need to touch the following bases.
Show us the difference between Windows 8 and Windows RT
Windows 8 is the new operating system that will run on desktop PCs, Ultrabooks, hybrids, all-in-ones and almost all tablets—basically any hardware stuffed with x86 silicon. Windows RT is the system that runs on low-cost, ARM processor-based tablets, of which only a small handful have been announced.
I don't expect that RT devices will sell very well, but because Surface RT is loaded with Windows RT, and because Surface RT is currently the subject of a massive marketing blitz, Thursday's webcast-viewing public needs a clear explanation of what Windows RT can and cannot do.
For example, Windows RT can't run traditional Windows apps, like Photoshop and PC games. And Windows RT won't necessarily run all "modern" Windows 8 apps sold in the Windows Store. And machines running Windows RT will contain a weird, empty ghost world called the "desktop" that will seem to be there for a reason, but is actually just there because removing it, or hiding it, or covering it in pretty decorations, was apparently too much trouble.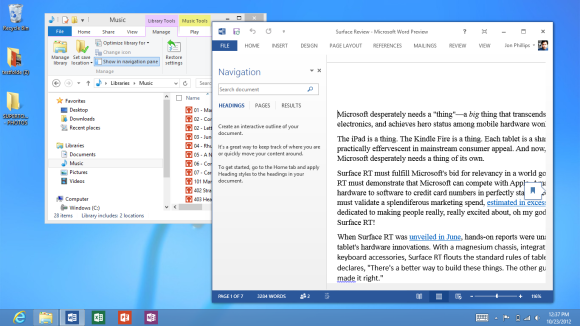 Windows RT: It needs some words of explanation—and even support. Yes, Microsoft should go all in and tell us why Windows RT is better than Windows 8!
Show us some gestures
Windows 8 and Windows RT are packed with marvelous, powerful, almost addictive touch gestures. All these actions make the operating systems a joy to use—and I don't even like the word joy; it's not a word I use casually. But the new gestures are not intuitive, and I have yet to test a new Windows device (including Surface RT) that includes a full primer on how to navigate this exciting new operating system with taps and finger swipes.
So make a stir about system navigation, Microsoft. Don't make the mistake of thinking a certain degree of freshman orientation isn't necessary—because evidence suggests otherwise. The world is very familiar with typical Windows desktop behaviors, but Windows 8 touch behaviors flip everything upside down.
In other words: Let's see a video with fewer people dancing, and more people tapping, squeezing and swiping. If Microsoft doesn't quickly get people up to speed on how the new Windows touch actions work, it will have a much greater headache than simply worrying about its lack of traction in the mobile hardware space.
Show us some apps
I write this less than 48 hours away from the official launch of Windows 8, yet Microsoft's Windows Store, the only location to parse and purchase the new Windows 8 apps, has that desolate, picked-over vibe of a Halloween party supply store on November 1. There's not much on store shelves, and what is available is all sort of jenky.
As I write this, there are no official apps for Facebook, CNN, YouTube or IMDB. There's no official Twitter app, and the third-party Twitter clients the Store does include are crap. There are no apps for Hulu, Dropbox or ESPN. And there are no big-name, high-profile gaming apps, save Cut the Rope.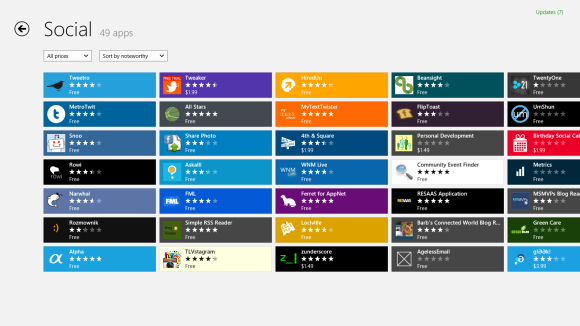 The apps situation looks dire, but when I discuss the Thursday Windows 8 event with my high-tech media cohorts, we all agree that Microsoft will probably use the opportunity to unveil key additions to the Windows Store. The conventional wisdom is that many high-profile apps are being saved for launch day, and that Microsoft will borrow a page from Apple's playbook, and wheel out key app developers for an on-stage dog and pony show.
Plus, the company needs something new and special and fancy and shiny to show at Thursday's event. Some big-name software partnership announcements would be helpful in delivering just that kind of sizzle.
Please tune in to PCWorld tomorrow. We'll have the full report on just how well Microsoft executes the requests I make above.