The dust is settling on Microsoft's big Windows 8 launch event, but Microsoft isn't the only company with news today. Box also had some details to share about its new Windows 8 app.
While Windows 8 is a bold shift for the venerable desktop operating system, the big unveiling was less than impressive. The Microsoft presenters often seemed more nervous and flustered than excited and confident, and the whole thing came off like Microsoft was hosting a QVC infomercial for a plethora of third-party OEM hardware options.
Overall, there wasn't really anything new unveiled by Microsoft today, especially not in the area that most people seem to be most concerned about—apps. The significance and success of the Windows 8 Start screen—the Modern UI—seems to hinge largely on the apps that are available to provide value.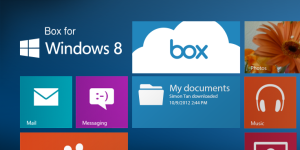 That's where Box comes in. Obscured by the Microsoft Windows 8 launch event, Box today officially launched its new Windows 8 app. The Box app is precisely the sort of thing that Windows 8 needs, and arguably should have been spotlighted by Microsoft at the event, along with Skype, Evernote, Netflix, Kindle, and other key apps from major players that have invested the time and effort to embrace the new Windows 8.
Why is the Box app important? Well, it's important for Microsoft and Windows 8 because many businesses rely on Box for storing and sharing data. The SkyDrive integration in Windows 8 is nice, but companies aren't going to just abandon Box and migrate their data over to SkyDrive, so it's important from a productivity standpoint that users are able to access data from Box from within Windows 8 as well.
It's important to Box, because embracing Windows 8—which is both a desktop OS and a mobile platform depending on your perspective—is a final piece in the puzzle that delivers on the vision of Box. According to the Box.com website, "Box was founded on a simple, powerful idea: people should be able to access and share their content from anywhere."
As with Facebook and Twitter—two services I recently noted are glaringly absent from Windows 8 so far—you could simply log in to Box.com using the Web browser. The lack of a native app doesn't completely preclude someone from using a Web-based service like Box. But, for a touchscreen environment like a Surface RT tablet, a native app designed with touching and swiping in mind makes a huge difference.
The Box app gives seamless access to content stored on Box in a way that's simple and intuitive from Windows 8—especially using a touchscreen interface like a tablet. For example, when viewing a folder with tons of files and folders, you can pinch-to-zoom and Box transforms to show information in a more organized fashion that helps you more easily find what you're looking for.
The Box app can be added to the Windows 8 Start screen as a live tile that keeps you updated on activity related to the Box account. You can also pin individual files or folders to the Start screen.
Box has designed the Windows 8 to take advantage of the way Windows 8 works, and integrate smoothly. You can search your Box content using the Windows 8 Search charm, and you can share files and folders with others using the Windows 8 Share charm.
If you're considering Windows 8, you should check out the Box app. If you plan to use a Windows 8 tablet, you should definitely look more closely at the Box app. Even if you don't currently use Box, the Box app is a great example of what you should expect from Windows 8 apps, and how a Windows 8 app can provide more functionality and a better experience than using the same service through the Web.