At a Glance
Expert's Rating
Pros
Beautiful, simple interface
Comprehensive feature set
Cons
Free plan very restrictive
Our Verdict
Comprehensive Web app Harvest lets teams track billable hours and produce estimates and invoices.
When you're billing clients by time, accurate tracking is a must. Harvest is a Web app that aims to make it easy to track time for multiple clients, multiple projects, and multiple rates. It also includes invoicing features, and lets you produce professional-looking estimates for prospective clients and objects. I've looked at Harvest's free option, which is feature-limited; paid plans start at $12 for the Solo plan and include unlimited clients, projects, and invoicing. When you first sign up, you get 30 days to evaluate the lowest paid plan, before the service reverts to the limited free plan.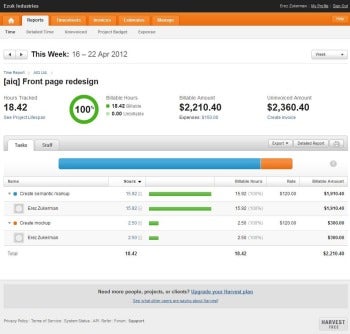 Despite its many features, Harvest feels simple to use. When you first log onto your Harvest account, you get a list of four quick steps to get you started: Create projects, track your time, invoice, and invite your co-workers. That last one sounds more like an upsell than a feature to me, but the first three are the core of what you will be doing with Harvest.
When creating a project, Harvest asks all of the standard questions (client name, budget, notes), but also lets you fill in a Project Code, which may be useful for larger teams and organizations. You can also fill in a budget, measured in total project hours, fees, hours per task, or hours per person. You may then share budget reports with everyone on the project (employees and contractors), or decide to keep them private. After you create a project, Harvest asks you to configure tasks for this project–the things you or your team will be spending time on.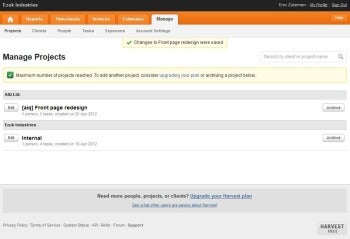 With projects and tasks defined, it's time to start tracking time (no pun intended). Harvest's time-tracking feature is not as simple as free competitor TogglDesktop's, but is not far off. One possible point of confusion: By default, Harvest displays times in a decimal format, so an hour and twenty minutes shows as 1.33. You can still type an hour and twenty minutes into the timesheet as 1:20, but as soon as you click out of the text field, Harvest will convert your human-readable notation into the decimal one. This can be switched off in the settings. You can also use Klok Pro ($16) to track time offline and then feed into Harvest, using Klok's free Harvest Connector beta plugin.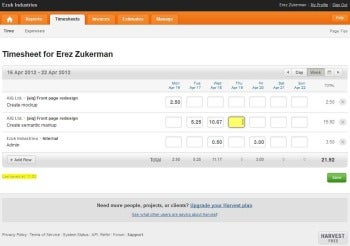 Unlike Toggl, Harvest lets you log expenses in addition to hours. To log an expense, you need to choose a project and a category, and specify the amount. You can also add notes and attach a scanned receipt. Invoicing is tightly integrated into Harvest: Once you invoice a client for a given time period, you may no longer log expenses for that project and time period. Also, any time entries included in the invoice become read-only on the timesheet.
In every respect, Harvest feels more serious than Toggl. Its robust reporting features, built-in invoicing, expense tracking and estimates make it a good solution for a small business or a team within a larger enterprise. But the complexity brought on by these same features, and the very limited free option (two projects, four clients) mean that small-time freelancers would do well to check out Toggl's free plan before deciding on a time tracking solution.
Note: This download can be used either for the free plan or as a thirty-day trial of the paid plan (after which it will revert to free). The Download button takes you to the vendor's site, where you can use the latest version of this Web-based software.
–Erez Zukerman