Facebook has partnered with several antivirus software companies to launch a special page devoted to keeping users safe on social networks. The new Facebook Security page features tips, information on threats, a security quiz, and free antivirus software downloads.
The Antivirus Marketplace offers the following software for download: McAfee Internet Security (PC), Microsoft Security Essentials (PC), Norton Antivirus (PC and Mac), Trend Micro (PC and Mac), and Sophos Antivirus (Mac). Six months of free updates are included with each download, but users are limited to just one free antivirus application per Facebook account.
The antivirus companies will also be providing educational information and security updates to the community via the Facebook Security Blog.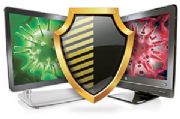 "Truly effective security requires cooperation and we are excited about this partnership with many of the leaders in the security community to better help us defend against existing threats, anticipate new ones and arm people with the tools they need to protect themselves," Facebook wrote in a blog post announcing the collaboration.
Facebook also plans to incorporate the various security firms' URL blacklists into its own anti-spam efforts. The company says the current blacklist limits spam to just four percent of all content posted on Facebook.
For more tech news and commentary, follow Ed on Twitter at @edoswald, on Facebook, or on Google+.