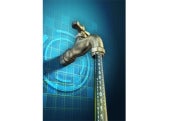 Sprint plans to keep the unlimited data coming on Apple's next iPhone, even if it supports 4G LTE.
"I'm not anticipating the unlimited plan would change by that point," Sprint CEO Dan Hesse told CNet. "That's our distinctive differentiator."
Sprint is the only major wireless carrier that still offers unlimited smartphone data with no throttling, though the carrier does limit tethering and hotspot use. Meanwhile, the rise of smartphones–and the iPhone in particular–has seen Sprint's larger competitors clamp down on data use.
AT&T stopped offering unlimited data to new subscribers in mid-2010, and Verizon followed in 2011, months after it started selling the iPhone 4. Both carriers also now throttle their heaviest data users who still have unlimited plans, although Verizon only does so at congested cell sites.
With 4G LTE, phones and tablets can get speeds up to 10 times faster than 3G. As a result, 4G device users may burn through more data, bolstered by the ability to quickly load videos or download files. For Verizon and AT&T, that extra consumption can turn into more revenue, as users run into overage charges.
That may explain why Hesse left a bit of wiggle room–"I'm not anticipating … by that point"– in his statement. Sprint may always look to offer more data than its competitors as a way to stand out, but don't be surprised if unlimited 4G LTE data doesn't last forever.
Follow Jared on Twitter, Facebook or Google+ for even more tech news and commentary.