Apple chief executive Tim Cook would rather settle lawsuits than fight them in court, but he isn't about to let the world take a free ride on his company's smarts.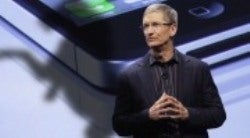 "I've always hated litigation, and I continue to hate it. We just want people to invent their own stuff," Cook told analysts this week during an earnings call announcing Apple's financial results for the quarter ending in March.
"I would highly prefer to settle versus battle," he added. "But the key thing is that it's very important that Apple not become the developer for the world."
Ironically, Cook's comments came on the same day a judge at the International Trade Commission ruled that Apple had violated a patent held by Motorola Mobility Holdings. That decision is subject to review by the full commission, which can prevent devices that infringe on U.S. patents from entering the country.
Apple has been embroiled in lawsuits around the world over patent infringements of its intellectual property and that of its competitors.
In February, for example, Apple sued Samsung in the United States for patents that include touching a phone number on a webpage to dial a number and unlocking a smartphone by sliding an image from one location to another.
In China, Apple is embroiled in a trademark lawsuit over the iPad name. A Chinese company claims to own the rights to the trademark.
In March, a German court tossed out two patent lawsuits — one by Apple against Samsung, the other by Samsung against Apple — and in Korea, Samsung sued Apple, saying the American company's iPhone 4S and iPhone 2 contain technology that violate the Korean company's intellectual property.
Follow freelance technology writer John P. Mello Jr. and Today@PCWorld on Twitter.