At a Glance
Expert's Rating
Pros
Great text editor
Create complex websites with ease
No coding experience needed
Cons
Mediocre templates
Design features can be fiddly
Our Verdict
Create complex web sites with easy WYSIWYG design tool Site Spinner. No coding needed.
Any marketing guru will tell you, one of the most important things you need for success is to determine your audience. And, lets face it, everyone these days has access to the internet. So the question becomes whether your audience is interested in a blog—a constantly changing information source—or a static website. SiteSpinner can help with the latter, creating professional-looking static sites with access to code: no prior experience necessary.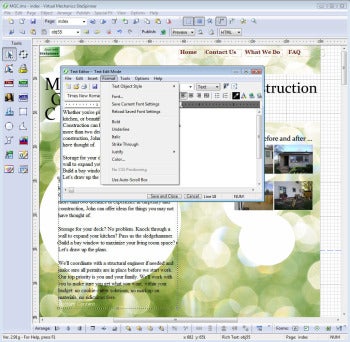 SiteSpinner is very intuitive to use. In addition to menu items and shortcut buttons, you can double click an object and a complex Object Editor dialog box pops up. Here is where you can change the various components of your object, make transformations like scaling and position, add links, and edit visibility options and enable rollovers. Likewise, double-clicking text opens the Text Editor, a mini word processor; and double-clicking a title opens the Title Editor.
SiteSpinner's templates are very basic. If you're just starting out, they're good to use and adapt. But because of the way SiteSpinner's menus are grouped–with links and effects options changeable from the same properties dialog as features, size, etc.–I get the feeling that you may be better off starting from scratch, rather than trying to adapt a template to fulfill your needs. You almost have to set things up manually, so why use a template?
It's a little difficult to design a site in SiteSpinner, especially if you're an expert at using image editing and design software. There are no drag and drop features in SiteSpinner—buttons, widgets, color themes, etc.—like there are in Xara Web Designer MX 8 (also $50); and although SiteSpinner does allow you to resize and make minor adjustments to your images, it's not a replacement for a good image editor like Adobe Photoshop CS5 ($700), or the more affordable MAGIX Photo Designer or GIMP (both free).
As an image person (rather than a coder), I also was a little frustrated with a few of SiteSpinner's features. Changing colors is finicky; making images smaller is a pain as SiteSpinner doesn't allow you to use a decimal place, and the size is in relation to one, rather than a percentage; and there's no easy way to group components together. That said, I found SiteSpinner easier to use than WYSIWYG Web Builder ($45), a similar program that includes more advanced features.
Plus, SiteSpinner's ease of creating common website features, for example popups or rollovers, puts other web design software to shame: To set up rollover images, just check either the "Hidden on Mouse over" or "Hidden on Mouse leave" box in the object properties and you're done. And a mouse click tells the site to "popup full size image" when you click on a thumbnail. No layers, no complex grouping, no having to get things in the right order; phew, what a relief!
In addition, for those inclined, you can actually access the code in SiteSpinner. It may be almost gobbledygook to most users, but sometimes you can pick something out that isn't working quite as you expected: and it's useful to peer inside at the workings occasionally.
Unlike Xara Web Designer, SiteSpinner is not fully WYSIWYG. Images and titles will stay in the location you put them in SiteSpinner's workpage (unless you define otherwise), but text will reposition depending on the end-user's browser.
If you are on a very tight budget and only need a single-page site, try WebDwarf (free). This stripped-down version of SiteSpinner has much the same learning curve, but far fewer features.
SiteSpinner takes a traditional HTML editor and, after chewing it up a little bit, spits it out as a relatively easy web designer for a non-coder. It's more difficult to design your site with SiteSpinner than with a program like Xara Web Designer, which offers a built-in image editor, vector drawing program, and color themes; but making your site do what you want it to do is much, much easier with SiteSpinner.
Essentially, SiteSpinner is a fabulous program if you are not planning to design your site from the ground up with it. Put the components together, make PNG files, and cook it all up in SiteSpinner. It's worth the money if you have a non-blog site you need to serve up.
–Clare Brandt