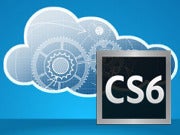 If you've ever wanted to utilize Adobe's Master Collection of creative tools in your business, but blanched at the suite's $2,600 price tag, take a look at Adobe Creative Cloud. This new subscription service delivers full access to the company's Creative Suite 6 on a monthly or annual basis for a fraction of that price.
Subscribers will also gain two HTML 5 applications–Muse and Edge–that aren't available any other way. And you needn't worry about being tied to your Internet connection while you're using them: You can download and install any application in Adobe's CS6 Master Collection of design, Web, video, and digital imaging tools and use it offline as long as you remain subscribed.
Significantly Lower Cost of Entry
A Creative Cloud subscription costs $50 per month on an annual basis ($75 per month on a month-to-month plan). Adobe is also offering customers who currently own CS3, CS4, CS5, or CS5.5 a $20 per month discount for the first year. An annual Creative Cloud subscription will cost less over a four-year period than buying CS6 outright; plus, subscribers are entitled to any future upgrades at no additional cost (upgrading to CS6 from a previous version currently costs $525).
Unlike the boxed version of CS6, where you must choose between OSX or Windows for the two installs it comes with, Creative Cloud subscribers can have one install on a Mac and one on a PC, if they choose. Subscribers also get 20GB of online file storage and hosting services for as many as five websites.
Automated Tools
Merely having this software at your disposal won't provide you with an amazing website by magic, but the automated tools built into CS6 certainly make it easier. The auto-patch tool, for example, allows you to easily move elements in a photo by automatically replacing the background, and a new wide-angle straightener can easily transform the curves of a fish-eye shot into straight lines. If you're producing video, AfterEffects can map objects in a 2D video as if they were 3D, allowing foreground characters to overlap objects added to the background.
Some of the most useful new tools are related to publishing to smartphone, tablet, and other mobile environments. Dreamweaver offers a Fluid Grid layout that automatically rearranges content so that it looks good within the confines of a tablet or smartphone screen. And InDesign can automatically reflow the content of your magazine, newsletter, or catalog to optimize it for the given orientation–landscape or portrait–when the mobile device is rotated.
Integration with Webhosting Utilities and Publishing Services
The Adobe Digital Publishing Suite, which is "coming soon" to Creative Cloud, turns magazines, brochures, catalogues, and other digital publications into standalone apps for iOS and Android. These apps can then be shared directly or published to the respective app stores for sale.
Adobe Muse integrates a rich graphical site editor for online publishing to Adobe's hosting service. Creative Cloud membership also includes access to Adobe Typekit, a Web-based font library that includes more than 700 typefaces, which is integrated into the hosting platform.
Who is This For?
If you're looking to build a simple website for a business that's just getting off the ground, you might be better served by free or inexpensive tools, such as Weebly or Yola. But if you're looking to take your online presence to the next level, and you have the time to learn how to use it, Adobe's Creative Cloud delivers a powerful set of tools for producing rich, mobile friendly websites and apps.