ZoneAlarm is an old and trusted name in the field of computer security. Its free personal firewall has been popular for years, and now, it has decided to step up its game: Its latest product takes the solid foundation of the free firewall, and adds a free antivirus on top. With this move, ZoneAlarm Free Antivirus + Firewall competes directly against Microsoft Security Essentials and the built-in Windows firewall. PCWorld has not yet tested this product's effectiveness, but I sat down with the software to evaluate its features.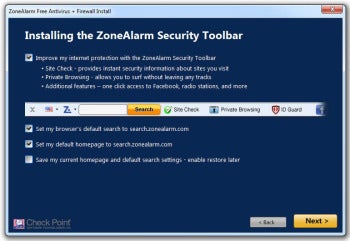 This isn't ZoneAlarm's first crack at creating an antivirus: PCWorld previously tested and reviewed ZoneAlarm Extreme Security 2012. Although we were impressed with the malware protection features of that product, we were disappointed with its scan speeds and impact on PC performance. ZoneAlarm Free Antivirus + Firewall may perform similarly, but we will know for sure only after PCWorld completes performance testing of this product.
Unfortunately, I can't say my first impression from ZoneAlarm Free Antivirus + Firewall was entirely positive: I picked the detailed installer option to see what the defaults are, and was surprised to discover that ZoneAlarm wants to install a browser toolbar, replace my default homepage and search engine with ZoneAlarm-branded pages, and not provide me with an easy way to undo those changes (even though such a feature exists–the checkbox is disabled by default). These options are collected on one step of the setup process, making them easy to spot and disable. Having done so, I continued with the setup with no incident.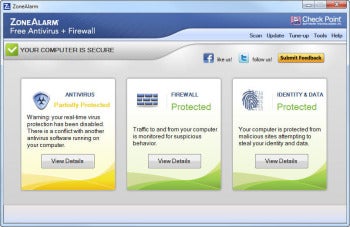 If you've used recent versions of ZoneAlarm, the ZoneAlarm Free Antivirus + Firewall interface should not surprise you. The home screen features three large rectangles: Antivirus, Firewall, and Identity & Data. It lacks the bold simplicity of Ad-Aware's latest offering, with its large banner exclaiming your computer is protected (or at risk).
To learn more about each area of the application, click the View Details button. This takes you into a tabbed interface (one tab per area) in which you can view and change settings to that part of the application. The small typography and compact icons send a clear message: This part of ZoneAlarm Free Antivirus + Firewall is for users who know what they're doing. As you drill deeper, the application opens up and offers access to fine-grained firewall controls, with checkboxes such as "Enable ARP protection" and "Lock hosts file." Most users would find no need to tweak these settings, but if you ever want to, you can.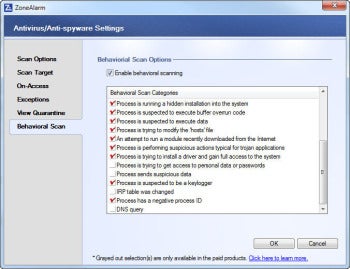 Under the Identity & Data tab, ZoneAlarm Free Antivirus + Firewall retains ZoneAlarm's existing backup offering: %GB of free storage for your personal files. Under the Identity & Data tab, ZoneAlarm Free Antivirus + Firewall retains ZoneAlarm's existing backup offering: 5GB of free storage for your personal files, in line with the recently launched Google Drive, the newly updated Microsoft SkyDrive, and Dropbox. [In the beta version we evaluated, the UI indicated only 2GB of storage, so this article initially reported that amount.–Ed.]
My overall impression from ZoneAlarm Free Antivirus + Firewall is of a solid, businesslike application that doesn't baby the user. However, before you rely on it exclusively for protecting your system, you might want to wait for conclusive PCWorld test results to make sure it's effective against malware and doesn't slow down your computer. To see our most recent testing of free antivirus software, see "Free Antivirus You Can Trust."