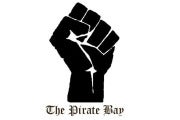 Internet service providers in the United Kingdom must block The Pirate Bay within the next few weeks, under orders from Britain's High Court.
Justice Richard Arnold delivered the orders last week to U.K. providers Everything Everywhere, O2, Sky, TalkTalk, and Virgin Media, the Associated Press reports. Another, BT, has several more weeks to consider its position, but all six ISPs are expected to comply.
In February, Arnold ruled that both users and operators of The Pirate Bay infringe the copyrights of music companies, according to The Telegraph. Although the site doesn't host copyrighted material, it allows users to find the BitTorrent files that handle peer-to-peer file sharing. Arnold found that The Pirate Bay's operators "actively encourage" copyright infringement.
The decision follows a ruling last year against Newzbin2, another file-sharing site. The ruling, also by Justice Arnold, likely opened the door to action against other sites such as The Pirate Bay.
No Risk in United States
The United States doesn't have a system in which the government can order ISPs to block websites on copyright infringement grounds.
Federal authorities can seize domains registered in the United States–those with .com or .org domains–as we saw in the takedown of MegaUpload last January. However, The Pirate Bay switched its top-level domain from ".org" to the Sweden-based ".se," possibly to prevent itself from the same fate as MegaUpload.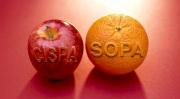 SOPA and PIPA, the two controversial anti-piracy bills that Congress abandoned in January, were meant to target websites registered outside the United States, and both bills originally allowed the U.S. Department of Justice to seek court orders to block infringing sites.
Lawmakers dropped these ISP blocking measures even before the rest of the legislation fell apart, due to concerns among Internet security experts. ISP blocking simply invites workarounds by users, possibly leading to cybersecurity problems.
As for punishing users, U.S. service providers have agreed to a "six-strikes" plan that culminates in suspension of the user's Internet access for repeat infringements, whereas the United Kingdom is adopting a "three-strikes" policy.
Still, as TorrentFreak has reported, if you're worried about the fate of The Pirate Bay, you can always download a copy for safe-keeping.
Follow Jared on Twitter, Facebook or Google+ for even more tech news and commentary.