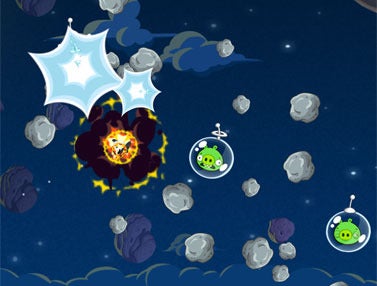 Angry Birds Space has broken a new record: it's the first app to hit 50 million downloads in just 35 days, which is two weeks faster than the previous record-holder, Draw Something.
According to game developer Rovio, Angry Birds Space reached 10 million downloads in the first three days. As of Monday afternoon, people are still furiously downloading the game–it's #1 on iTunes and #2 on Google Play.
I'm not sure what makes the latest iteration of Angry Birds so popular, but there must be something about flying birds, thieving pigs, and a totally new physics dynamic that equals a recipe for success. Our reviewer gave the game 4.5 out of 5 stars, noting that Rovio is "trying something truly new" with Angry Birds Space, creating a game that "feels fresh, and even addictive."
Angry Birds Space is different from the other Angry Birds games in that it's set in, well, space. It's still a physics-based game, but the laws of physics are a little different–there's gravity on each planet and rock, but there's also the vacuum of space. So instead of just worrying about gravity, angle, and torque, players also have to consider how different gravitational pulls will affect the flying birds. In other words, it's a challenge, even for Angry Birds veterans.
Rovio is milking Angry Birds Space for all it's worth, and there's a ton of space-themed merchandise already on its online store. Angry Birds Space is available on iOS, Android, Mac OS, and Windows, and the company is planning a Windows Phone version.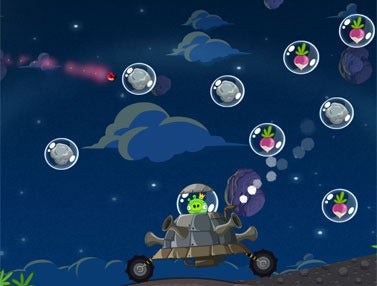 Also in Rovio's Monday announcement about Angry Birds Space's success is a hint at "something even bigger" coming soon. Could it be the rumored Angry Birds movie?
For more tech news and commentary, follow Ed on Twitter at @edoswald, on Facebook, or on Google+.