At a Glance
Expert's Rating
Pros
Super thin!
Big, pretty screen
Cons
Keyboard is inaccurate, offers little feedback
Touchpad needs work, is not sensitive
Our Verdict
The Series 9 is a tantalizing machine that fills the niche of the 15-inch Ultrabook, but I know Samsung can do a better job on the keyboard and trackpad.
Razor-thin laptops are nothing new, thanks to the influx of Ultrabooks in the market. But Samsung's latest Series 9 laptop isn't quite an Ultrabook–it's better. The 2012 Series 9, which comes in two flavors (13.3 inches and 15 inches) is thinner, more powerful, and simpler than both its predecessor and the average Ultrabook.
This review is for the 15-inch Series 9, which costs $1500. The 15-inch model is a mere 0.6 inches thick, which is thinner than the 0.7-inch thickness standard for 13.3-inch (and smaller) Ultrabooks. The Series 9 weighs in at just 3.7 pounds, minus accessories.
Our review model comes packed with an Intel Core i5-2467M processor, 8GB of RAM, and a 128GB SSD. It also features built-in Wi-Fi 802.11n/a/b/g, a built-in webcam and microphone, and a full-size backlit keyboard. It runs a 64-bit version of Windows 7 Home Premium, and relies on integrated Intel HD 3000 graphics.
Performance
In our WorldBench 7 benchmark tests, the Series 9 scores an impressive 154. Thanks to this very high score and some very long battery life, it earned a overall performance score of 91 (relative to other ultraportable laptops). The average overall performance score of past three ultraportables we've tested is 76, so the Series 9 scores very well for its category.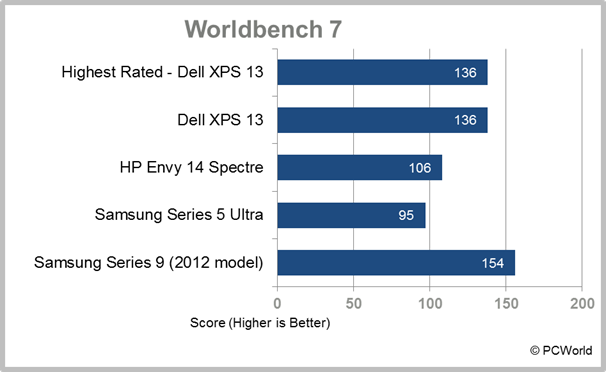 Graphics performance on the Series 9 is also good for its category, but not great overall. In our Dirt 3 graphics tests, the Series 9 managed an acceptable frame rate of 43.9 frames per second, but only at low quality settings and resolution. Of course, when we upped the quality settings to high and the resolution to 1366 by 768 pixels, the Series 9 eked out a barely-playable frame rate of 15.6 fps. This laptop is no gaming machine, but it's not meant to be, as it has no discrete graphics card.
The Series 9 also does well when it comes to battery life, which is surprising, considering it's got a 15-inch screen. We managed to get 7 hours, 36 minutes out of the Series 9. The average battery life of the past three ultraportables we've tested–all of which have 14-inch or smaller screens–is 6 hours, 21 minutes.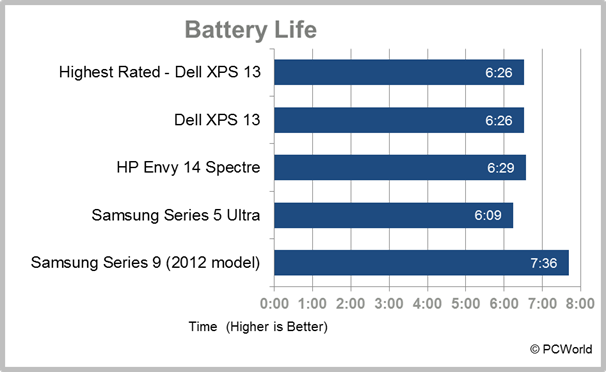 Design: Chassis, Keyboard, Trackpad
This year's Series 9 is even simpler and more minimalist than last year's design. It's housed in a solid black aluminum chassis, which has none of the plastic accents of last year's model. Its cover is a soft matte-black, with a small silver Samsung logo on the left side. The interior is also simple: a solid aluminum keyboard deck, four pinprick-sized blue LEDs (including one on the Wi-Fi toggle function key and one on the power button), and a small rectangular power button. The keyboard deck has no additional buttons, though it does have several function keys for adjusting screen brightness, volume, keyboard backlight, and so on.
The Series 9 doesn't have a ton of ports, but Samsung gives you a nice selection with what little space it has. The left side of the machine has a Sleep-and-Charge USB 2.0 port, as well as a combination headphone/microphone jack, a mini-HDMI output port, and a small proprietary port for plugging in an included port-to-ethernet dongle. On the right side, you get two USB 3.0 ports, a micro-USB port, and a barely noticeable SD card slot under a little door.
The keyboard and trackpad on the Series 9 are disappointing. The keyboard has island-style keys that are large and widely spaced, but very, very shallow. Thanks to this lack of key travel, the keys offer weak tactile feedback, which makes it difficult to type accurately over long periods of time.
The touchpad is large and soft, and looks and feels like Apple's glass touchpad. It has a thin silver outline and no distinguishable buttons. Unlike the touchpad on last year's model, I didn't find this touchpad to be too sensitive; rather, I found it to be not sensitive enough. Even after installing a driver update, the touchpad didn't always respond when I wanted it to, and multitouch gestures were jerky and inaccurate.
Screen and Speakers
One of the Series 9's most impressive features is its big, bright, matte LED-backlit screen. We were impressed with the previous model's screen, and this model's screen is essentially the same, just with a higher resolution (1600 by 900 pixels instead of 1366 by 768 pixels). It is incredibly bright at the highest brightness setting, which means it's perfect for working on in bright or direct sunlight. It also offers excellent viewing angles, vivid colors, and an antiglare matte finish.
Audio is another story. Though I don't expect studio quality from laptop speakers, especially one as thin as the Series 9, the speakers here are even worse than average. Sound is not just tinny, strung-out, and bass-less, it's also fuzzy at higher levels. For example, I tried watching a Saturday Night Live clip and could barely make out the announcer's words over the audience's applause, because the different sounds kept running into each other.
The Bottom Line
Initially, Samsung's 15-inch Series 9 looks almost perfect. It's thinner, but with a bigger screen, than most Ultrabooks; it's attractive and simple in design; and it performs very well for its category. Unfortunately, it has some drawbacks–namely its shoddy keyboard and touchpad, but also its less-than-impressive speakers. Substandard keyboards and touchpads are more of an issue in ultraportables, since users are unlikely to want to carry around an external keyboard and mouse. The Series 9 also lacks some of the higher-end features we're used to seeing in 15-inch notebooks, such as an optical drive.
The new Series 9 is a tantalizing machine, and it fills the niche of the 15-inch Ultrabook. But I know Samsung can do a better job on the keyboard and touchpad. Until they do, you may want to opt for a cheaper Ultrabook with more accurate input devices, unless you're absolutely set on a 15-inch screen.