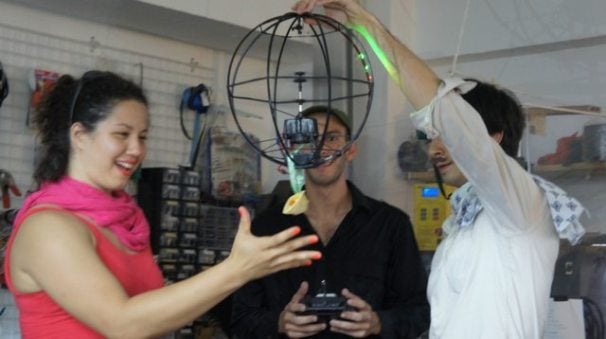 Remember the TacoCopter, the robotic taco-delivery service that caused a stir last month? It may not be here yet, but the project is not a hoax. In fact, it's quite literally gotten off the ground: A TacoCopter prototype made its maiden flight at a launch party in Hong Kong on Sunday, carrying a taco prototype for some three seconds.
While it's not going to be delivering tasty, hot Tex-Mex food to your home at any time in the immediate future, in an interview with Wired, founder Star Simpson called it, "A vision. Like what cyberpunk did for the Internet–mull the possibilities, give people things to think about. […] The other motivation is that we basically only hear about quadrotors in scary contexts, and I think it does give that fear and emotional tension a safe and hilarious outlet."
And indeed the TacoCopter does raise interesting questions about the use of robotic drones in non-military contexts. Two weeks ago, The FAA, in response to an EFF Freedom of Information Act request, released its plans to authorize commercial drone users in the next three years.
Although TacoCopter has attempted to get an FAA exemption, they don't currently make the list. However, it's still possible that one day soon, pizza- (or taco-) delivery drones will be a more familiar sight than pizza-delivery cars.
[HongWrong, EFF via Huffington Post]
Like this? You might also enjoy…
Get more GeekTech: Twitter – Facebook – RSS | Tip us off