When you need to rustle up a quick brochure to promote your business, you might think that using a dedicated desktop publishing program such as Adobe InDesign or Microsoft Publisher is the best way to go. But if you're familiar with Microsoft Word, you may have little reason to invest in–and learn how to use–an expensive publishing program to handle this task.
Unless you're working with a commercial printer to produce an extremely high-quality print job or a large print run, and the company requires that your file be in a format that Word doesn't support, you can probably get along just fine with Word. You should, however, make a point of asking the vendor that you intend to use which formats it can work with, before you start designing your brochure.
Approach your brochure design systematically, and test the results as you go. Designs can look very different on the page from the way they look on a monitor. If possible, create a template containing styles and color schemes that you intend to stick with over the long term. This will make your next brochure project easier to complete; more important, it will establish visual consistency so that your customers will recognize your marketing materials and associate them with your brand.
If you didn't go to design school, don't be intimidated; in this article, we'll walk through the basics and take into account the most common pitfalls you might encounter.
Set Up Your Brochure for Success
Word's built-in templates are a good place to start the process of creating a brochure. Even if you don't plan to use much of a template's design, you can harness its layout to set up your own more quickly. The typical business brochure is printed on letter-size paper and folded twice to provide six equal-size panels–three on the front and three on the back. Such a brochure will fit in a standard display case of the type commonly found in business reception areas. You can print this kind of brochure on any business inkjet or laser printer.
To browse the available templates, select File, New, Brochures and Booklets, Brochures. (If you're using a Mac, click File, New from Template, and then choose Brochures from the Publishing Layout View.) Look for a design that uses the size of paper and the number of folds that you prefer–typically, letter-size paper and two folds. If the design looks great, that's a bonus at this stage. Click Download to save the template to your hard drive.
You'll want your brochure to print in such a way that your cover content appears inside the panels and doesn't straddle the fold lines. The cover content should also be centered nicely to avoid looking imbalanced. To ensure that the template is properly laid out, print a copy on the same printer that you intend to use later. Fold the brochure and confirm that everything lines up neatly.
If you notice that something is not correctly positioned, go back to the template document, move the improperly situated text box or image, and print another copy. Persevere until the basic layout meets your approval. Now you're ready to start replacing the template's dummy text with your own content.
Customize the Brochure Template With Your Data
To replace any of the brochure's existing text with your own, select a block of template text in a text box and press Delete. Then type your own text into the text box, or copy and paste it from another document. Text boxes in Word will retain their size and placement even if they are empty, so replacing the template text should be fairly easy. If you're adjusting the size of a text box, avoid widening it as that may push the text over a fold later on. In most cases you can adjust the height and vertical placement of a text box without causing problems. Also, you can replace a text box with an image that you've scaled or cropped to match the box's dimensions; and conversely, you can replace an image with a text box.
Word lacks the precise kerning and line-height tools that dedicated desktop publishing programs offer, but if you start with an attractive template, brochure elements such as your headings should end up looking the the way they do in the template.
Before replacing anything in the template, check to see whether the document is in 'compatibility mode–meaning that you've opened a file created with Word 2007 or an earlier version of the program (it will have a .doc file extension instead of .docx). Another way to determine whether the document is in compatibility mode is to scan the Word title bar: If that's the document's mode, the file name will appear there with the notation "[Compatibility Mode]." Because this older format doesn't support all of the features of the latest version of Word, you should convert the file so that you can use all of Word 2010's features. To do so, select File, Info, Convert, and then click OK.
To replace one image with another, first click the image that you want to change. Go to Picture Tools, Format on the ribbon toolbar, find the 'Adjust' group of options, and click Change Picture.
Next, select a replacement image and click Insert to swap it in and the existing image out. Word will automatically resize the new image to fit the available space, as long as the orientation is the same–for example, if you're replacing one landscape image with another one. If you replace a landscape image with a portrait image, or vice versa, you should resize the new image or reposition it to take into account the change in orientation.
After inserting the image, you can move it or crop it (with the Crop tool on the Picture Tools, Format tab of the ribbon toolbar).
Next page: The basics of good design
The Basics of Good Design
The difference between a good-looking brochure and a great-looking one is in the design. Here are the most important factors to consider.
First and foremost, pay attention to how the brochure will look in its display setting. If it will be stacked in a display case alongside other brochures, make sure that the most visible part of the brochure–the upper-third of the front panel–contains identifying information such as your business name and logo.
Limit your brochure to two fonts: one for headings and another for the rest of the text. In choosing your fonts, look for typefaces that contrast rather than look similar. Generally a serif font like Times New Roman or Cambria works well for body text, and a sans serif font (one without the little projections at the ends of the letters), such as Arial or Calibri, is a good choice for headings. Avoid using script fonts for body text, as they are hard to read in large blocks. If you use a script font for headings, be sure to use mixed-case and not all-caps. Using too many fonts will make your document look messy; working with just two helps keep the design restrained and professional looking.
For the same reason, don't go overboard on your color palette. To set up a color scheme, click the Page Layout tab on the ribbon toolbar and click Theme Colors; then choose a color set close to what you want. Next, choose Create New Theme Colors and edit the set so that it contains the colors you want to use. Save the Theme color set for future use.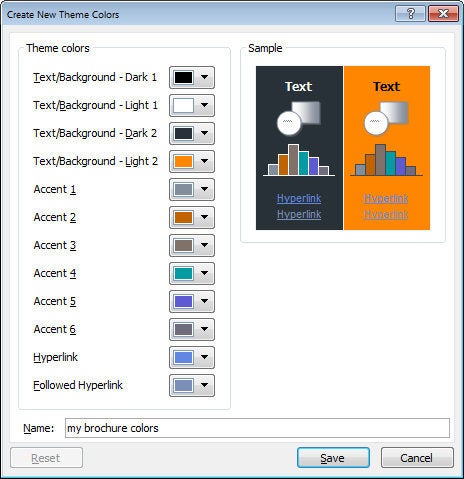 Simplicity is the key to getting your message across, so limit yourself to a small range of images, such as photographs and line art, and make sure that they have a consistent look and style. Microsoft offers plenty of clip art and photo content (to browse it from within Word, select Insert, Clip Art). You can also search Flickr.com for images that carry an Attribution Creative Commons license (you'll find additional information about Creative Commons licenses at Flickr and at Creative Commons). If you still can't find anything suitable for your brochure, check out stock image sites such as iStockPhoto.com and Fotolia.com. In many cases you can obtain multiple images created by a single photographer or graphic designer, which possess a shared look and will work well together.
Most images available from Microsoft and stock sites are large enough to print correctly on any printer in your office or the printers available at a print shop such as Kinkos. They're also suitable for online printing services such as Moo and VistaPrint. As a rule of thumb, an image should contain 150 pixels per printed inch; therefore, a 4-by-6-inch printed image should have a resolution of at least 600 by 900 pixels originally. To avoid scaling problems, don't enlarge images once you've imported them into Word: If scaled to too large a magnification, they'll print with ugly jagged edges. On the other hand, there's usually no harm in shrinking an image to fit, since doing so merely packs the pixels closer together.
Apply a Common Design to a Series of Brochures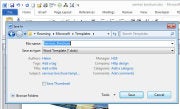 If you're creating a series of brochures, each one should incorporate the same fonts and colors, and should reflect the same overall design sensibility. To that end, design your basic layout with boxes for text and sample images where your final images will go. Include details that will appear in every brochure–such as your business name, address, and logo–and save this file as a custom template. To do so, choose File, Save As, and select Word Template (*.docx) from the Save As Type drop-down menu (it appears beneath the file name box); then type a name for the template, click Templates in the top-left corner of the dialog box to file the template in your templates folder, and click Save. To find the template thereafter, choose File, New, click My Templates, and select the desired template.
You can increase your template's functionality by adding text styles to the saved template. Select key elements in your brochure, such as the headings and the body text, one at a time. To save each as a style, click the Styles panel on the Home tab and choose Save Selection as New Quick Style. Type a name for the style, click OK, and save your template again. Henceforth, the styles will be available in every new brochure you create using your template, so you can quickly format newly added text with a style by selecting the text and clicking the style name to apply that style.
When to Call a Professional
If you have difficulty coming up with a compelling brochure design, consider asking a professional designer to create a layout for you. If this person is willing to create a template in Word, you'll be able to edit it and subsequent brochures in Word. Though most designers prefer to stick with the tools that they like best, they should at least be able to design the pieces for the brochure–including any curved shapes, say, or your logo–as transparent .png files that you can then import into Word and use to create a brochure template. In this way you can combine the designer's professional skills with your Word skills to devise a great brochure template that you can easily fill with your own text and images. Another option is to buy Word templates for brochures and other professionally designed printable materials at a site such as StockLayouts.com, LayoutReady.com, or PoweredTemplates.com.
Related stories:
Sarah Jacobsson Purewal discusses how to Design and Create Essential Print Materials for Your Business, and Rick Broida introduces the Paste Special Command in Word and explains How to Adjust Your Document's Line Spacing.