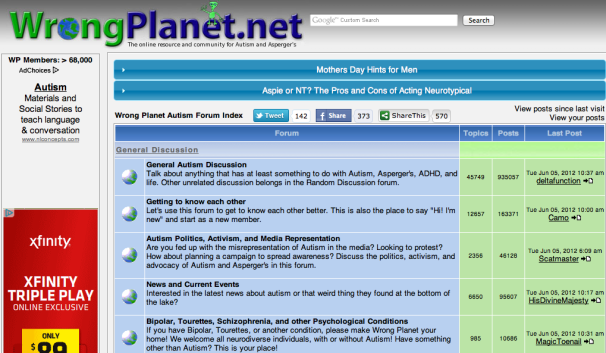 For those with autism spectrum disorders, communication and social interaction can be difficult. Autism is a spectrum of disorders–that is, it affects individuals to varying degrees–but those affected by it typically have difficulty in social situations and in clearly verbalizing their thoughts, which can make face-to-face interaction challenging.
When he was nine years old, Alex Plank was diagnosed with Asperger's syndrome, a comparatively mild form of Autism characterized by difficulties in social communication, intense interests, and repetitive behavior. (Unlike classic autism, those with Asperger's syndrome don't experience delays in cognitive or language development.) When he was in high school, Alex started Wrong Planet, a website and forum for those with the various forms of autism, as well as others touched by the disorder in some way.
We got the chance to speak with Alex about Wrong Planet, his life with Asperger's, and how the Internet and technology impact the lives of those on the autism spectrum.
GeekTech: What was your inspiration for WrongPlanet? What made you decide to set up the site?
Alex Plank: I was always different, and my parents always sort of knew that, but they didn't have the diagnosis, so what they did was try to find out what was going on with me. And at least initially, they thought I merely had ADHD or something similar. But when I was nine, I actually did get the diagnosis of Asperger's syndrome. And that was when I found out about autism.
When I was a teenager, I really wanted to find other people like me; I had a hard time finding friends in middle school, and [had] a lot of [Asperger's] traits. I was obsessive. I was a prolific contributor to Wikipedia; I edited more than 10,000 articles. I was also an official developer for the Gentoo Linux project. Needless to say, that isn't typical behavior for a teenager.
I started Wrong Planet in 2004 with my friend Dan Grover because I wanted to find other people like me who were on the autism spectrum. I didn't know anyone else with autism until I went on the Internet, but it was hard to find anyone with the same interests.
My first computer was a Mac Plus that the school just gave to me for free because they thought it didn't work. But I figured out how to turn it on reliably–you just had to kick it.
I had a Mac Plus as my first computer, too; it's still sitting somewhere in my closet—
Yeah, I took it apart when we got a newer computer.
Did you make an aquarium out of it?
No, I didn't but I thought about it. I did hang the motherboard on my wall in college. I put it next to my Think Different posters.
"I think the biggest impact of the Internet and technology for individuals with autism is being able to communicate in a way that had never been possible before."
—Alex Plank
So where did your interest in tech, and–I know you're a videographer–where did your interest in videography and tech stem from?
The tech stuff I was just always interested in it. I had my first computer when I was eight, maybe…that sounds about right. And my parents never got Internet until 1996 or 1995, right around there. But I was always fascinated by computers and technology.
And I always told myself, I'm going to make a computer programmer, and so I started learning lots of different languages, and at first I started using BASIC because that was there was a compiler on my computer. I thought I was supposed to learn Assembly first [chuckles]; it just confused me so much.
So when I found BASIC I was really excited; I started to doing different projects, and middle school I started writing BASIC, and I made this game for chemistry class, and that was my project for the science fair. I thought, I want to write a computer program, and that's computer science–that counts as a science fair project. And [the teachers] were like, uh, what's your hypothesis?
Yeah, I remember those–I hated, you know, having the—
Yeah, that was like the most annoying thing, and they basically said that you shouldn't create some cool software–they were kind of discouraging me from it. So what I did was I made a quiz game, and my hypothesis was that people would like the game (maybe I had a legitimate hypothesis. I forget.)
But after my short stint with BASIC I started programming in C and then Java and Perl. Perl is my favorite language because the syntax seems natural to me. It correlates with the way my brain works.
What do you see as the biggest inspiration in your work with Wrong Planet?
Oh, that's a hard question… my biggest inspiration… A lot of people inspire me. It's hard to say. I was really into Linux, so I was inspired by Linux Torvalds,[…] and I always looked up to Steve Wozniak, and I still do. It'd be so cool if I had a chance to meet him. I'm also inspired by leaders in the technology community, like [BitTorrent creator] Bram Cohen, who have spoken publicly about their diagnosis. I interviewed Bram early in Wrong Planet's history and the site was Slashdotted because of it. We still talk on a regular basis, and I was able to visit him at BitTorrent headquarters when I was in San Francisco.
What do you see as the most rewarding thing to have come out of Wrong Planet?
The most important thing for me was actually being able to find friends on the spectrum who share my interests. I mean, there were other sites on the Internet for autism, but they had like five people, or maybe a couple hundred registered.
But the other important part is, I've had people come up to me and tell me that it's changed their lives. A lot of people are older when they find out [they had Asperger's] and their lives completely change because of this realization.
And I've seen this so consistently–it's not just a few people touched by the community. You look at the "Getting to Know Each Other" part of the forum where people post an introduction such as, 'I am so-and-so and this is my story,' and a lot of new members say that they went through their lives thinking they were the only one going through these issues and now they've finally found a place they can fit in for the first time.
And sometimes they find Wrong Planet when they're searching for "how to get a girl to like me" or something, or some random term–some random long tail search. Those people are people who are frequently older and have gone through life feeling misunderstood and then they find this place where they sort of feel empowered.
[…]
It's funny because I never expected the site to become so big. I thought it'd be just a support group. In reality it's an expansive community filled with so many different people who all share a common experience.
This next question kind of ties into that…what do you see as the biggest impact–good or bad–that the Internet and technology have had on those on the autism spectrum?
I think the biggest impact of the Internet and technology for individuals with autism is being able to communicate in a way that had never been possible before. There was this one guy on Wrong Planet who was a moderator, one of the first members. But he actually no longer posts very much because he was hired by Second Life to be their community evangelist. And he was found because he had a blog about Second Life, and they decided to hire him. This is a guy who was just writing this blog. And Second Life is a place to go–and on Wrong Planet we experience this as well–where you can experience interaction with people, but you could never think that writing a blog about your passion could result in a job.
And autistics can feel comfortable speaking openly on the forums, where they don't have to think about body language or that sort of thing. On the flip side, you know, there's obviously the drawback that you spend all your time online, so you're not actually interacting with people in real life.. But I think that in this case it's helped people be more social offline as well.
I know you do a periodic Web video series, Autism Talk TV. How'd that come about?
Well, I decided that I wanted to have a TV show about autism. And it was just me. But then I looked for sponsors–Autism Speaks was the first sponsor and has made it possible to continue to create new programming.
The show stars me and two other people on the Spectrum; Jack Robison and Kirsten Lindsmith. It's not necessarily the content of the videos that people are drawn to–I mean, the content's great, but I feel like it's given younger kids on the spectrum someone to look up to. People are saying, "look at these aspies; they have a TV show; they're doing something they believe in, they're happy, they're feeling good about themselves, and they've been through the same thing I'm going through right now."
Do you have any exciting–or even not exciting–future plans for Wrong Planet that you'd like to share?
Yes, there are some things that I have planned that I don't want to discuss publicly yet.
In terms of me personally, I just got came from a conference in New Jersey where Jack, Kirsten, and I spoke on a panel moderated by [author] John Elder Robison. I also spoke in Chicago, Nashville, and Denmark recently.
Do you have any tips for anyone who wants to start a community-type website?
My main tip is mostly to find a niche that you're passionate about and where there aren't too many other communities that already serve the need.
Like this? You might also enjoy…
Get more GeekTech: Twitter – Facebook – RSS | Tip us off