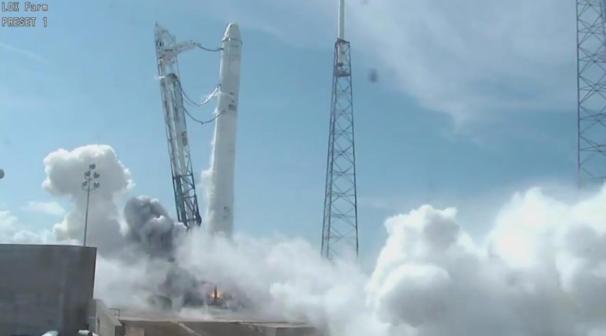 This week, SpaceX test-fired its Falcon 9's nine Merlin rocket engines while out on the company's leased space at Space Launch Complex 40 (SLC-40) at Cape Canaveral. The test was part of a dress rehearsal for the upcoming launch of the second Commercial Orbital Transportation Services (COTS) cargo vessel.
Lasting only two seconds before a planned abort, this test of the Merlin rocket engine appeared to be successful. SpaceX will now evaluate the data collected from the test and make any final preparations for a launch set to take place in only a few days–on May 7.
The May 7 launch will propel the Dragon spacecraft into low-Earth orbit (LEO) via the Falcon 9 rocket. The Dragon craft contains both a pressurized capsule and an unpressurized trunk for taking either cargo, crew, or both into space. This mission will be unmanned, but it will be a major stepping stone toward commercial spaceflight.
During the first COTS mission, which took place in December 2010, SpaceX was the first commercial company to put a spacecraft into orbit and return it back to Earth safely. During this second COTS mission, SpaceX will attempt to dock its Dragon spacecraft with the ISS–assuming that NASA gives it the go-ahead if everything looks good once in LEO. Once at the ISS, astronauts will open the Dragon's hatch and unload the cargo.
If this mission is successful, not only will it be a monumental moment in commercial spaceflight history, but it'll kick off SpaceX's Commercial Resupply Services (CRS) contract with NASA, where the company will launch at least 12 missions to bring cargo to and from the ISS. SpaceX says that while this mission is not guaranteed to succeed, the company says that it'll try again should it fail.
Make sure to stay tuned to GeekTech for updates on the upcoming Falcon 9 May 7 launch!
[SpaceX]
Follow James Mulroy on Twitter and on StumbleUpon to get the latest in microbe, dinosaur, and death ray news.
Like this? You might also enjoy…
Get more GeekTech: Twitter – Facebook – RSS | Tip us off