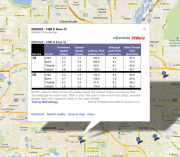 In our April 16 article "3G and 4G Wireless Speed Showdown," we reported the results of our exclusive 13-city tests of the four national wireless services: AT&T, Sprint, T-Mobile, and Verizon. Our study is the largest and best-known independent test of wireless service in the United States.
Here, in Part Two of our story, we drill deeper into the massive amounts of data that we collected over six weeks in February and March of this year. Whereas the first article reported the 13-city average speeds of the carriers, in this story we detail the carriers' performance in each of the ten testing locations we visited in each city.
We've assembled a full-page map showing all 127 of our testing locations in Atlanta, Boston, Chicago, Dallas, Denver, Las Vegas, Los Angeles, New Orleans, New York, San Francisco, San Jose, Seattle, and Washington, D.C. When you zoom in on a particular city, you'll see ten blue map markers–one for each place we tested. Click the pin, and you'll see our full testing results for that location.
T-Mobile's HSPA+ 21 service dominated the 3G testing, earning the highest marks for upload speed and download speed in 11 of the 13 cities we studied. The exceptions were Chicago (where AT&T captured the best download and upload speeds for 3G) and Dallas (where AT&T took the lead for 3G downloads, and Verizon won for 3G uploads).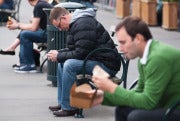 We saw three major patterns in our 4G test results. In five cities (Atlanta, Boston, Las Vegas, Los Angeles, and San Francisco), AT&T swept the 4G upload and download competitions; in four (Denver, New Orleans, San Jose, and Seattle), Verizon swept both; and in the remaining four (Chicago, Dallas, New York, and Washington, D.C.), AT&T won for downloads and Verizon prevailed for uploads. Notably, in two of the cities where Verizon ruled (Denver and Seattle), AT&T doesn't offer 4G LTE service.
Web Page and Video Load Times
In addition to the speed results, you can see the results of our "behavioral" tests, which are meant to closely approximate the wireless usage of real people. At each of our testing locations, our field researcher loaded a 100KB static Web page and viewed a 1-minute video while connected to each of the 3G and 4G services of the carriers. For each one, the researcher logged the time the Web page took to load, as well as the time necessary to stream the video.
In Video: Demystifying Spotty Cell Phone Coverage
You can see a lot of variance in the performance scores from location to location within our testing cities. The same service may deliver radically different results in two locations in the same part of town. Or two different wireless services might produce very different connection speeds and call quality at the same location.
That's because a number of variables are constantly affecting the quality of the wireless service you get–factors such as nearby physical structures, your distance from a cell tower, whether you're connecting from indoors or outdoors, the time of day, and the total number of users connecting to a nearby cell tower at the same time.
Such variables are important to remember when you're selecting a cell service. Keeping them in mind is also key when you're choosing a device, because some phones and tablets do much better than others in challenging cellular environments.
In this video we drove around San Francisco to demonstrate how some of these conditions can affect your wireless coverage.
Quick Facts by City
Atlanta: T-Mobile had a strong showing in Atlanta on the 3G side, with average download speeds at 4.53 mbps and uploads at 1.93 mbps. In 4G, AT&T showed the fastest average download speed of any carrier in any city we tested, at 11.60 mbps. Verizon had its next-to-worst 4G download showing in Atlanta, at 6.24 mbps on average.
Boston: T-Mobile clocked the fastest 3G speeds in Boston, while AT&T won on the 4G side. Both AT&T and Verizon delivered solid download averages, at 8.60 mbps and 7.24 mbps, respectively. Sprint's WiMax service performed unusually well in Boston, averaging 3.90 mbps for downloads.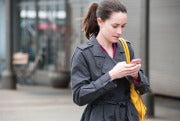 Chicago: AT&T finished first in average 3G download speed (3.45 mbps), despite the fact that its 3G numbers weren't great in Chicago compared with its performance in other cities. AT&T also had the fastest average 4G download speed (9.70 mbps).
Dallas: AT&T's best numbers came in Dallas, with an average 3G download speed of 3.73 mbps and an average 4G download speed of 10.22 mbps. Meanwhile, T-Mobile's HSPA+ 21 service registered 13-city worsts for average download rate (2.62 mbps) and average upload rate (0.45 mbps).
Denver: Verizon had the top marks in average 4G download speed (6.68 mbps) and average upload speed (3.70 mbps). T-Mobile's HSPA+ 21 service rolled past its rivals on the 3G side, with solid averages for downloads (3.59 mbps) and uploads (1.53 mbps).
Las Vegas: AT&T delivered an excellent average download rate of 11.15 mbps, the third-highest rate for any carrier in any city. T-Mobile's HSPA+ 21 was the fastest 3G service, though its download average (3.11 mbps) ranked as the lowest city-winning mark for 3G download speed in our study.
Los Angeles: We recorded the fastest average 3G download speeds in our study in Los Angeles, where T-Mobile won with a robust 4.78 mbps. AT&T had the best 4G scores in L.A., although its average download speed of 6.62 mbps was the second-slowest winning download speed in our tests.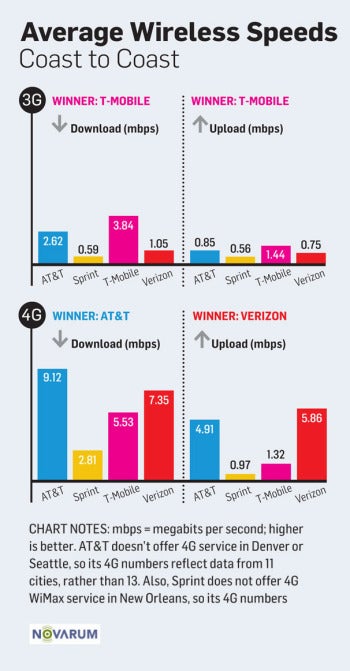 New Orleans: T-Mobile's HSPA+ 21 service proved fastest among the 3G field in the Big Easy, with averages of 4.49 mbps for downloads and 1.70 mbps for uploads. Verizon's winning average 4G download speed (8.46 mbps) was the second-highest city score for the service in our tests.
New York: In New York we found a wide gap between the best 3G download average (3.30 mbps for T-Mobile) and the best 4G download average (11.35 mbps for AT&T)–an 8.05-mbps difference.
San Francisco: AT&T posted the best average 4G download speed, producing an impressive 10.71 mbps, while Verizon turned in a solid 8.40-mbps download average. AT&T's 3G service performed very well in San Francisco, delivering the company's second-highest average download rate at 3.47 mbps; but T-Mobile was faster, with downloads averaging 4.08 mbps.
San Jose: Verizon 4G clocked average speeds of 7.66 mbps for downloads and 6.52 mbps for uploads, compared with 4.74 mbps for downloads and 2.5 mbps for uploads from AT&T LTE. T-Mobile delivered a winning average 3G download rate of 4.61 mbps.
Seattle: T-Mobile turned in the top 3G download speeds (averaging 3.87 mbps) in Seattle, while its 4G HSPA+ 42 service generated a surprisingly fast average download speed of 7.46 mbps, the carrier's 13-city high. Verizon posted its best 13-city mark for 4G downloads (10.87 mbps on average), making it easily the fastest 4G service in town.
Washington D.C.: T-Mobile had the fastest average 3G download speeds (4.14 mbps), handily beating AT&T, whose 3G scores in D.C. were the worst from the carrier in our 13 test cities. AT&T, however, won on the 4G side with an average download speed of 8.52 mbps.
For details on how we conducted the testing for our 13-city study, see "Methodology in a Nutshell." And, again, for a close-up look at the individual charts for each city, see our full-page testing locations map.