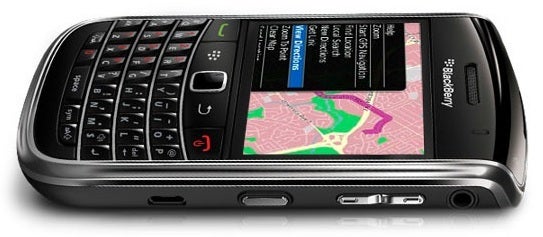 BlackBerry maker Research in Motion is swatting down reports that its upcoming BlackBerry 10 phones won't use physical keyboards.
Although RIM will offer full touchscreen models — and has showed off a virtual keyboard designed for fast auto-completion of words — the company insists that it's not ditching hardware keys. "It would be wrong — just plain wrong" not to offer BlackBerry 10 phones with physical keyboards, RIM chief executive Thorsten Heins said.
I understand Heins' sentiments. The physical keyboard is one of BlackBerry's signature features. It's arguably a big reason some people have stuck with the platform while most of the market migrates to the iPhone or Android. RIM doesn't want to abandon those users.
But if the company is going to keep offering phones with physical keyboards, I have one request, for RIM's sake: No more BlackBerry Bold, or phones that look like it. No more small screens and full keyboards sharing real estate on the front side of the device. That design, which has come to define BlackBerry, is now RIM's albatross. It needs to die.
The Bold look is at odds with RIM's ability to attract app developers. If the display is sharing space with a keyboard, it needs to be smaller than a full touchscreen device. It must have a lower screen resolution, and a different aspect ratio that's wider than it is tall. Games or other apps that occupy the whole screen won't look as good, and developers would have to put in extra work to address this display format. If RIM wants developer support for BlackBerry 10, it needs to make their work as easy as possible.
The old Bold look could also be poisonous to RIM's sales and marketing efforts. BlackBerry 10 is a reboot for RIM, much like Windows Phone was for Microsoft. RIM is starting over with a slick new operating system in hopes of winning customers back. That won't work if the company puts an outdated smartphone design on store shelves. RIM needs to wipe the slate clean instead of reminding customers of the old BlackBerry.
I'm not against physical keyboards — though I think they're a dying breed of smartphone — but if RIM is going to stick with them, it needs more modern designs, such as slide-out keys that allow the full touchscreen to shine when it needs to. I hope RIM has the guts to kill its beloved Bold-style smartphones when BlackBerry 10 launches later this year.
Follow Jared on Twitter, Facebook or Google+ for even more tech news and commentary.