At a Glance
Expert's Rating
Pros
Free
Includes training plans
Our Verdict
WalkJogRun lets you map and log your workouts, and includes training plans for both novice joggers and advanced runners.
If you're looking to get in shape, you could simply lace up those sneakers and hit the road for a quick jog. But, if you want to get more out of your workouts, you could put a little planning in first. That's where WalkJogRun can help: This cloud-based service offers several useful tools for planning and tracking your workouts, no matter how experienced you are.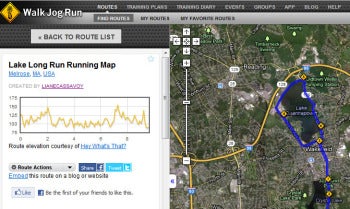 Like free rival MapMyRUN, WalkJogRun lets you map out routes to calculate your distance and calories burned, and lets you search through routes created by other users. This crowd-sourced feature offers a great way to find new routes. I was pleasantly surprised to see a couple of routes created by a neighbor, which allowed me to discover new routes to vary my regular routines. (You can hide the routes you create from strangers and friends with the service's privacy controls. And doing so can be a good idea: I quickly realized that most of my running routes started at my house, so a quick look at them could reveal quite a bit about my usual whereabouts. If you'd like to share your routes with only folks you trust, you can send them via email or post them to a friends-only Facebook account.
You also can use WalkJogRun to map out your own routes, using the site's embedded Google Maps. Its controls are very similar to those offered by MapMyRUN, but I found them slightly easier to use here. You map routes in much the same way (by clicking points on a map to simulate your run), but where MapMyRUN's controls were slightly finicky, sometimes mistaking my backtracking steps for a route alteration, WalkJogRun's controls were a bit more intuitive. WalkJogRun's user interface, however, wasn't quite as appealing as that of MapMyRUN, which was a bit more streamlined.
Both services are ad-supported, but WalkJogRun's ads were a bit less intrusive: I saw no splash screens, and no ads that actually interrupted my ability to use the service. A $1 one-time donation also allows you to use the service ad-free.
WalkJogRun also includes 23 training plans with its free service, which is a nice touch. And the training plans are not just thrown up for show: They are well thought-out plans designed to get beginner, intermediate, and advanced runners ready for races ranging from a 5K to a full marathon. I found a detailed training plan that I am now using to get ready for my first half-marathon, coming up in just a few months.
Where WalkJogRun lags behind its competition, including MapMyRUN, Nike+GPS, and RunKeeper, is in its mobile capabilities. Currently, its mobile app (which is iOS only) allows you to find nearby routes and view training plans. You can't use your device's GPS to actually track your route, which is something all of the competitors offer. However, an updated app offering this feature is currently in the works, and plans for an Android app are underway.
I do wish WalkJogRun's desktop interface were a bit more appealing and that its mobile capabilities were as impressive as the desktop version. But if you're a walker, jogger, or runner looking for a way to map and log workouts online, you can't go wrong with WalkJogRun.
Note: The Download button takes you to the vendor's site, where you can use this Web-based software.
— Liane Cassavoy