Yahoo acknowledged on Thursday that its new CEO, Scott Thompson, does not hold a degree in "accounting and computer science" as his resume and the company's financial filings claimed, and instead majored only in accounting.
In a statement, Yahoo acknowledged that Thompson majored in accounting at Stonehill College. It called the discrepancy "an inadvertent error."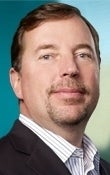 The charges emerged in a letter that Daniel Loeb, an activist shareholder who leads the Third Point investment fund, wrote on Thursday to the Securities and Exchange Commission.
Loeb is campaigning to have Yahoo appoint candidates he has proposed, including himself, to its board of directors. Thompson, who joined the company in January and is endeavoring to lead it out of its performance doldrums, has proposed his own changes to the board.
Loeb charged that the diploma embellishment "undermines [Thompson's] credibility as a technology expert and reflects poorly on the character of the CEO who has been tasked with leading Yahoo! at this critical juncture."

Loeb's allegation came a day after Yahoo issued a letter to shareholders asking them to support the board candidates that the company's internal processes generated. Yahoo claimed in the letter that Loeb's candidates were not as qualified as its own, citing "a thorough and impartial search process."
Yahoo's statement offered continued support for Thompson.
The inaccurate resume "in no way alters that fact that Mr. Thompson is a highly qualified executive with a successful track record leading large consumer technology companies. Under Mr. Thompson's leadership, Yahoo! is moving forward to grow the company and drive shareholder value," the statement said.
Yahoo's profit rose in Thompson's first full quarter of leadership.
Cameron Scott covers search, web services and privacy for The IDG News Service. Follow Cameron on Twitter at CScott_IDG.