Windows 8's support for multiple monitors is better than previous versions of the operating system, but it still needs improvement.
Although users can now run a taskbar through all of their screens in Windows 8, they can launch the Start menu only from one of them. And in the absence of a proper Start button, getting to that menu can be tricky because your cursor can spill onto the next screen over.
So, as with previous versions of Windows, third-party programs must fill the gap in Windows 8's lackluster multi-monitor support. DisplayFusion Pro, my favorite Windows multi-monitor software, just got an update to support Windows 8 Consumer Preview, and it eliminates the headaches caused by Microsoft's native software. The "Pro" version costs $25 for one PC, or $35 for all computers in a home.
DisplayFusion brings a proper Start button to your secondary monitors in Windows 8, and lets you open a classic pop-up Start menu to launch applications within the monitor you're using. You no longer have to find the hot corner on your main monitor, go into Metro, open an application, then drag it into the desktop window you want to use. (DisplayFusion users will find the new Start menu options under "Settings > Taskbar > "Use alternate Start Menu.")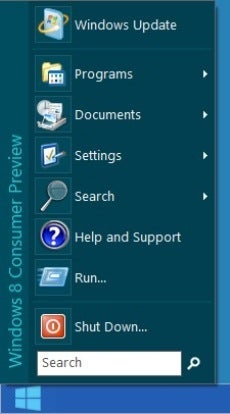 I wish DisplayFusion offered a Start button for the PC's main monitor. As it stands, one of your screens will always use the hot corner and open the Metro start menu. But you can use another piece of software, StartMenu7, to add a classic Start button and pop-up menu to your main display, so you'll rarely have to confront Metro on any screen.
DisplayFusion has some other useful features as well, such as separate wallpaper for each monitor, window edge snapping, and keyboard shortcuts for moving windows around. If you're a power user with multiple monitors, it's well worth the money to make up for Windows 8's shortcomings.
Follow Jared on Twitter, Facebook, or Google+ and follow Today@PCWorld on Twitter for even more tech news and commentary.