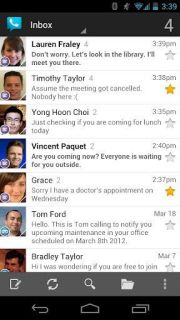 Last week I offered up three things you should know about Google Voice, including its very cool option of sending and receiving text messages from within your browser.
Reader George followed up with this question:
"Read your column on texting through Google voice from a PC. Can you do the same with a tablet on Wi-Fi, no charge?"
You didn't say what kind of tablet, George, so I'll answer that as broadly as I can: Yes.
Some tablets don't support text messaging right out of the box. For those that don't, there are any number of apps that add messaging capabilities. A couple of the more popular options include TextFree (Android and iOS) and TextNow (iOS).
Of course, you asked specifically about Google Voice, and I'm happy to report that, yep, there's an app for that. Google Voice for Android and Google Voice for iOS both work just fine on tablets, and both offer free text messaging over whatever connectivity is available (i.e. 3G, 4G, or Wi-Fi).
I should note that the iOS version isn't optimized for the iPad, meaning you'll have to scale it up if you want it run full-screen, but the functionality is there.
I have a buddy who uses Google Voice on his iDevice to send and receive text messages without paying his carrier extra fees for the privilege. The nice thing about using Google Voice (as opposed to another third-party app) is that it's tied to your Google Voice phone number and your Google Contacts.
Contributing Editor Rick Broida writes about business and consumer technology. Ask for help with your PC hassles at hasslefree@pcworld.com, or try the treasure trove of helpful folks in the PC World Community Forums. Sign up to have the Hassle-Free PC newsletter e-mailed to you each week.