Laptop manufacturers are hard at work updating their laptop lines and making new models using Intel's latest Ivy Bridge processors. If you're in the market for a new laptop, however, it may make more sense for you to buy a slightly older laptop running second-generation Sandy Bridge and save a few hundred bucks. Here's how to decide which purchase is your best option.
Ivy Bridge: Better Graphics Performance and Battery Life
As with every new chip release, Ivy Bridge promises improved performance and greater power efficiency compared to last-generation Sandy Bridge chips. The general performance boost for the new processor, though, isn't really that much. In PCWorld benchmarks, the new processor ran only about 5 to 10 percent faster. You might not really notice a difference, especially if you're running chores that don't task the processor much–for example, if you're browsing the Web or editing a document.
So what's Ivy Bridge good for? If you do a lot of tasks that are processor-intensive, you'll save some time. These tasks include media transcoding (converting video, say) and playing video games.
Ivy Bridge: Graphics Booster
The biggest Ivy Bridge benefits, in fact, are on the graphics side. The new integrated GPU (graphics processing unit) in Ivy Bridge is so improved that you might not need a discrete video card in your laptop for running 3D graphics or playing most games. Intel benchmarks using 3DMark* Vantage show graphics performance gains ranging from 18 percent to 105 percent.
If you're not a gamer or media wrangler, you might prefer a new Ivy Bridge laptop for the 20 percent increase in battery life. Intel has stated that these power savings can add as much as an hour to your laptop's battery life, so Ivy Bridge laptops may be ideal for road warriors and others who want their laptops to last all day on one charge.
Finally, buying an Ivy Bridge laptop has another advantage that has nothing to do with the processor itself. Updated laptop models and new laptops often come with other upgrades besides the CPU: The latest graphics cards, more hard-drive options, thinner and lighter designs, and so on.
Buy an Older Laptop to Save Money and for Instant Gratification
Perhaps you don't need the latest and greatest laptop model. If you don't play games on your laptop or work with media files–and if an extra hour of battery life won't make much difference to you–you can save hundreds of dollars buying an "older" laptop as retailers try to clear their inventory to make way for the new models. Some Sandy Bridge laptops are just a few months or weeks older than the latest Ivy Bridge ones and may be perfectly suitable for your needs.
For example, you can get a 15.6-inch Asus laptop (model A53SD-TS71) with a quad-core Intel Core i7 Sandy Bridge processor, 4GB of memory, a 750GB hard-drive, and an Nvidia GeForce GT610M graphics card for just $750 at TigerDirect. The laptop dropped to its new lowest price in April, right before Intel launched Ivy Bridge.
By comparison, the 15.6-inch Asus G55V with an Ivy Bridge Core i7 processor, 12GB of memory, a 750GB hard drive, and an Nvidia GTX 660M graphics card costs more than twice as much–$1449–at J&R (with a $50 discount).
(Choosing an older Sandy Bridge processor instead of Ivy Bridge when you're configuring a laptop won't get you as much savings, but if your priority is to save as much money as possible, selecting an older processor can help. When configuring an Alienware M14x, for example, choosing a second-generation Intel Core i5-2450M instead of the third-generation Intel Core i7-3610QM will save you $100.)
The Asus G55V is a gaming laptop, but only high-end laptops got Ivy Bridge updates in the first wave. This is another reason you might want to buy an older laptop now: You want one right away.
According to the Ivy Bridge launch schedule, budget Ivy Bridge laptops–those running Core i3 processors–won't arrive until the end of the year, while Ivy Bridge mainstream laptops and Ultrabooks are expected to start popping up in June.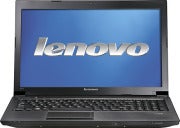 Here's one more reason that may sway you to opt for a cheaper older model, besides price and availability: Sandy Bridge is cooler for overclockers. That is, Ivy Bridge runs hot when overclocked, so if you want to push your laptop's CPU to its performance limits and need a laptop right now, a Sandy Bridge system is your better bet.
Here's a chart that outlines some current deals:
5 Great Sandy Bridge Laptop Deals Available Now
Laptop
HP Pavilion DM1-4050us
Dell XPS 15z
Dell Inspiron 17R
Lenovo 1068B9U
Asus A53SD-TS71
Processor
Intel Core i3-2357M Processor (1.4GHz)
Intel Core i7-2640M (2.8 GHz)
Intel Core i5-2450 (2.5GHz)
Intel Core i3-2350M (2.3GHz)
Intel Core i7-2670QM Processor (2.20GHz)
OS
Windows 7 Home Premium (64-bit)
Windows 7 Home Premium (64-bit)
Windows 7 Home Premium (64-bit)
Windows 7 Home Premium (64-bit)
Windows 7 Home Premium (64-bit)
Screen
11.6″ (1366 x 768 pixels resolution)
15.6″ (1920 x 1080 pixels resolution)
17.3″ (1600 x 900 pixels resolution)
15.6″ (1366 x 768 pixels resolution)
15.6″ (1366 x 768 pixels resolution)
Graphics
Integrated Intel graphics
Nvidia GeForce GT 525M 1GB
Integrated Intel graphics
Integrated Intel graphics
Nvidia GeForce GT 610M 2GB
RAM
4GB DDR3
8GB DDR3
6GB DDR3
4GB DDR3
4GB DDR3
Storage
500GB, 5400 rpm
1TB, 5400rpm
750GB, 5400rpm
500GB, 5400 rpm
750GB, 5400rpm
Optical Drive
DVD recordable multiburner
DVD recordable multiburner
DVD recordable multiburner
N/A
DVD recordable multiburner
Networking
10/100/1000 Mbps ethernet, Wireless-b/g/n
10/100/1000 Mbps ethernet, Wireless-b/g/n
10/100 Mbps ethernet, Wireless-b/g/n
10/100/1000 Mbps ethernet, Wireless-b/g/n
10/100/1000 Mbps ethernet, Wireless-b/g/n
Battery
6-cell
8-cell
6-cell
6-cell
6-cell
Warranty
1 Year
1 Year
1 Year
1 Year
1 Year
Price:
$479.99 at Amazon
$1099 at Dell with free shipping
$579.99 at Dell
$379.99 at Best Buy
$749.99 at TigerDirect
Savings (over MSRP):
$170
$362
$270
$119
$80
The Bottom Line
Plan your purchase based on what you really need and taking into account other important considerations when buying a laptop. See the video below for some general laptop buying advice.
In Video: How to Buy a Laptop
If you care a lot about graphics performance, battery life, and having the most up-to-date hardware, spring for one of the handful of Ivy Bridge laptops available now or wait for the other models coming this year.
Or save a few hundred bucks with a discounted Sandy Bridge model–you can overclock it without as much overheating risk, and there are many more laptops to select from right now.
Follow Melanie Pinola (@melaniepinola) and Today@PCWorld on Twitter