HTC and Verizon kicked off this week's CTIA show in New Orleans with the release of the HTC Droid Incredible 4G LTE. This is the third member of the Droid Incredible family, after the Droid Incredible 2 and the original Droid Incredible. According to Verizon, the Droid Incredible will be available in the next few weeks, but pricing has not yet been announced.
As the name implies, the Droid Incredible 4G LTE hooks into Verizon's 4G LTE network. It has a 4-inch Super LCD display with a 1.2GHz dual-core Snapdragon processor. It also has a microSD slot, supporting up to 32GB of memory. While the Droid Incredible 4G LTE has many similar specs to HTC's One line of phones (which includes the One X, One S and One V), this is one big difference. Those phones don't have expandable memory.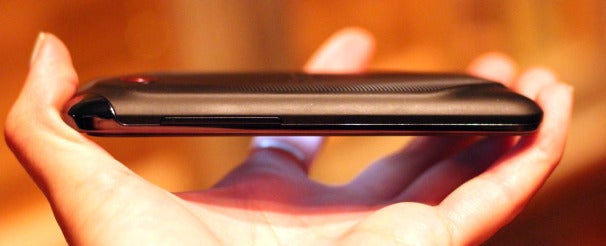 It also runs Android 4.0, the latest version of Android with the HTC Sense 4.0 user interface. We saw HTC Sense 4.0 on both the HTC One X and the HTC One S and had some mixed feelings about it in our reviews. While HTC Sense adds some nice aesthetics to Android, the animations and widgets can feel a bit busy and overloaded at times. My colleague Armando Rodriguez also noticed that it slowed down Android 4.0 in his review of the HTC One X.
Besides the software, the Droid Incredible has built-in Beats Audio. Beats Audio automatically turns on when you play music, but you can opt to turn it off. When I reviewed the One S, I could definitely hear a positive change in music quality. Other reviewers, however, find that Beats degrades audio quality.
Like HTC's One phones, you can shoot HD video and take still photos at the same time with the Droid Incredible's 8-megapixel camera. It is uncertain whether the Droid Incredible has the same image software (HTC ImageSense) as the One line of phones.
We'll have a chance to get our hands on the Droid Incredible as well as other hot phones later this week at CTIA so stay tuned for first impressions, photos and video from the show floor.